As lunch draws near, I decided to enlighten Lehigh Valley on one of America's lunch time staples. No not pizza, burgers, or fried chicken, but the deli sandwich. Yes, I'm here to tell you on my top five deli's Lehigh Valley has to offer you.
5. This is a hidden gem that not many know about, but once you grab a sandwich from here you'll definitely be back. Brookside Deli. Located at the corner of Brookside and Lower Macungie Roads in Macungie, this no frills deli just delivers a great sandwich time and time again.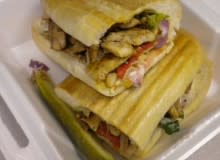 4. If you are looking for two of the nicest guys you'll ever meet, check out Deli Plaza II. Located in the Butz Corporate Center on the corner of Ninth and Hamilton Streets in Allentown, Mike and Mohammed always have a warm smile and an overstuffed sandwich for your plate. Keep an eye on Mike as if you blink, you might find the "kitchen sink" on your sandwich. He's been known to pile the sandwich with every ingredient behind the counter.
3. One of the more popular delis can be found on Stoke Park Road in Bethlehem. At Dave's Deli you'll be treated to a wide variety of sandwiches and sides that are sure to please. Get there early as lunch time draws a large crown which places seating at a premium.
2. Located in the Sands Casino® Resort Bethlehem is quite possible the largest sandwich any one human can eat. Carnegie Deli is known for their enormous portions and great pastrami sandwiches. Make sure to sample the pickles.
And number one is . . . . . . a little shop at the corner of Union Boulevard and 7th Avenue in Bethlehem. Black Forest Deli is as much about the food as the owner. Vica has some great food and an attitude to match. Whatever sandwich I have gotten in the past has been delicious. A little recommendation, order a side of her sauerkraut pierogies, they're amazing.
So there you have it Lehigh Valley, my top five delis. Which ones did I miss? I'm always up for a great sandwich so let me hear them.