Toast To The Season With Lehigh Valley Libations
Cozy up during the holiday and winter seasons with a beverage crafted from spirits made right here in Lehigh Valley. With nearly 50 wineries, breweries, and distilleries peppered throughout the region, you're sure to find something to fit the tastes and lift the spirits of your guests.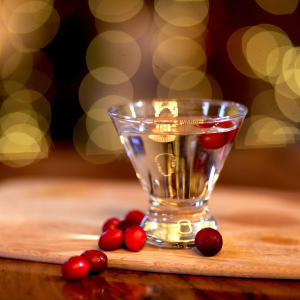 If you're craving a seasonal brew, look no further than Fegley's Brew Works' Rude Elf's Reserve. Described as a 'Belgian-style holiday ale with attitude,' this seasonal offering has been delighting fans since its first iteration in 1999. And it's recognition isn't limited to the Lehigh Valley area - Rude Elf's Reserve received was a bronze medal winner at the 2009 Great American Beer Festival and a silver medal winner at the 2002 World Beer Championships. If you're searching for even bolder flavors, give the Bourbon Barrel Aged Rude Elf's Reserve a try. This iteration is aged in bourbon barrels for a full year, promising robust smoke and oak character to the original favorite. 
Perhaps a toasty glass of mulled wine is better suited for your holiday get-together. Across the Lehigh Valley wine region, you'll find 20+ locations producing whites, reds, and everything in between. For the holiday season, consider Clover Hill's Holiday, a sweet rosé that is jazzed up with cinnamon, cloves, and citrus and is even tastier when served warm. 
But what really makes an occasion is a handcrafted beverage. Scroll below for recipes handpicked from Lehigh Valley including cocktails, sangrias, and more - all fit for your next holiday celebration. 
Apple Sangria
Amore Vineyards
3 1/2 cups of chopped apples (about 2 pounds)
1/2 cup apple schnapps
2 (1/4 inch wide) slices of peeled fresh ginger
1 large navel orange, quartered
1 (750 milliliters) bottle fruity Amore red wine (if using a dry Amore red wine, add a little honey or sugar to sangria)
4 whole cloves
2 (3 inch) cinnamon sticks
1/4 cup ginger ale, chilled, divided
4 thin horizontal slices cored Honeycrisp apples

Combine first seven ingredients in a large bowl and stir well. Refrigerate 4 hours or until thoroughly chilled, then discard solids. Strain wine mixture through a sieve into a bowl and discard. Pour about 2/3 cup of sangria over ice in each of 4 glasses, serving with 1 tablespoon of club soda and one apple slice.
Log Cabin
2 oz. Eight Oaks Authentic Applejack
1 oz. fresh lemon juice
1 1/2 oz. rosemary-honey syrup (Equal parts warm water and honey. Once honey is dissolved, remove from heat and add fresh rosemary. Once cool, strain and store in an airtight container in the fridge for up to 3 weeks.)
3 oz. local apple cider
Fresh rosemary
  
In a shaker, add Eight Oaks Applejack, lemon juice, rosemary honey syrup, apple cider, and a sprig of rosemary. Shake well and pour into rocks glass. Garnish with rosemary sprig.
Pomegranate Cran-Apple Spritzer
3 oz. FHV Crush
2 oz. Cran-apple Juice
1 oz. Social Still Vodka
2 oz. Seltzer
Salted Caramel Apple Pie
2 oz. Penna Dutch Liqueur
4 oz. Eggnog
1 oz. caramel sauce
Dash of salt
  
Combine Xplorer Penna Dutch Liqueur, Eggnog, and a dash of salt. Shake with ice. Pour into cocktail glass. Garnish with Chocolate/Caramel sauce. Optional: Garnish with Peppermint & Cinnamon stick
 
S'Mores Martini
1.5 oz Gallows' Posset Chai
1.5 oz Creme de Cocoa
1.0 oz Marshmallow Vodka
Splash of Smoked Simple Syrup
  
Rim glass with a mixture of Graham Cracker Crumbs and Hot Chocolate Mix. Shake all ingredient with ice and strain into prepared martini glass. Top with a flaming skewered marshmallow.
 
Social Apple
1 oz Sasquatch (Social Still Vanilla Maple Bourbon)
1.5 oz. Potion X
2 oz. Fire Cider
2.5 oz Apple Cider
1 oz cranberry juice
  
Shake well and garnish with a cinnamon stick
The White Christmas
2 oz. Eight Oaks American Vodka
3 oz. white cranberry juice
1/2 oz. simple syrup
1/2 oz. fresh lime juice 
cranberries (garnish)
  
In a shaker filled with ice add ingredients and shake well. Strain into martini glass and garnish with fresh cranberries.
Winter Citrus Sangria
1 bottle of Clover Hill Vidal Verde
8oz. lemonade
8oz. Sprite
1 lemon (diced)
1 lime (diced)
5 sprigs of sage
  
Put the diced fruit and sage sprigs in a pitcher and muddle. Add the Vidal Verde and lemonade and let blend for 2-4 hours. Add Sprite and serve chilled! 
Evergreen Sangria
Clover Hill & Eight Oaks Farm Distillery
1 bottle Eight Oaks Colonial Rum⠀⠀
1 bottle Clover Hill Chambourcin Frizzante
1 bottle White Grape Juice
1 2L bottle of Lemon-Lime Soda
1 apple cubed
Fresh cranberries
Fresh rosemary ⠀
Put the apple and rosemary sprigs in a pitcher and muddle. Shake the Rum, White Grape Juice, and Lemon-Lime Soda and add to pitcher. Add Frizzante and cranberries and serve chilled!