Western Lehigh Valley
Macungie, Emmaus, & Trexlertown
To the west, small communities thrive. Known to be a prime location for raising a family, the communities of Emmaus, Macungie, and Trexlertown keep their roots with true hometown feel with main streets full of small businesses. 
Cycling Community Favorites 
South Mountain Cycle Café
318 Main St., Emmaus
Located in the heart of Emmaus, this shop combines the region's love of road cycling with a coffee bar so you can get your caffeine fix while getting your wheels tuned up. Shop their impressive selection of bikes, as well as apparel, accessories, and more.
Valley Preferred Cycling Center
1151 Mosser Rd., Breinigsville
In addition to races open to the public, the Valley Preferred Cycling Center offers community programs for kids & adults to try the track. Cycling enthusiasts can also shop for gear, new and vintage bikes, jerseys, and more at the VeloFest, held twice per year.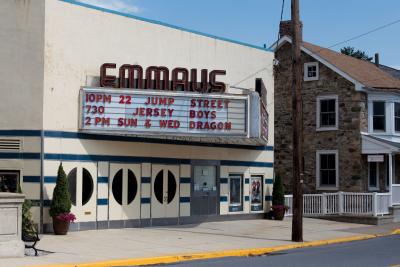 Emmaus Theatre
19 S. Fourth St., Emmaus 
Showing a mix of new-release films and classic favorites, the Emmaus Theatre offers up one of the most affordable movie tickets around. On certain occasions, the theater even hosts BYOB nights in partnership with neighboring breweries.
Lock Ridge Park
525 Franklin St., Alburtis 
Perhaps best known for the presence of the bluebell fields (though they are technically grape hyacinths) during the springtime months, the park is also home to the Lock Ridge Furnace Museum, which is operated by the Lehigh County Historical Society. The castle-like stone structures that dot the grounds were once coal-burning iron furnaces. 
Let's Play Books
244 Main St., Emmaus
Literary fans will find a cozy shopping experience inside this Emmaus gem. Let's Play Books offers a wide selection of titles for adults, as well as an expansive stock of books for children and teens. The shop regularly features events such as release parties, book signings, and more.