Tacos, gyros, funnel cakes, cupcakes—you name the food, there's a Lehigh Valley restaurant-on-wheels serving it up somewhere. "Back when we started in 2017, I felt like beyond the vendors you'd see at fairs, there were only a few of us. Now there are so many food trucks around," says Charlie Wehr, who co-owns The Sticky Pig with his wife, Stacey. That doesn't change much for Charlie, who believes that hustle is what it takes to make it in the business. See for yourself how much toil, passion, and hospitality (not to mention pulled pork) go into just one day of his business.
---
8:30 a.m.
The Sticky Pig sits parked next to the concession stand at the Valley Preferred Cycling Center in Breinigsville, PA. Charlie and his team run concessions here during the race season and use the space as a commissary kitchen and home base for the truck itself.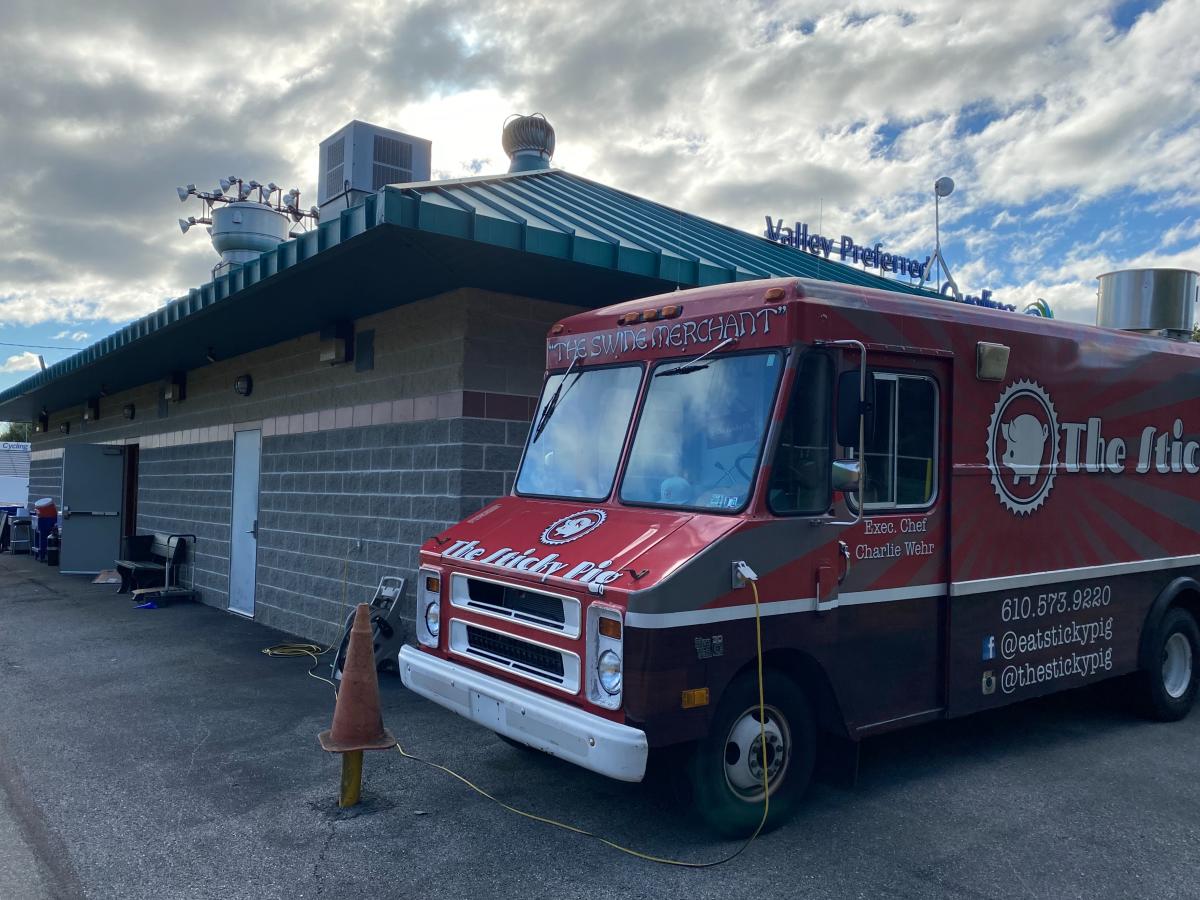 8:45 a.m.
Although Charlie's head chef, Brian Wetzel, has been prepping food for today's service throughout the week, there's still work to do: pre-cooked pulled pork to heat, a new batch of pulled pork to cook for a later service, mac 'n cheese to make from scratch, and a truck to pack. "In the summer, when things are busy, we can have a team of eight—even my Pops has been known to sling drinks—but usually it's a core of five."
9:15 a.m.
"Around this time we figure out what we're doing," says Charlie, who knows the day's itinerary—Orefield Middle School for lunch, Simple Days Beer in East Greenville, PA, for dinner—but it's the rest of the logistics that he has to puzzle out. "You really have no clue how much food to take with you," he says. Unlike a restaurant, there are no massive walk-ins to pull from if something sells out. If that happens? "We get creative," Charlie says.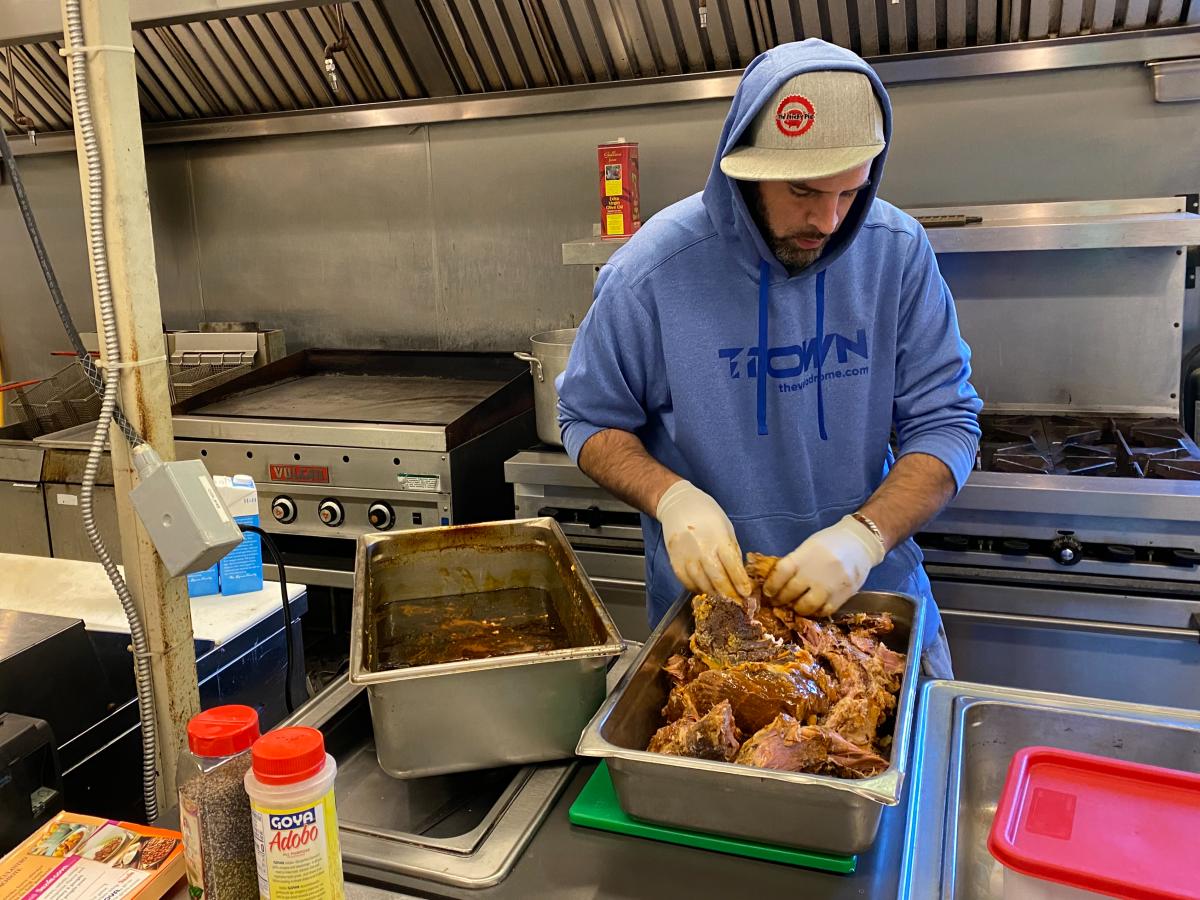 9:45 a.m.
Charlie and Brian load up the truck. "It's a 1984 Chevy P30," Charlie says. "I bought it with 18,000 miles on it. The Freemansburg Fire Company used to use it for trainings. I remember the day I bought it. The Sticky Pig was just a food concept at the time. We were doing a pop-up up, I had a rail of tickets, and the owner called me. I made an offer—a lowball one—but he accepted. I remember thinking later, 'I just bought truck for more money than I made doing this all year.'" Beside the occasional trip to the mechanic (new tires, new cooling system), the Chevy has sustained, Charlie says. Last year he estimates he put 3,000 to 4,000 miles on the truck. As of September of this year, he's up to 5,000.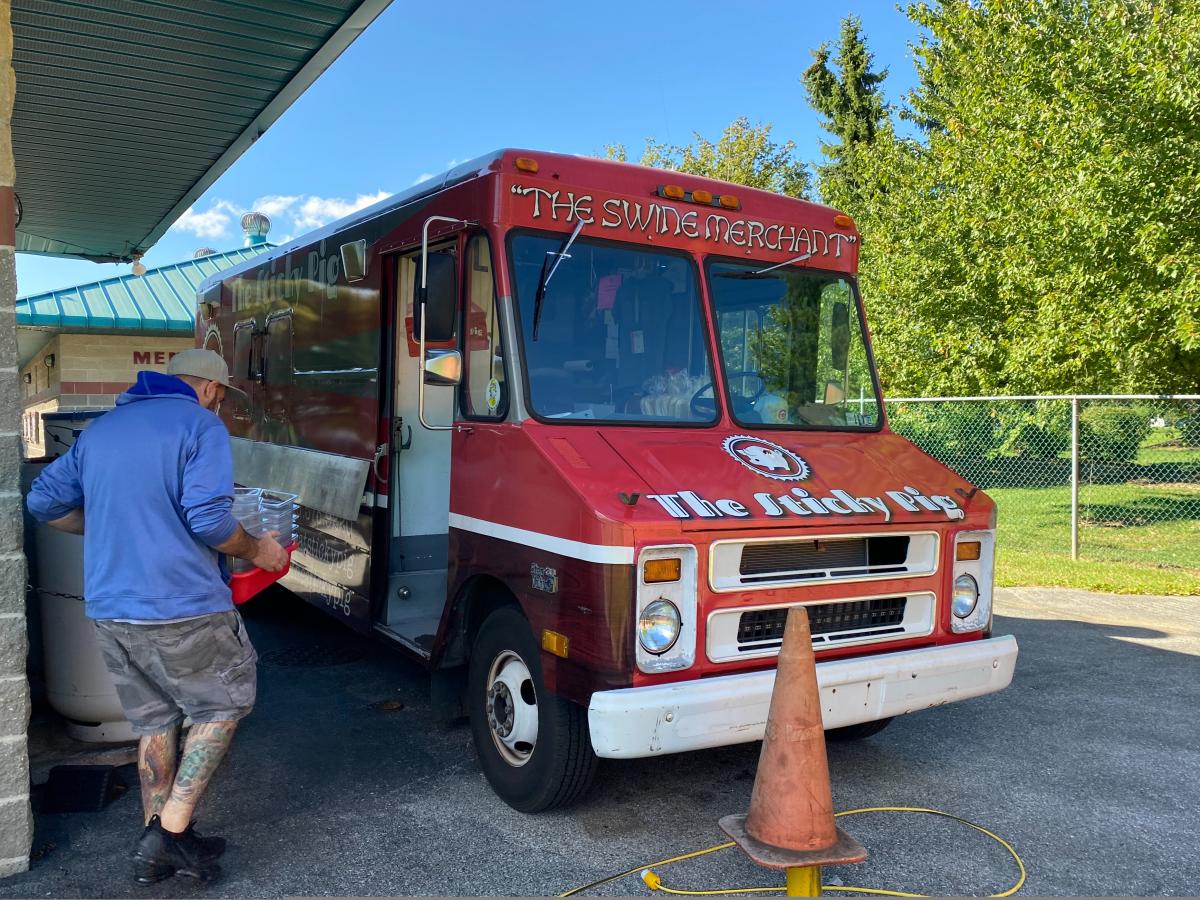 10 a.m.
Charlie and Brian arrive (separately—the truck only has a driver's seat) at Orefield Middle School, a line of nine hungry staffers already assembling within minutes of the truck parking. Stacey soon joins them, and the team—a collective 45-plus years of restaurant industry experience among them—opens for business. Immediately, they settle into a familiar rhythm. "Hi-how-we-doin'?" Stacey says to the first customer, as Charlie lifts the lids from the pulled pork and a deeply meaty aroma perfumes the vehicle. The cash register ka-chunks, the order pagers beep, a spatula pulling a sandwich off the plancha rattles like a saber. The truck sways as the team moves through their dance of service. "That's why I ask for flat parking surfaces in my contracts," Stacey says.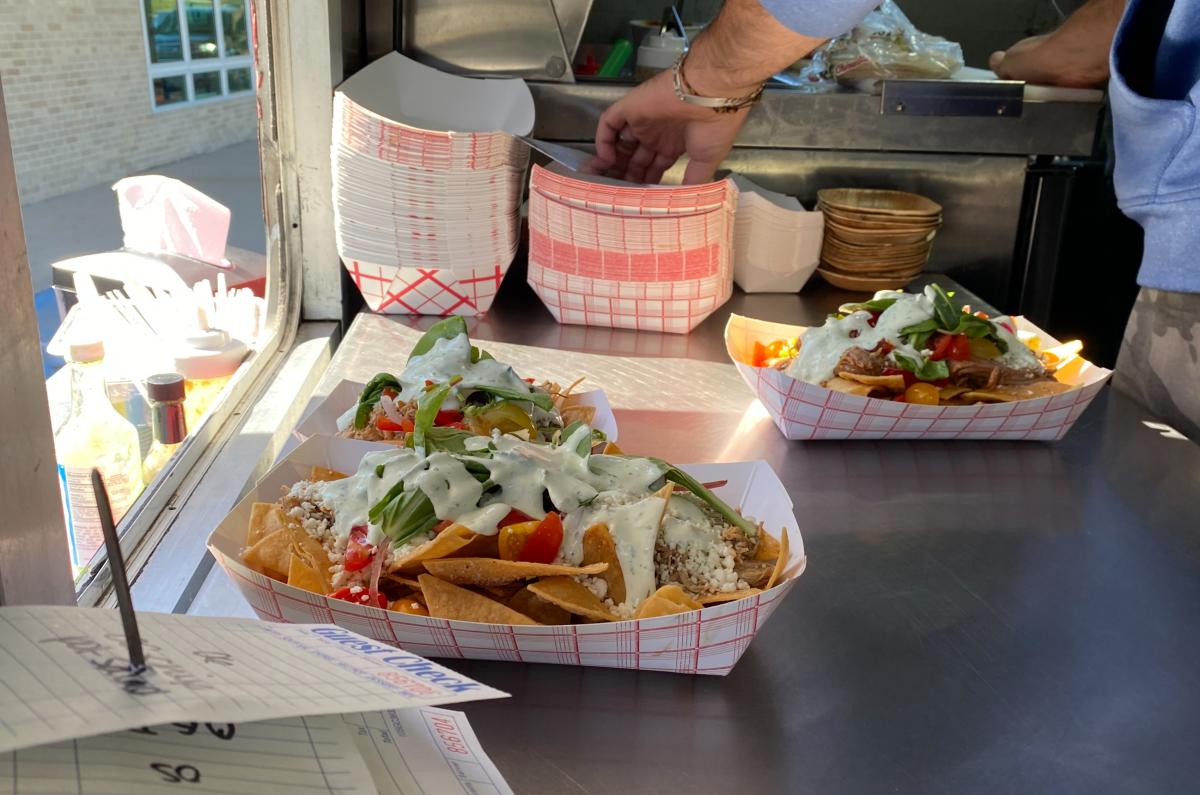 10:20 a.m.
A steady stream of customers place their orders; a nail collecting tickets to the left of the service window. There's always at least one order of nachos—housemade tortilla chips, queso blanco, cherry tomato salsa, cilantro sour cream—or an O.G. sandwich—pork or chicken pressed on the plancha with creamy coleslaw, roasted garlic aioli, and mixed greens—in the pipeline at one time. "Those are our two best sellers and they've been on the menu forever," Charlie says. That said, the menu is never fixed. Some days they do tacos, others deviled eggs. "It's not one specific cuisine," he says. "But we always make about 90 percent of everything ourselves."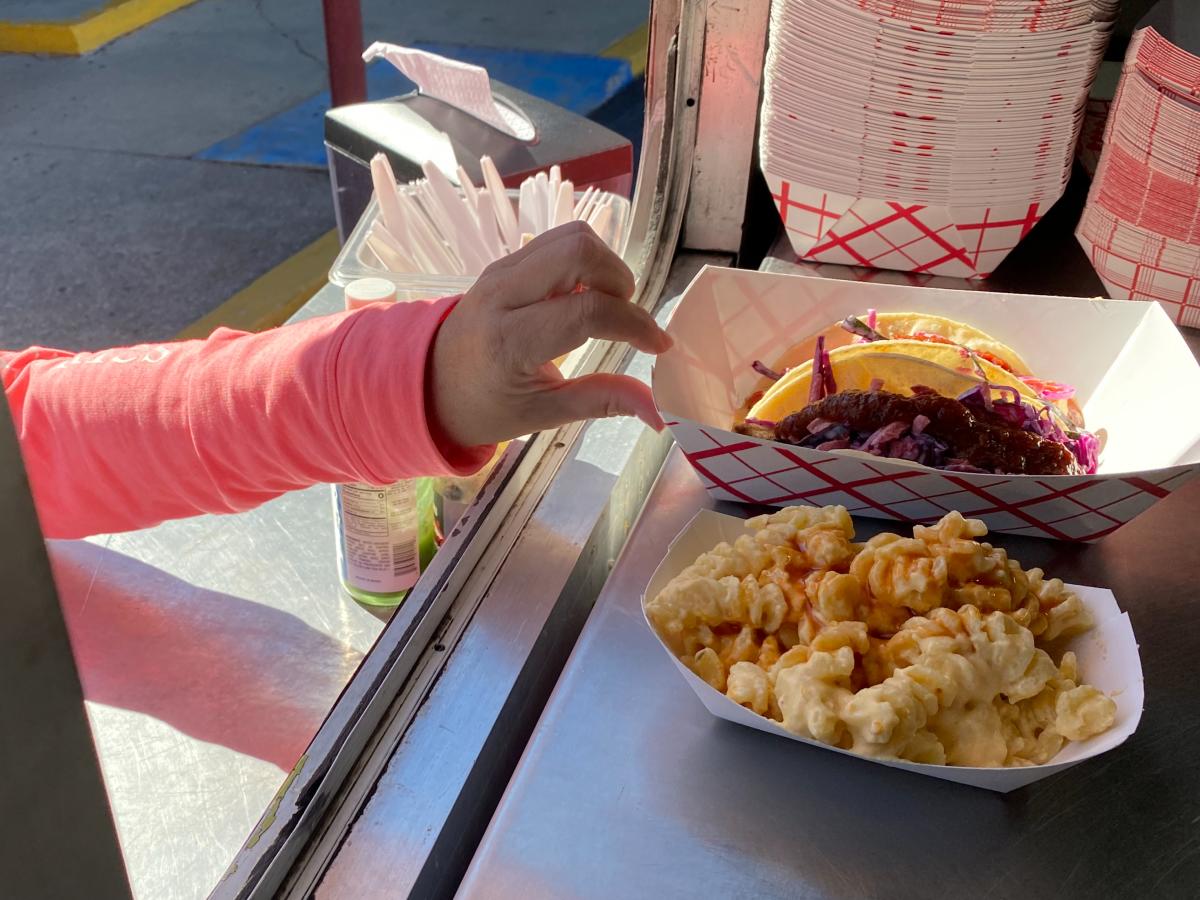 10:45 a.m.
A slight break in service. Luckily, it's a cool and breezy day in mid-September. "When it's 90 out there, it's a buck-o-five in here," Charlie says. 
12:30 p.m.
Customers ebb and flow with the school's staggered lunch breaks. A UPS driver who spotted the truck stops by to eat. A longtime friend wearing (totally by coincidence) Sticky Pig merch visits just to say hello. Charlie goes across the street to pick up food for lunch from another food truck, Grill Life Barbecue. "There's a sense of friendly rivalry among food trucks," he says, "We don't have the nicest, newest truck—but none of that matters. At the end of the day, it's what comes out on the plate."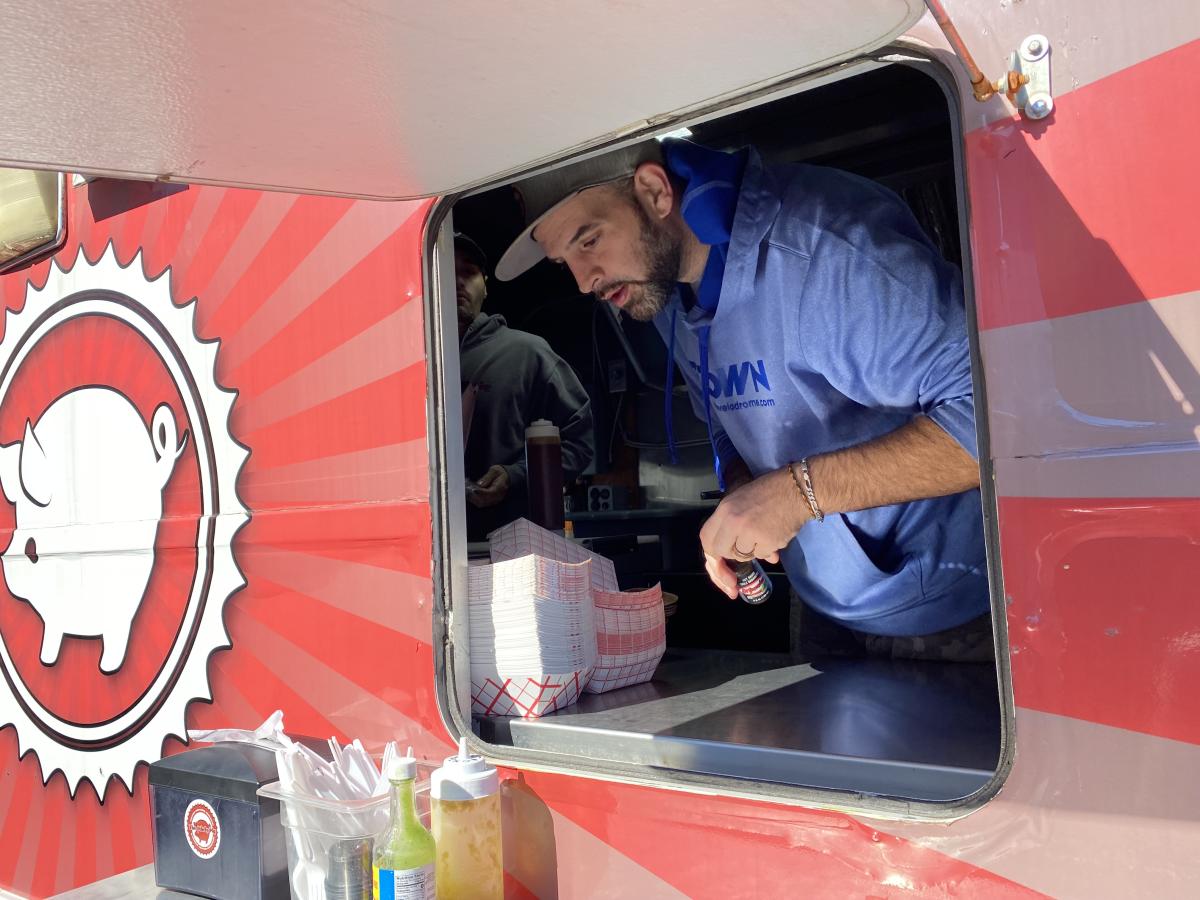 1 p.m.
Lunch service wraps. Brian goes home to let his dog out. Stacey will answer emails, pick the kids up from daycare, be with them for a bit, and then drop them off at the babysitter so that she can rejoin the team for dinner service. Charlie needs to meet a contractor at his house in West Allentown, and then head back to Valley Preferred Cycling Center to prep and clean. "Dishes," Charlie will repeat, in the same deflated tone throughout the day. "Dishes."
5 p.m.
Charlie and crew meet at Simple Days Beer in East Greenville, PA, which is a little outside their usual area of coverage, but they heard good things about the brewery and wanted to check it out. "This time of year it begins to slow down for us a bit," Stacey say. That said, they provided food to an IronPigs event the night prior and a wedding the week before. "It's a different scenario every day," Charlie says. "One day I'm doing food for a neighborhood block party and the next I'm driving the truck past giraffes at the Lehigh Valley Zoo for a wedding."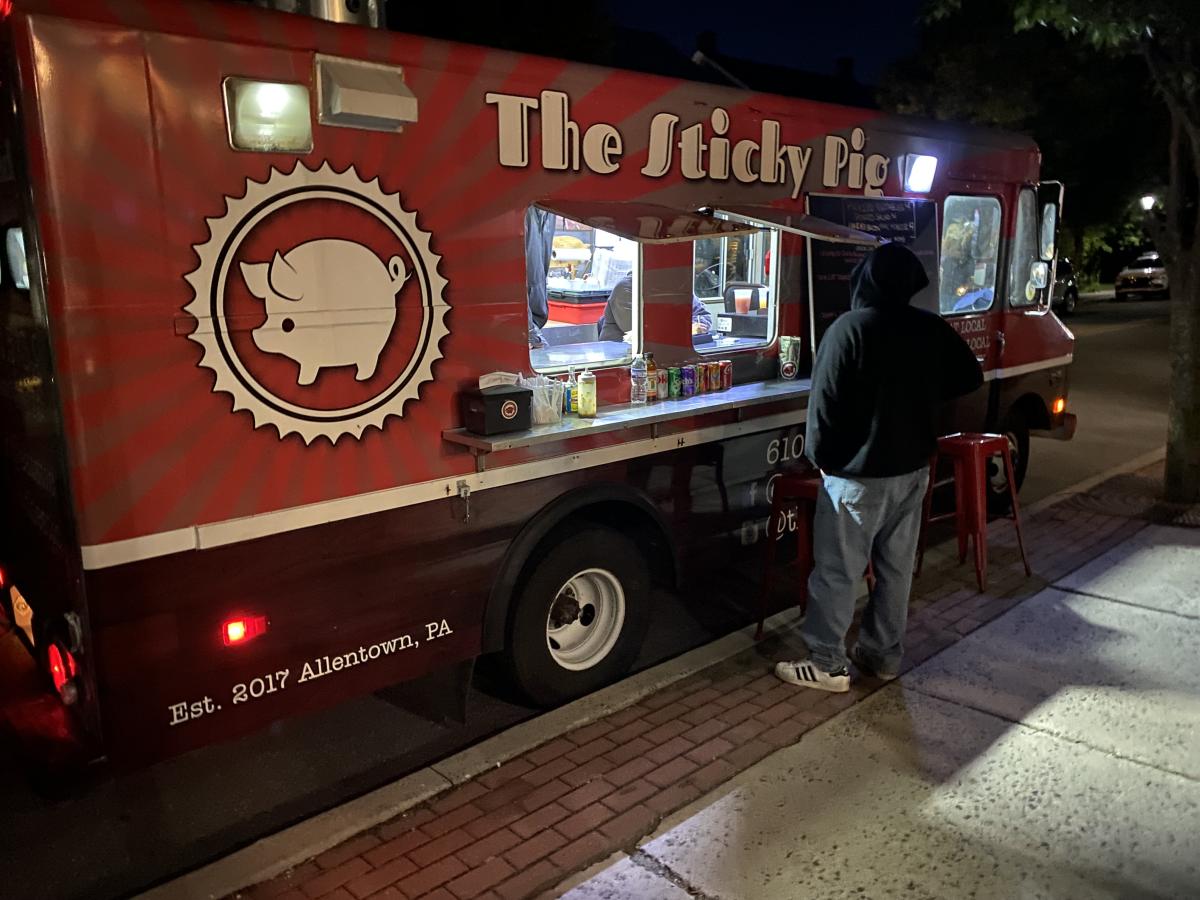 9 p.m.
The Sticky Pig closes up shop. Charlie goes in to buy some four-packs of Simple Days. Stacey puts away her hand-drawn menu board. And they assess the sales. "I'd give today a C+," Charlie says. But sales are just one part of the business. They made some teachers happy. They saw a few friends. They visited a new brewery. Now all that was left to do was more dishes. "There's never not dishes," says Charlie.