A Bethlehem Christmas
Named Bethlehem on Christmas Eve in 1741, this quaint city in eastern Pennsylvania is rooted in holiday charm. And since 1937, the city has appropriately been recognized as Christmas City USA. Whether you've experienced Bethlehem year after year or are looking to visit for the first time, you're sure to be astounded by the magic that lingers in the air during the holiday season.
Browse the Markets
Ready to make your list and check it twice? Bethlehem is home to two stellar shopping markets during the holiday season. Experience the Christmas Huts on Main, an outdoor shopping experience inspired by the German Weihnachtsmarkt located along the city's Main Street. Here, local vendors offer up handmade and unique items from wooden huts dotted along the city streets.
Or, browse Christkindlmarkt (Fridays-Sundays, November 19-28, 2021 and Thursdays - Sundays, December 2-19, 2021). Recognized by Travel + Leisure, Forbes, and USA Today as one of the nation's premier holiday market, shoppers will be amazed by the array of goodies available. This year, Christkindlmarkt celebrates its 27th season with more vendors than ever before. Be sure to save time to admire the SteelStacks, located adjacent to the market.
Step Into History
Whether you prefer to explore by foot or by car, there is certainly an impressive history behind the Christmas City. Join Historic Bethlehem Museums & Sites for a variety of tours including Christmas City Stroll, which takes you on a walking excursion through the city's National Historic Landmark District. Led by a guide in period dress, this tour will give you a peek into what Moravian life was like in the 1700s.
If you want to get a unique view of the famous star atop South Mountain, you'll want to get tickets for the ever-popular Bethlehem by Night Bus tour. On this tour, participants will learn why the north side of the city dons white lights and the SouthSide dresses up in colored lights. Be sure to reserve your space early as these tours often sell out!
Experience the Local Traditions
Certainly one of the most unique holiday traditions is the city's Live Advent Calendar. Thought to be the only one of its kind in the country, visitors and locals alike can partake in this activity nightly, December 1 - 23. Each evening at 5:30 p.m., crowds gather outside the Goundie House at 501 Main Street. A selected visitor knocks on the door and the group is greeted by representatives from local businesses offering a surprise for all to enjoy. Nightly surprises could include musical performances, a story, or even a tasty treat!
As you wander the city's Main Street, be sure to stop and enjoy the music. You'll often find trombone choirs strolling the sidewalks playing holiday tunes, a nod to the city's Moravian history where trombone music was prominent.
For a special view of the city's historic district, consider taking a horse-drawn carriage ride. Hosted by the Bethlehem Carriage Company, these holiday rides offer visitors the chance to see the Christmas City while riding in a stunning carriage - sure to leave little ones in awe.
Shop 'Til You Drop
The true charm of the Christmas City lies within the small businesses that dot the sidewalks, always offering friendly faces and unique items for sale.
Browse products imported from Ireland at Donegal Square, including some of the coziest knit sweaters you'll ever find. You'll also find McCarthy's Red Stag Pub tucked behind the shop; order a pint of Guinness and you'll swear you've been transported right into Dublin!
A stop at the Moravian Book Shop is a must. Recognized as the oldest continually operating bookstore in the country (and perhaps even the world), this local bookstore offers titles by best-selling authors paired side-by-side with local writers. You'll also find an impressive selection of Moravian stars and other holiday decor to help complete your tree.
Looking for unique home goods or antique items? Domaci is a must-see for you. As you wander through the shop, you'll find that many of the items for sale have local ties, including thrifted antique items that make the perfect addition to your bookshelf at home.
Prepare Your Appetites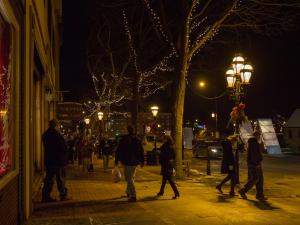 From historic Main Street to the eclectic SouthSide, Bethlehem is home to an impressive array of restaurants that are sure to please any palate. Along Main Street, make your way to Tapas on Main for a twist on modern Spanish fare. Or, check out the Apollo Grill, consistently rated as a favorite amongst locals. If you're craving Southern eats, head to The Bayou - and be sure to try their famous mac and cheese!
On the SouthSide, check out the Bookstore Speakeasy for an unforgettable experience as you step back into the prohibition era. Grab a cup of locally-roasted coffee and a homemade French macaron from Lit Roastery and Bakeshop. And if you're in town for breakfast, the savory pancakes from Roasted are a must!
Sample Local Libations
After a day exploring the Christmas City, you're sure to have worked up a thirst. No matter if you prefer wine, beer, or spirits - the local libations scene is bustling.
Sample reds and whites at Franklin Hill Vineyards, offering a tasting room right on Main Street. After sampling a few varieties for yourself, pick up a bottle or two to gift to someone on your list.
Beer geeks will love exploring some of the region's most popular breweries. Grab a bite to eat with your pint at Fegley's Bethlehem Brew Works, where their Rude Elf Reserve is a holiday staple. Or, opt for impressive small-batch brews at Bonn Place Brewing Company on the city's SouthSide.
You may also want to sample local spirits at Social Still craft distillery. Alongside some impressive food options, Social Still offers a tasty lineup of seasonal cocktails, crafted with spirits made on-site including vodka, gin, rum, whisky, and more.
Getting In & Around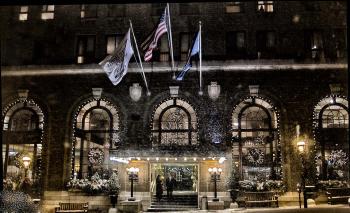 During the holiday season, the city will be bustling! Don't waste time searching for on-street parking on your visit to the Christmas City. There are two parking garages available on the North Side, one at Walnut Street and one at North Street. On the South Side, consider parking in the newly opened garage along Third and New Streets. Both of these facilities offer easy access for parking in a well-lit garage. Cash or cards are accepted.
On select dates, you can also take advantage of the free Christmas City Trolley. The trolley runs every 20-30 minutes and will shuttle you between the Historic District and the SouthSide Arts District. Trolley stops include Walnut Street Parking Garage, Main Street (The Sun Inn and The Moravian Book Shop), Chriskindlmarkt Bethlehem and SteelStacks, and Mechanic Street near New Street (at the exit from the 3rd Street parking lot).
Accommodations
With so much to see and do in the region, why not make a weekend of it? Bethlehem boasts a number of impressive lodging options. Enjoy modern luxuries at the Hyatt Place Bethlehem, located just steps from the city's Main Street. Or, stay in the heart of the city's charm at the Historic Hotel Bethlehem, artfully restored to its original 1920s splendor. During the holiday season, the hotel is dressed to the nines with more than 35,000 lights on display.
If you're looking for a dash of romance, consider a getaway to the Sayre Mansion. As one of the region's premiere bed & breakfasts, guests can spend time in front of the cozy fireplace as they enjoy a house-made breakfast to kick off their morning.
Feeling lucky? Make your way to ® Bethlehem) where you can stay in modern luxury. This AAA four-diamond property offers easy access to the casino floor, plus on-site dining by Emeril Lagasse and the Cake Boss, Buddy Valastro.
 (formerly Sands