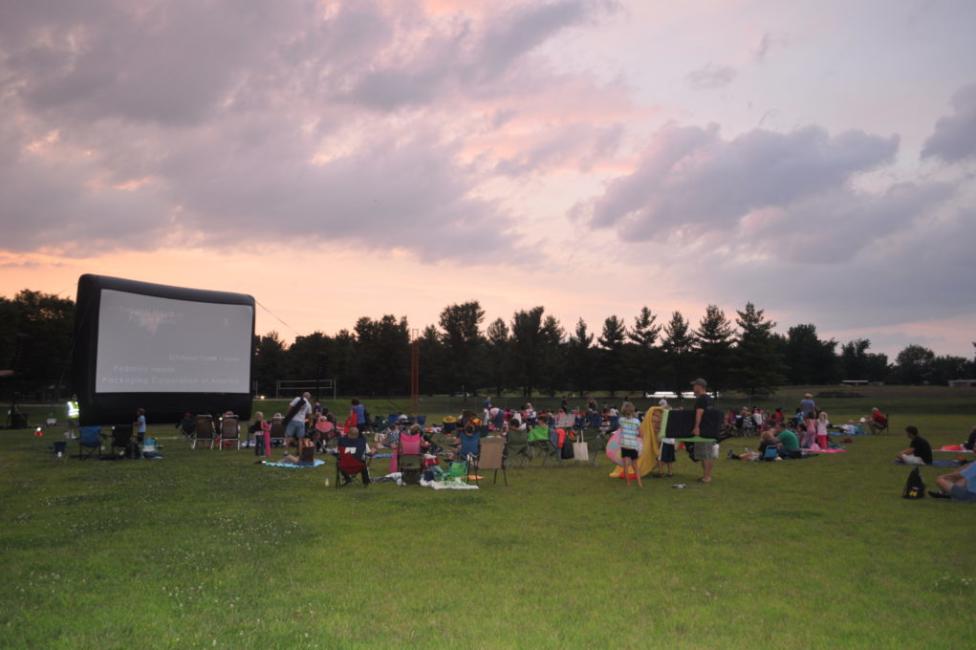 Enjoy a movie in the parks across Lehigh Valley! Hollywood stars and characters return to Lehigh Valley skies this summer, as Movies in the Parks bring big-screen entertainment to local parks across Lehigh Valley. From classics of the Golden Age of Hollywood and retro childhood favorites, to the best family-friendly box office favorites from recent years, you'll be sure to enjoy the screen under the stars. All movies begin at dusk. If you're unsure when dusk is, visit any weather site to see the time of dusk each day.  Check the individual Facebook pages for daily listings and weather-related cancellations.

There's no shortage of showings (and food trucks) to check out; see the full lineup below.
---
The ArtsWalk Pocket Park is showing a variety of movies for Outdoor Movie Night in Pocket Park that everyone will enjoy on the second Friday of the month (rain date is the last Friday of the month, after Comedy Night). Grab some refreshments at the   before the show starts. Limited seating availability. Please bring your own chair. Don't forget to take advantage of the FREE parking deck. Start times vary based on dusk/sunset.
---
Grange Park, 360 Grange Rd., Allentown, PA 18106
Local organizations often participate and provide fun activities prior to the movie. Pre-movie activities begin at 7 p.m.; movies start at dusk.
---
You'll want to attend summer movie nights in the street between Barnes & Noble and Old Navy this summer. Pre-show activities begin at 7:30 p.m. with the movie starting just after sunset. RSVP here.
June 21 – Onward (PG). Teenage elf brothers Ian (Tom Holland) and Barley (Chris Pratt) embark on a magical quest to spend one more day with their late father. Like any good adventure, their journey is filled with cryptic maps, impossible obstacles and unimaginable discoveries. But when dear Mom finds out her sons are missing, she teams up with the legendary manticore to bring her beloved boys back home. Watch the trailer. 
July 19 – Trolls (PG). After the Bergens invade Troll Village, Poppy (Anna Kendrick), the happiest Troll ever born, and the overly-cautious, curmudgeonly Branch (Justin Timberlake) set off on a journey to rescue her friends. Their mission is full of adventure and mishaps, as this mismatched duo try to tolerate each other long enough to get the job done. Watch the trailer.
August 16 – Raya and the Last Dragon (PG). Long ago, in the fantasy world of Kumandra, humans and dragons lived together in harmony. However, when sinister monsters known as the Druun threatened the land, the dragons sacrificed themselves to save humanity. Now, 500 years later, those same monsters have returned, and it's up to a lone warrior to track down the last dragon and stop the Druun for good. Watch the trailer.
---
Guests attending the Summer Family Movies Series presented by UGI Utilities, Inc. are invited to bring their blankets and lawn chairs to sit on as they enjoy movies under the stars. Free parking is available at the parking lots on First Street immediately adjacent to SteelStacks™; food and beverages will be available at the Mack Truck Stop at the Levitt Pavilion, as well as the ArtsQuest Center at SteelStacks, located across the street from the Levitt Pavilion. All English films will have Spanish subtitles, and all Spanish films will have English subtitles. Movies begin at 7:30 p.m.
---
Forks Township Amphitheater, 500 Zucksville Rd., Easton, PA 18040
Join Forks Township Parks and Recreation for an evening in front of the BIG Screen. Movies begin at dusk; you are encouraged to bring your own lawn chair or blanket to enjoy the show.
---
The City of Allentown Department of Parks and Recreation's "Movies in the Park" series returns with four events this summer coming to various locations across the city. Each movie will be preceded by a variety of family-friendly activities. Movies begin at dusk. Attendees are required to adhere to all current CDC and PA Department of Health COVID-19 Guidelines. Attendees are highly encouraged not to attend if they are experiencing any signs that might be associated with COVID-19 such as fever, coughing, shortness of breath and loss of taste or smell.
Friday, June 25 – Jumanji: Welcome to the Jungle at Stevens Park
Friday, July 16 – Raya & The Last Dragon at East Side Memorial Little League
Friday, August 20 – Little Giants at Percy Ruhe Park
Friday, September 10 – Toy Story 4 at Cedar Beach Park