Balancing called-for caution with the irresistible lure of Lehigh Valley's restaurants, outdoor seating is simple in summer and a bit more elusive when the weather turns cold. Here's a list of dining delights with outdoor accommodations for wintertime, to put your mind at ease and a mouthwatering meal in front of you.
The Shelby 
707 N. Krocks Rd., Ste. 104, Allentown, PA
The Shelby in Allentown may take the cake for the largest outdoor dining venue. The spacious tent makes it popular for parties and bigger gatherings as well as the inimitable intimate brunch The Shelby is famous for. Decorative lighting dangles from the high ceiling and planters add a greenhouse feel. Make reservations or you'll be out in the cold!

Notch Modern Kitchen & Bar
5036 Hamilton Blvd., Allentown, PA
The fusion cuisine at Notch ranges from juicy pork dumplings and bao buns to "Drunken Bolognese" and fish and chips with kimchi coleslaw. They also go the extra mile on outdoor seating, with an intentional "Cozy Corner" prix fixe menu just for the patio. Though covered and heated, the space is open-air, so bring your hats and scarves—that brisk winter air makes Notch's Winter Asian Fondue all the more satisfying!

Switchback Pizza Company
525 Jubilee St., Emmaus, PA
Right next to Switchback Pizza Company in Emmaus, the covid-cautious are invited to eat in a walled tent kept toasty with a large propane heater. Good news, because summer isn't the only time to enjoy wood-fired pizza scorched to rustic perfection and the eatery's house-made Red Balloon Cider. DIY your garlic bread with fresh ciabatta and garlic grown on-site.

Sage Alley Brewery & Grille
213 N. Main St., Coopersburg, PA
Tucked away in Coopersburg, Sage Alley Brewery & Grille is a veteran-owned establishment with limited Thursday through Sunday hours (now offering Friday lunch specials) and a varied collection of brews. With a custom heated enclosure, the 40-by-60-foot patio accommodates up to 40 guests. Warm-up with homemade soup and a toasty panini.

Porter's Pub
700 Northampton St., Easton, PA
Porter's Pub in Easton wears its name well, hunkered-down and dimly lit with rough stone walls. But for those looking for more headspace and fresh air, a roomy beer garden is available for dinner service only. Inside a heated and walled tent, it's popular on weekends and hosts live music Wednesday and Thursday nights.
Eight Oaks Farm Distillery 
7189 Route 309 New Tripoli, PA 18066
Enjoy farm fresh food and spirits at Eight Oaks Farm Distillery, who partners with Tre on the Farm for a delicious locally-sourced food menu that changes seasonally. Try a couple of small plates for the table and add on a main dish like the Southern Pimento Burger—if it's still on the menu when you visit. The permanent tent at the farm should keep the cold away — but order up an apple hot toddy (pictured below) in case you need extra warmth.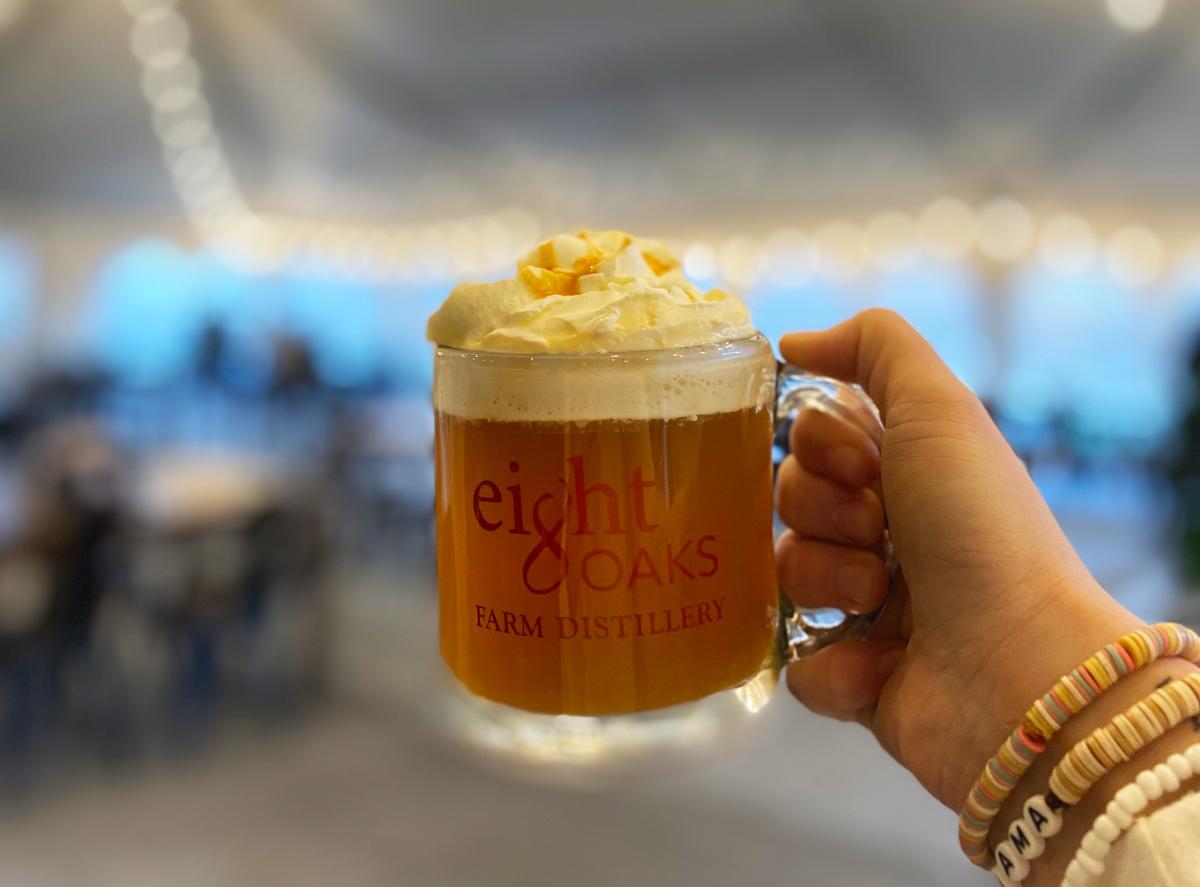 Grille 3501
3501 Broadway, Allentown, PA
Grille 3501 boasts a lofty and breathtaking atmosphere inside this wood-beamed and high-windowed four-season indoor-outdoor porch and mezzanine. Try the incredible cocktails and a fusion menu fit for that special date night. On busier nights additional tent space comes into play.

Braveheart Highland Pub
430 Main St., Hellertown, PA
Comfortable with an old-world tavern feel, Braveheart Highland Pub is the place to go for your haggis fix and a rich plate of bangers and mash as well as less thoroughly Scottish fare. A deck was recently added to provide an outside dining option, well-warmed and covered in the colder months.

Copperhead Grille
5737 Rt. 378, Bethlehem, PA
Holding down its stretch of 378, the elevated sports bar Copperhead Grille expanded its outdoor capacity with a 2,000-square-foot area before the pandemic was even a whisper. Get your wings, your nachos, or your slate of piping-hot fajitas and watch a game without stepping foot inside.

Three Oak Steakhouse
323 Northampton St., Easton, PA
OAK's glass-enclosed rooftop bar in downtown Easton, PA offers an outdoor dining experience without the chill. Hanging string lights and fire pit tabletops provide a cozy vibe in the winter months. Enjoy a cocktail up top before venturing downstairs to the 128-seat multi-floored restaurant for a steak dinner.