From rooftops views and beer garden alleys to lush secret gardens and verandas, there's an al fresco spot for every occasion across Lehigh Valley. Dynamic downtowns and incredible dine outside.
 allow visitors to experience both when they 
Alfresco dining setups are varied in Lehigh Valley, where restaurants often have tiny footprints. Luckily, our chefs and restaurateurs are as creative with their spaces as they are with their food.
In addition to backyard patios and gardens, many restaurants have expanded their sidewalk seating to serve as outdoor dining, often adorned with plants, paint and lights, transforming parking spots into mini-food havens.
Tables fill up quickly, so reservations are recommended, if not required, at most restaurants. Read on for our guide to top outdoor dining destinations in some of Lehigh Valley's most exciting downtowns.
ZEST bar+grille, Bethlehem - Enjoy the outdoor terraces (equipped with fans!) at ZEST Bar+Grille. Zest is smartly designed to optimize the view of Southside Bethlehem, with retractable windows, tables that are window height and a variety of seating areas to accommodate almost any need, from a cozy duo to a larger group or even a small meeting or event. It boasts an all-year-round balcony (heaters help)—it's a rooftop restaurant, one of only a few in the region.
Sports & Social Allentown - Sports & Social in Allentown offers a unique outdoor dining experience where customers can enjoy delicious food and drinks while surrounded by a vibrant and lively atmosphere. Whether you're looking for a casual lunch or a night out with friends, the outdoor dining area provides a comfortable and relaxed setting to soak up the sun and take in the city views with sports at the forefront of all that they do. With a diverse menu and a variety of beverage options, Sports & Social is the perfect destination for those seeking a memorable dining experience in the heart of Allentown. Not to mention, it's walking distance to the PPL Center and ArtsWalk.
Westside Grill, Allentown - The western end of Lehigh Valley boasts one of the newest restaurants with outdoor dining to open within the region, and it's within the dual Hyatt Place | Hyatt House hotel. With its New York-based Champalimaud Design interiors, the Westside Grill is often first described as a steakhouse for its variety of cuts from prime filets and aged New York strips to black Angus bone-in rib eyes and tomahawk for two. It's modern and vintage interiors pave way to expansive outdoor spaces to enjoy speciality cocktails using A-Treat soda... the Double Bubble cocktail is a sweet sip consisting of Three Olives Bubble, lemon juice, cranberry, and A-Treat bubble gum soda. Garnished, of course, with a nugget of bubble gum. The Pineapple Colada Punch similarly presents a combination of cream of coconut, rum, pineapple juice, Luxardo maraschino cherries, and a dash of pineapple A-Treat soda.
The Bayou Easton - Can't get much closer to the action in Centre Square, than with The Bayoumesa. The southern-inspired restaurant's large barroom windows open to allow the indoor and outdoor atmospheres to blend.
McCarthy's Red Stay Pub, Bethlehem - Without a location just off Main Street, the patio at McCarthy's Red Stag Pub allows diners to enjoy the activity of Downtown Bethlehem without being bothered by too many passersby.
Ocean, Easton - Oceanic decor sets the tone at Ocean, an upscale restaurant and bar serving elegantly plated seafood. It's outdoor Alley sets the mood with summer in the air.
blue grillhouse, Bethlehem - Whether you want to enjoy a cocktail or a full meal, the elegant, yet laid-back outdoor atmosphere at blue grillhouse in Bethlehem can't be beat. All the food is of top-notch quality, but blue grillhouse is known for its wide variety of steaks and chops. Treat yourself here, because it is definitely worth it. Plus, no matter the weather, the al fresco dining area is still the perfect place to be. There are fans if it's hot, a wooden awning to protect you from the rain, and heat lamps for the nights that get a bit chilly. You definitely won't be disappointed!
Mesa Modern Mexican, Easton - Vibrant garden troughs at Mesa Modern Mexican surround the front patio at Downtown Easton's spot for updated takes on tacos, guacamole, and other Mexican fare. It's the perfect place to enjoy a margarita on a summer day.
The Wooden Match, Bethlehem - Kick back in the outdoor seating area at The Wooden Match with a craft beer and cigar. "The Match" features a cool twist, the outdoor area is nestled up against old train tracks! It's an experience that is unrivaled. This restaurant puts signature twists on classic dishes... recommend the "Re-United," which has pulled pork topped with bacon, ham, pineapple chutney and Cooper Sharp cheese. Is your mouth watering yet? Stop by on Thursday and Sunday nights to catch some live music. The restaurant is a short walk away from Main Street in Bethlehem, making it a great place to stop after you've explored the historic and quaint downtown Bethlehem.
Bru Daddy's, Allentown - Tucked away on Hamilton Street, Bru Daddy's beer garden is the perfect spot to grab a beer and share apps with friends. Happy Hour on Hamilton Street Specials for Thursday's include $4 Hamilton Street Helles Lager, $5 PA wines, $5 PA well singles and $7 PA well doubles, 1/2 off shareables. dining on their outdoor patio after a concert or game at the PPL Center. The restaurant and beer garden is in a prime location, as it is directly across the street from the PPL Center in downtown Allentown. The diverse menu makes it difficult to just choose one thing which makes for a good excuse to keep coming back. You'll want to try everything on the menu!
​Melt, Center Valley - The covered outdoor patio at the luxe Italian grill Melt (at the Promenade Shops of Saucon Valley) fits up to 32 people. The wall along the patio can open up to give indoor diners an outdoor vibe.
View at Morgan Hill, Easton - The vast deck, The View, at Morgan Hill Golf Course can accommodate about 120 people and boast amenities like a comfy lounge area and a full service wet bar. All summer long, seasonal Tito's cocktails rotate on draft. The motorized pergola opens and closes, allowing guests to enjoy the deck even if the weather is less than perfect.
Tavern at the Sun Inn, Bethlehem - The Tavern at the Sun Inn sets a new standard for al fresco dining in Downtown Bethlehem with its 60-seat, off-street patio. The tavern recently launched an acoustic music series on the patio to go with Colonial-inspired food and Pennsylvania-brewed beer. 
​Aman's Artisan Indian Cuisine - Dine under the stars on Aman's moonlit alley. Enjoy the sights and sounds of downtown Easton, while enjoying the rich flavors of Indian cuisine and culture al fresco style. ​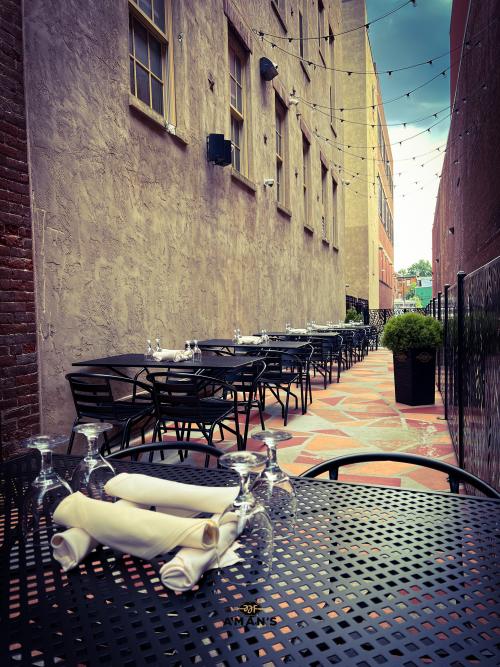 Enjoy outdoor dining and the warm weather while summer's here! Feel free to share your comments below on your favorite places to dine al fresco.