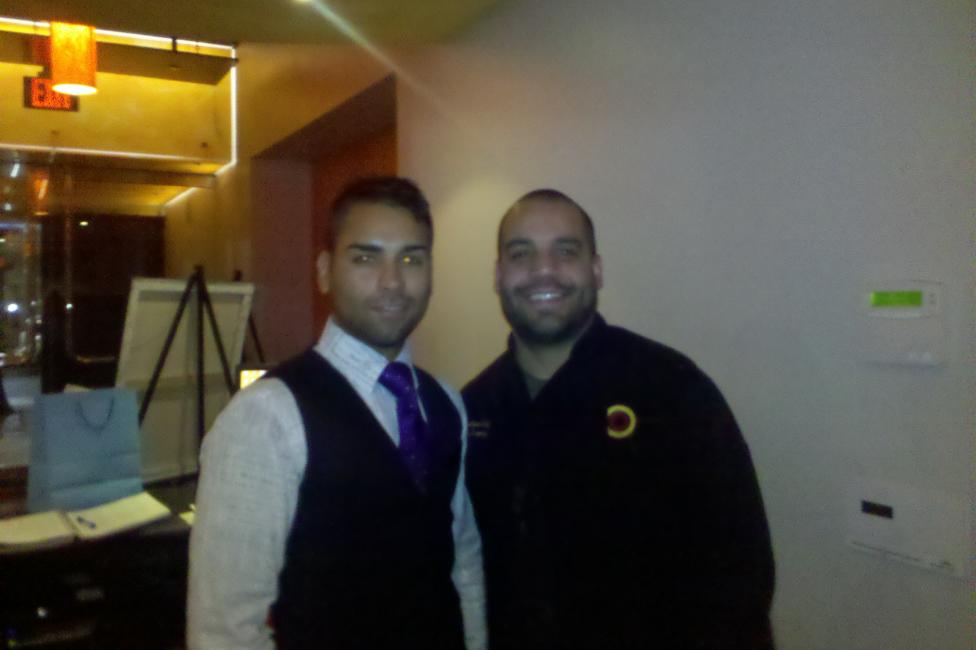 This whole week has been "Restaurant Week" in Allentown with participating eateries offering 3 course lunches and dinners at a fixed price. A three course lunch may be a bit much, but I was ready to do my part to support the cause.
Yesterday's dreary weather didn't make me want to venture out. Luckily we have two very good options right in our building. After checking out the online menus, I decided to patronize Sangria*, one of Lehigh Valley's many great restaurants to open within the past year.
I opted for the Butternut squash soup, Caesar salad, followed by homemade ice cream to go. Truth be told, I only ate the soup. I didn't want to spoil the experience.
I make soup. My husband makes soup. But I had to go back down at the end of the day to ask who made the soup that was tasty beyond description. It was Abe Lopez pictured here with evening server Antonio Rivera. Abe was a little shy and didn't want to be in my picture alone. Maybe humble would be a better word.
If you are a Food Network addict like me you may remember Abe. He was a Chopped Champion back in 2009, beating out 3 other chefs preparing meals from their famed "mystery baskets" of ingredients. You can imagine how delectable his meals are when he has time to plan!
Now that I think about it…I've never had a mediocre meal at Sangria, and I've always enjoyed the soups. Ironically, Abe said his wife doesn't think soup is his strongest offering, maybe because he is so good at other courses? So next time you're wondering where to eat in Allentown, consider Sangria. Tell them Nancy sent you.
Blog post done, my reward … ice cream!
*Sangria closed July 2013.