Experience Musikfest
in Lehigh Valley, PA
August 2-11, 2019
Each summer, Bethlehem comes alive as the tradition of Musikfest returns to the city. The festival kicks off on the first Friday of August and continues for 10 consecutive days packed with music, food, and plenty of fun for all ages. Your first time attending the 'Fest can sometimes be a bit overwhelming. We've compiled some tips for a happy Musikfest experience, including must-see artists, eats, guides to parking, and even where to take a potty break. 
Ready to start planning your visit? Jump to sections below to learn more about Musikfest:
The Basics
Named the "Best Music Festival in North America" by USA Today's 10best.com, Musikfest features more than 500 performances on 17 stages (referred to as 'platzes' to pay homage to the city's Germanic heritage) throughout Bethlehem over 10 days. This year's festival runs August 2 - 11, 2019, with a special preview night starring Earth, Wind & Fire on Thursday, August 1, 2019. 
The festival is spread throughout the city of Bethlehem, covering Main Street, the Colonial Industrial Quarter, and the SteelStacks campus on the city's SouthSide. It's easy to get overwhelmed when looking at all that's going on, but you'll find fun tucked around every corner. We recommend that first-timers to Musikfest spend some time getting lost as you wander through the festival grounds. You'll find that there's much more than music happening here! Don't miss award-winning food vendors offering everything from fresh-cut fries to deep fried, well, everything. There's also sweet treats, healthy options, and more. Be sure to spend time browsing the wares of local craft vendors, admiring artists at work, and exploring the hands-on art activations that are spread throughout the festival.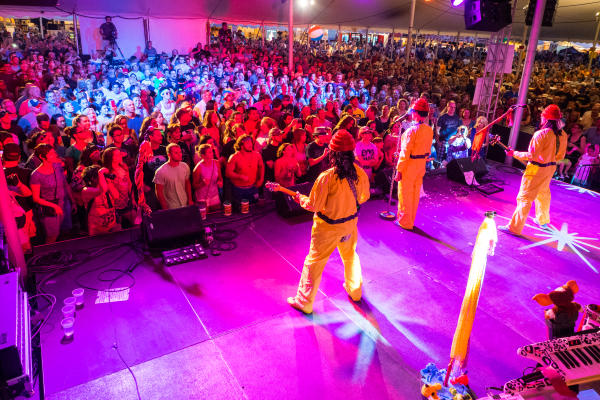 Festival hours are as follows: 
North Side Hours:
August 2, 5 -11 p.m.
August 3-11, noon - 11 p.m.

SouthSide Hours:
August 2, 4 p.m. - 1 a.m.
August 3, noon - 1 a.m.
August 4, noon - midnight
August 5-8, 4 p.m. - midnight
August 9, 4 p.m. - 1 a.m.
August 10, noon - 1 a.m.
August 11, 4-11 p.m.

To stay up-to-date on all the latest happenings at Musikfest, including any special announcements, consider downloading the app. You can even custom create your own itinerary to be sure you won't miss your favorite band. 
The Music
While the majority of the performances are free, you will find one ticketed, headlining show during each night of the 'Fest showcased on the Wind Creek Steel Stage (located at SteelStacks). The lineup for 2019 includes: 
August 1: Earth Wind & Fire
August 2: The Chainsmokers
August 3: The Steve Miller Band
August 4: Lady Antebellum
August 5: Weezer
August 6: Train & The Goo Goo Dolls
August 7: Incubus
August 8: The Revivalists
August 9: Godsmack
August 10: Phillip Phillips
August 11: Brad Paisley

But don't discount the free performances! Visitors will find stages brimming with local artists, plus nationally-recognized acts including Brandon "Taz" Niederauer, Scythian, Guster, !!!, and more. And, Musikfest favorites including the Amish Outlaws, Igor & the Red Elvises, Rubix Kube, Flowers for Taco, and the Aardvarks are back for more crowd-pleasing performances that are sure to be packed with your favorite tunes. 
Art & More
Music isn't the only form of entertainment you'll find -- throughout the festival, be sure to stop and see various street performers delighting crowds young & old.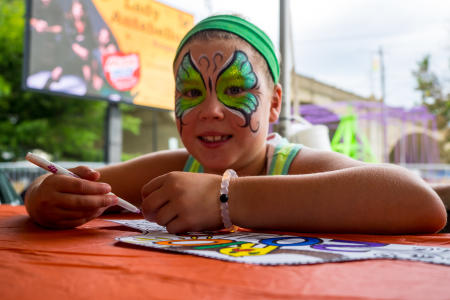 'Festers will want to get their cameras ready again this year as they check out Prismatica, an installation comprised of pivoting prisms more than two meters tall (or 6.5 feet), transforming the space into a giant kaleidoscope. As visitors wander among and manipulate the prisms, they will enjoy an infinite interplay of lights and colorful reflections. As the prisms rotate, a variable-intensity soundtrack comprised of bell sounds will play. Prismatica can be found at Musikfest from 1-11 p.m. at the Guardian Insurance Company of America Zinzenplatz (NorthSide) and the Americaplatz (SouthSide).
In the mood for some laughs? Don't miss the Lehigh Valley with Love ComedyPlatz, housed within the Ice House (56 River St., Bethlehem). This year's lineup showcases 14 free stand-up comedy shows over six nights on August 2-4 and 9-11. New this year are family-friendly shows that will entertain all ages. Over the course of the 14 shows, more than 30 comics from across the mid-Atlantic region will be featured including Doogie Horner, Boris Khaykin, Jim Tews, Nataly Aukar, and more. Regular shows are 7 and 9:30 p.m. on Aug. 2-3 and 9-10 and 7 p.m. on Aug. 4 and 11; family-friendly performances are at 4:30 p.m. on August 3, 4 and 10, 11. No tickets are needed for any of the performances though space is available on a first-come, first-served basis.
You can also enjoy - or even take part! - in a number of hands-on art activities including glassblowing, yarn bombing, the sculpture garden, and more. There are plenty of kid-friendly activities on site as well.
Getting There
Now for the logistics. Traveling overnight to visit Musikfest? Consider one of these packages that will make planning your trip a breeze. Each offer includes overnight accommodations at a nearby hotel or inn, plus a Musikfest mug, and food & beverage tickets. 
If you're driving to the festival, don't waste time searching for street parking. Instead, head right for one of the available satellite lots (1550 Valley Center Parkway or 240 Emery Street off of Rt. 412) where you can park for free. The Shuttle cost is $5 per adult (13 and over); $3 per child ages 3-12 when accompanied by a fare-paying adult; and free for children 2 and under (must be able to sit on the lap of an adult). The price includes same-day access to the North-South Transfer Shuttles.
Another solid option is to check out availability within the two parking garages on the city's North Side - Walnut Street and North Street. Though there is a fee to park in these garages, you'll be steps away from the action. 
Getting Around
You're sure to get in your 10,000 steps at Musikfest! We recommend wearing comfortable walking shoes as the footprint of the festival is quite large and does include travel on both paved and gravel paths with some incline. August days in Pennsylvania can be toasty, so be sure to stay hydrated as you're exploring! 
While much of the festival grounds are walkable, a shuttle is also available to take you from the North Side grounds to the South Side grounds. Make your way to 'Shuttleplatz' where you can catch the North / South Transfer for just $4. You can view a full map of the festival grounds, including location of the various platzes, shuttle points, and more here. 
When nature calls, you'll find plenty of facilities available for use. On the South Side, take advantage of indoor bathrooms at the Visitors Center, as well as within the ArtsQuest Center at SteelStacks. On the North Side, consider using the bathrooms near Volksplatz in the Colonial Industrial Quarter for some slightly less trafficked resources. For a full map of available restrooms, click here. 
Food & Drink
With all the walking and dancing that comes along with enjoying Musikfest, you're sure to have worked up an appetite. Luckily, there are endless amounts of food and beverage options to savor. Rather than taking cash directly, food and beverage vendors accept Musikfest tickets that can be purchased by cash or card throughout the festival grounds. 
At Musikfest, you'll find everything from your traditional fair favorites (deep-fried Oreos, anyone?) to more unique eats, including the festival's first all-vegan vendor. Classic choices include Aw Shucks Roasted Corn, Take a Taco, Island Noodles, Kabobs, and ice cream from the Bethlehem Dairy Store.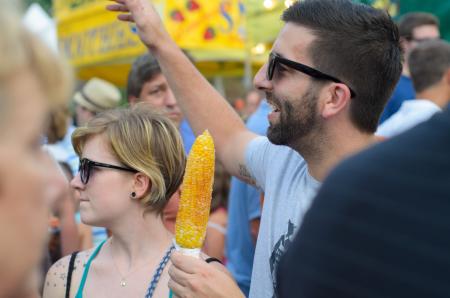 Each year, Musikfest also introduces new food vendors to the list of classics, giving you even more options when hunger strikes. New for 2019, be sure to check out offerings from: 
Wood Fired Pizza: Margherita Pizza, Calabrese Pepperoni Pizza and Hummus and Roasted Vegetables Pizza
Meltdown Gourmet: Philly Cheesesteak, West Side Cheesesteak, Big Blue Cheesesteak, Veggielicious, and Sweet Potato Fries
Knot of This World: Pretzel Braids, German Bavarian Pretzels, and Cinnamon Pretzels
El Tlaloc: Tacos, Burritos, and Quesadillas
La Pepa: Pollo Frito, Spanish Style Pulled Pork, Grilled Cheese Flauta, José Andrés Foods potato chips, and Sangria
Thai Jasmine: Garlic Chicken, Veggie Spring Roll, Pad Thai with Garlic Chicken, Lo Mein with Garlic Chicken, Pad Thai with Rice and Tofu, Rad Thai with Rice and Sesame Chicken, and Pad Thai with Rice and Beef Teriyaki
The Sausage King: Hot or Sweet Pepper and Onion Hero, Knish Sandwich, and Knish
Waffle De Lys: Belgian Waffles with Toppings
Dietz & Watson Hot Dog Cart: Dietz & Watson Hot Dogs, and more
Wiz Kiz: Cheesesteaks, Fries, Pierogies, Fry Bowl, and Rogi Bowl

Be sure to pick up an iconic Musikfest Mug to keep your beverage of choice nice and cold - plus, you'll help the crews cut down on waste. Mugs are reusable year to year, but it's never too early to start your collection! Fill your mug at stations throughout the festival with beers including Yuengling Lager, Yuengling Golder Pilser, Miller Lite, and more. Be sure to also stop by the Craft Cocktail Bar to indulge in offerings from local wineries and distilleries. Plenty of non-alcoholic beverages are available for purchase throughout the festival grounds.