Experience Musikfest®
in Lehigh Valley, PA
August 6–15, 2021 • Stay tuned for updates
---
Stay up to date on Lehigh Valley tourism, events, and happenings. Sign up for Discover Lehigh Valley's eNewsletter. 
---
Each summer, Bethlehem comes alive as the tradition of Musikfest® returns to the city. With safety at top priority, following all CDC, state and local health and safety guidelines, Musikfest® 2021 will take place August 6-15, 2021. While planning is underway, ArtsQuest is looking for input from self-described Bethlehem Musikfest Super Fans to help create the best possible festival for the entire community. Whatever format is decided, Musikfest will promise 10 days packed of music, food, and plenty of fun for all ages. Stay tuned for updates on the Musikfest schedule and Musikfest lineup.
In 2020, music lovers streamed concerts from a wide variety of genres like, rock, blues, folk, Celtic, world, indie, and more. Concerts aired live on Service Electric's channels 2 and 50 (locally to the Valley) and then replayed on Musikfest, making the shows accessible to people throughout the region and across the country. And, a select number of shows were offered in-person with very limited capacities and advanced reservations.
Jump to sections below to learn more about Musikfest, including a recap of 2020 happenings:
---
Musikfest 2021 Poster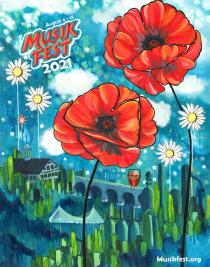 Painted by Sellersville-based fine artist, Mandy Martin, this year's poster is based on the symbol of rebirth that poppies came to be in the wake of World War I. It was conceptualized prior to the COVID pandemic but took on new meaning as Martin worked on the piece in quarantine.
"The Musikfest poster conveys a sense of hope and light. Brilliant red poppies rise from the Bethlehem landscape, while daisies spin magical music notes into the air," said Martin, a member of ArtsQuest's Banana Factory Artist Collective. "We have all been through a lot in the past year, and poppies remind us that new growth often arises after times of hardship. I wanted the viewer to anticipate a time of renewal and joy as we come together for the festival this year."
Martin, whose work has also been exhibited at the New Hope Art Center in New Hope, PA and the Annmarie Arts Center in Solomon, MD, admitted to going through a period of growth and rebirth herself as she watched the painting darken with her own thoughts and feelings as the pandemic progressed. She had to remind herself that hope still lives, and must be depicted through light in her artwork.
Martin's work can be seen at her website; she hopes, through her art, to "inspire viewers to look more carefully at the world around them, to discover beauty in unexpected places, and to take care of the Earth."
---
Music Lineup from 2020
Virtual Musikfest 2020 featured 40 exclusive concerts shown via Musikfest.org as part of Virtual Musikfest and 40 performances by bands airing live from the Service Electric TV studios. Unless otherwise noted, the concerts below aired live on Service Electric TV2 and can be replayed on-demand on Musikfest.org. There are 5 in-person live concerts at SteelStacks required reservations.
---
The Food Situation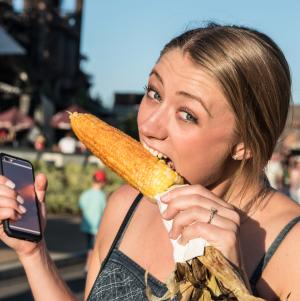 We're here for the food, too. Despite the 2020 festival being Virtual, you were able to get your 'fest feast on by visiting the SteelStacks campus to enjoy a variety of food and beverage options.
'Fest food to-go service
Onsite foods and beverages (Yuengling & Banko Beverage), as well as Musikfest merchandise like the popular collector's mug, were offered following all state and city health & safety regulations. The complete list of vendors and their menus are:
Aw Shucks Roasted Corn: Corn *Offered ONLY at Musikfest this summer* 
Karl Ehmer/Heaven on a Bun: Bratwurst, Krainerwurst, Long Vienna Hot Dogs, German Potato Salad, Sauerkraut, Cheeseburgers, Cheesesteaks, Sausage Sandwiches, Hot Dogs, French Fries, Crabby Fries, Cheese Fries, Sweet Potato Fries, Pierogis, Mozzarella Sticks
Mr. Bill's Poultry: Chicken Fingers and Fries, Chicken Finger Sandwich, Chicken Parmesan Sandwich, "The Hot Mess"
Festival Island Noodles: Island noodles
Hogar Crea: Shish Kabob, Chicken, Rice and Beans, Empanadas *Offered ONLY at Musikfest this summer*
Bethlehem Dairy Store: Ice Cream, Italian Ice, Root Beer Floats, Belgian Waffles, Apple Dumplings, Colossal Ice Cream Sandwich
Theo's Gyros: Gyros, Baklava, Stuffed Grape Leaves, Hummus
Heidi's Strudel/Island Expressions: Strudel, Almonds, Smoothies, Funnel Cake, Boom Boom Shrimp, Coconut Shrimp
The Flying V: Naked Fries, Classic Poutine, American Bacon Poutine, Breakfast Poutine, Buffalo Chicken Poutine, Chicken, Bacon Ranch Poutine, Montreal Smoked Meat Poutine
Take A Taco: Tacos, Taco Salads, Mexican Salads, Fajitas, Quesadillas, Taco Dog, Garlic Parmesan Pierogi Fries
Outdoor dining during live shows at SteelStacks
ArtsQuest offered outdoor dining on the Air Products Town Square & Levitt Pavilion lawn the first weekend and final weekend of the festival. The SteelStacks campus opened at 6 p.m. each night, with live music starting at 7 p.m. Guests who wanted to attend in-person concerts at Musikfest 2020 reserved a table on the Air Products Town Square – where bands performed on the Highmark Blue Shield Community Stage – or one of the 6' x 6' spots on the Levitt Pavilion lawn, perfect for putting out a blanket or lawn chairs to enjoy the music performances from the Highmark Blue Shield Community Stage via the Levitt Pavilion outdoor screen. Both table and lawn spot reservations were good for parties of up to four people, with campus attendance limited to ensure proper safe social distancing. Air Products Town Square guests can enjoy dinner available from the ArtsQuest Center menu. Levitt Pavilion lawn spots were spaced accordingly to follow safe social distancing and food and beverages ordered via the Mack Truck Stop, bar on the lawn and the "Fest Food To-go Service," featuring the vendors above.
---
Can I still get Musikfest 2020 mug?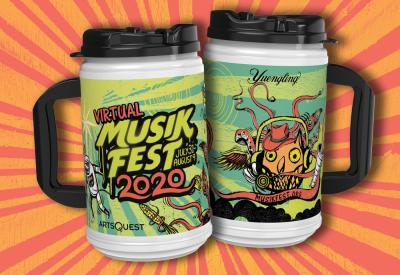 Yes! Commemorative 2020 Musikfest mugs are available for purchase to keep your beverage of choice nice and cold. Mugs are reusable year to year, but it's never too early to start your collection! Your support helps ensure ArtsQuest so that we may fest again in the future.
As a nonprofit arts and cultural organization that offers 50 percent of its programs annually for free, ArtsQuest has been especially hit hard by the COVID-19 related shutdowns. Visit musikfest.org for more on donations and merchandise purchases. 
Check back for updates when the 2021 Musikfest Mug goes on sale.
---
Virtual Handwerkplatz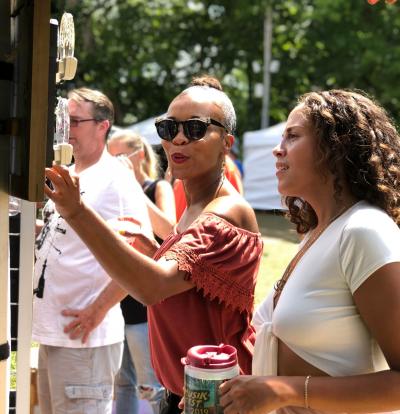 Handwerkplatz presented by Martin Guitar, is Musikfest's popular artisan village in Historic Bethlehem. In 2020, the platz was an online shopping destination highlighting the region's artists. Featured artists included:
Whisker Biscuits Handmade Dog Treats – healthy USA-made pet treats
Skyseed Energy – handcrafted healing, hand-wrapped gemstones
High Strung Studios – handcrafted guitar string jewelry and gifts
Rediscover Handbags – handbags with your favorite theatrical program or album cover
Lucas Candies – craft beer brittle
Handmade Art Studios – handmade colorfully created wall art
RAVEbandz No Slip Headbands – lifestyle and fitness headbands
Finneran Jewelry – handcrafted upcycled jewelry made from vintage tin and beads
Rickey's Jerky – handcrafted beef and exotic game jerky
Michael Sandy Photography – fine art photography including photos of Bethlehem Steel
ArtsQuest's resident artists at the Banana Factory, including the glass studio, were also featured on the online shopping portal. In addition, videos demonstrating how the artisans' products are made were released each day during Musikfest. 
---
---
Virtual Familienplatz
Crayola partnered with ArtsQuest for a coloring contest featuring the official Musikfest 2020 poster artwork created by artist and illustrator Doug Boehm. Download the Musikfest poster coloring sheet.
Families also picked up Take-Home Art Kits to engage kids in art activities during the festival. In addition, the ArtsQuest Visual Arts Team developed a series of videos to teach families how to create artwork based on common objects found around the home.
---