Experience Musikfest®
in Lehigh Valley, PA
Save the Date: Aug. 5–14, 2022 
Bethlehem, Pennsylvania
Stay up to date on Lehigh Valley tourism, events, and happenings. Sign up for Discover Lehigh Valley's eNewsletter. 
---
Each summer, Bethlehem comes alive as the tradition of Musikfest returns to the city. The festival kicks off on the first Friday of August and continues for 10 consecutive days packed with music, food, and plenty of fun for all ages. Your first time attending the 'Fest can sometimes be a bit overwhelming. We've compiled some tips for a happy Musikfest experience, including must-see artists, eats, guides to parking, and even where to take a potty break. 
Ready to start planning your visit? Jump to sections below to learn more about Musikfest:
---
The Basics
Named twice the No. 1 Music Festival in North America by the USA Today/10Best readers' poll, Musikfest features hundreds of performances on stages (referred to as 'platzes' to pay homage to the city's Germanic heritage) throughout Bethlehem over 10 days. This year's festival runs August 6–15, 2021, with a special preview night starring Darius Rucker on Thursday, August 5, 2021.
The festival is spread throughout the city of Bethlehem, on the north side covering the Historic Moravian District and on the SouthSide at the SteelStacks in the SouthSide Arts District. It's easy to get overwhelmed when looking at all that's going on, but you'll find fun tucked around every corner. We recommend that first-timers to Musikfest spend some time getting lost as you wander through the festival grounds. Don't miss award-winning food vendors, local craft vendors, artists at work, and hands-on art activations that are spread throughout the festival.
North Side (Historic Moravian District) Hours: August 6, 5 – 11 p.m.; August 7-15, noon – 11 p.m.
SteelStacks in the SouthSide Arts District: Weekdays, 4 – 11 p.m.; Fridays, 4 p.m. – 1 a.m.; Saturdays, 12 p.m. – 1 a.m.; Sundays, 12 p.m. – 11 p.m.
---


Music Lineup
While the majority of the performances are free, you will find one ticketed, headlining show during each night of the 'Fest showcased on the Wind Creek Steel Stage (located at SteelStacks). And tickets to many of these amazing performers are only $15! Headliners rescheduled to 2022: Willie Nelson, Poison, and Kelsea Ballerini. Dates to be announced shortly. All tickets previously purchased will be honored for the new dates. ArtsQuest will notify all ticket holders with details.
Wind Creek Steel Stage Headliners:
Free Music Performances
But don't discount the free performances—more than 300 free performances! Across the festival's Bethlehem footprint, visitors will find stages brimming with local artists, plus nationally-recognized acts including Igor and the Red Elvises, Jimmy and the Parrots, Philadelphia Funk Authority, The Sofa Kings, Seth Witcher, Sunny War, We Banjo 3 and many more.  
---
Getting There
If you're driving to the festival, don't waste time searching for street parking. Instead, head right for one of the available satellite lots (1550 Valley Center Parkway or 240 Emery Street off of Rt. 412) where you can park for free. The Shuttle cost is $5 per adult (13 and over); $3 per child ages 3-12 when accompanied by a fare paying adult; and free for children 2 and under (must be able to sit on the lap of an adult). The price includes same-day access to the North South Transfer Services. 
Another solid option is to check out availability within the two parking garages on the city's North Side - Walnut Street and North Street. Though there is a fee to park in these garages, you'll be steps away from the action. Additionally, the Lehigh and Northampton Transportation Authority (LANTA) offers additional service during the festival, including a loop shuttle between North & South Bethlehem. 
Find more information on Musikfest parking, rideshares, shuttles, and public transportation.
---


Getting Around
You're sure to get in your 10,000 steps exploring all the "Platz" at Musikfest! We recommend wearing comfortable walking shoes as the footprint of the festival is quite large and does include travel on both paved and gravel paths with some incline. August days in Pennsylvania can be toasty, so be sure to stay hydrated as you're exploring! 
When nature calls, you'll find plenty of facilities available for use. On the South Side, take advantage of indoor bathrooms at the Visitors Center, as well as within the ArtsQuest Center at SteelStacks. On the North Side, consider using the bathrooms near Volksplatz in the Colonial Industrial Quarter for some slightly less trafficked resources. 
---

Food & Drinks
With all the walking and dancing that comes along with enjoying Musikfest, you're sure to have worked up an appetite. Luckily, there are endless amounts of food and beverage options to savor. In the past, visitors needed to purchase tickets for food and drinks, but NEW in 2021, visitors can simply pay with a credit or debit cards directly at food and beverage vendors! OR, convert your cash into reloadable CashCards at several locations throughout the festival.
At Musikfest, you'll find everything from your traditional fair favorites (deep-fried Oreos, anyone?) to more unique eats. Classic choices include bratwurst, halupki, Aw Shucks roasted corn, Take a Taco, Island Noodles, Chick'nCone, The Flying V, and ice cream from the Bethlehem Dairy Store.
New Food Options for 2021
Each year, Musikfest also introduces new food vendors to the list of classics. Sample these newbies: 
The Bagel Bus: Bagel creations 
Le Petit Macaron: French patisserie and macarons
Dinky's Ice Cream: Milkshakes and desserts
Pat's Pizza & Bistro: Try meatballs on a stick and orecchiette marinara burrata
Philly Waffle Cabin: Belgian waffles with unique toppings
Randevoo: Modern Asian fusion
Simply Skewered: Frango churrasco, Korean beef, yucca fries, and more
Cubano Express: Cuban pressed sandwiches and nachos 
Palette & Pour: the new kitchen and bar inside the ArtsQuest Center will serve up many creations to 'festers. Try pierogies, burgers (beef & impossible burgers), wings, build your own tacos, and more. Try house-crafted cocktails at Pour Bar on the Air Products Town Square, like a Founders Way Margarita or the P&P Mojito. 

Musikfest Mugs
Pick up an iconic Musikfest Mug to keep your beverage of choice nice and cold—plus, you'll help the crews cut down on waste. Mugs are reusable year to year, but it's never too early to start your collection! Fill your mug at stations throughout the festival. Plenty of non-alcoholic beverages are available for purchase throughout the festival grounds. Purchase the commemorative 2021 Mug (and other Musikfest merchandise) at any merchandise tent at various platzes around the festival.
---


Art & More
Music isn't the only form of entertainment you'll find. Throughout the festival, be sure to stop and see various street performers delighting crowds young & old. You can also enjoy — or even take part! — in a number of hands-on art activities including glassblowing, paper poppy making, the Crayola Creativity tent, and more. There are plenty of kid-friendly activities on site as well. Browse the wares of local craft vendors, admire artists at work, and explore the hands-on art activations that are spread throughout the festival.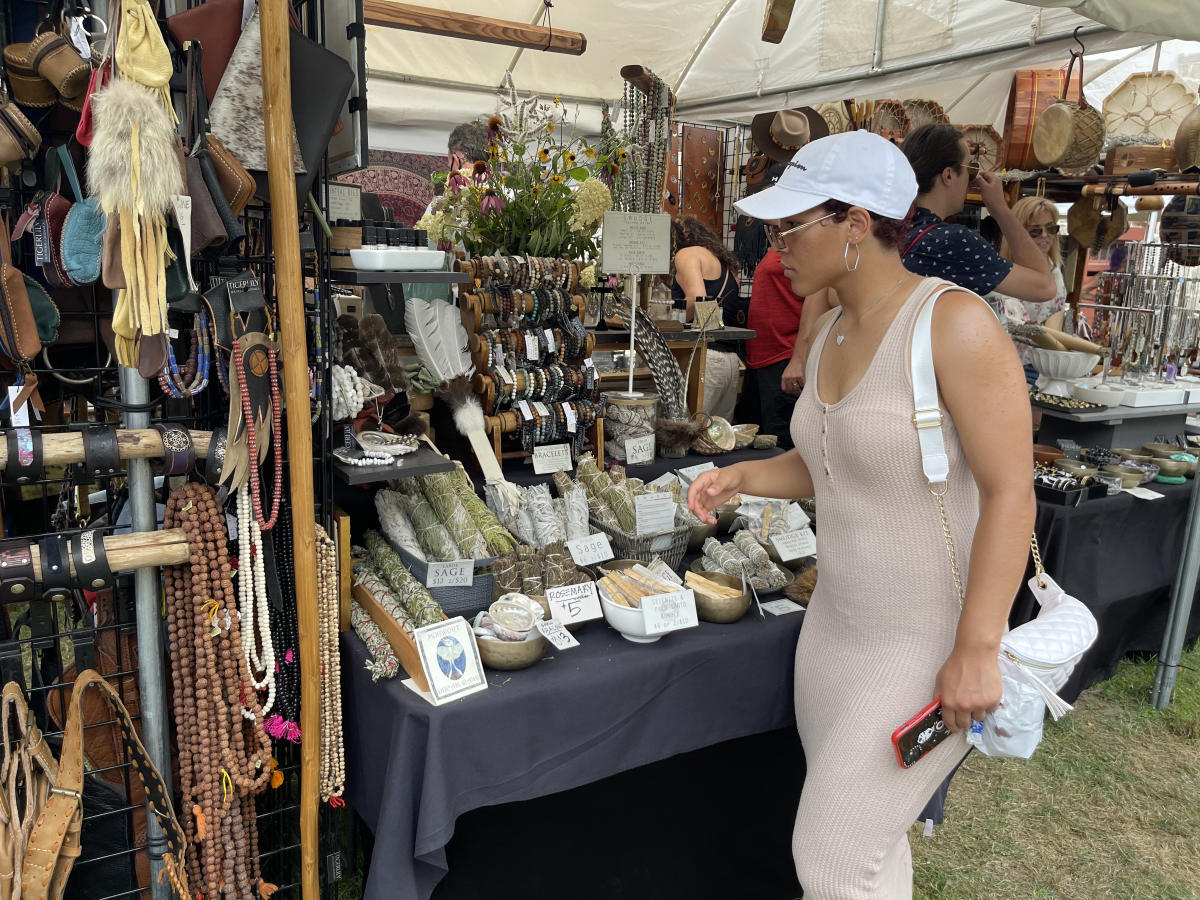 ---
Musikfest 2021 Poster
Painted by Sellersville-based fine artist, Mandy Martin, this year's poster is based on the symbol of rebirth that poppies came to be in the wake of World War I. It was conceptualized prior to the COVID pandemic but took on new meaning as Martin worked on the piece in quarantine.
"The Musikfest poster conveys a sense of hope and light. Brilliant red poppies rise from the Bethlehem landscape, while daisies spin magical music notes into the air," said Martin, a member of ArtsQuest's Banana Factory Artist Collective. "We have all been through a lot in the past year, and poppies remind us that new growth often arises after times of hardship. I wanted the viewer to anticipate a time of renewal and joy as we come together for the festival this year."
Martin, whose work has also been exhibited at the New Hope Art Center in New Hope, PA and the Annmarie Arts Center in Solomon, MD, admitted to going through a period of growth and rebirth herself as she watched the painting darken with her own thoughts and feelings as the pandemic progressed. She had to remind herself that hope still lives, and must be depicted through light in her artwork.
Martin's work can be seen at her website; she hopes, through her art, to "inspire viewers to look more carefully at the world around them, to discover beauty in unexpected places, and to take care of the Earth."
---
Hotels Near Musikfest
Looking to make it an overnight? Bethlehem Musikfest has many hotels nearby in Bethlehem.