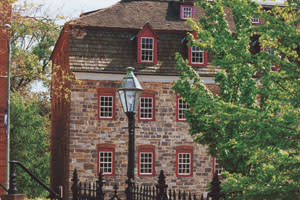 Historic Moravian Bethlehem has joined a very select group by joining the fewer than 2,500 properties nationwide designated as National Historic Landmark districts. Historic Moravian Bethlehem is now also one of only six in the entire state of Pennsylvania with the accolade.
The designation was announced by U.S. Dept. of the Interior Ken Salazar on Wednesday, October 18.
The announcement came after a decade of work by the Historic Bethlehem Partnership.
A National Historic Landmark is defined by the National Park Service as an historic site, structure, object or district that represents an outstanding aspect of American history and culture. Anyone who has had the pleasure to walk through the area is well aware of the beautiful buildings that mesh in almost seamless with present day structures and culture.
The designation includes 14 acres along the Lehigh River.
Historic Bethlehem Partnership Executive Director, Charlene Donchez, said that the designation will allow them to further pursue UNESCO World Heritage recognition.