The fun in Lehigh Valley doesn't end when the sun goes down. With all the new additions to the downtown areas over the last few years, nightlife has definitely taken a front-seat when people are planning out their weekends. Just look at the recent addition of Uber to Lehigh Valley!
Of course, there are many bars and pubs that you can cozy up at for a drink or two- just look to the Lehigh Valley Ale Trail for some of the best recommendations of places to grab a pint. But sometimes, you need to throw on some dressier clothes, pick out a pair of heels, and hit the town. From nightclubs to swanky bars that emulate a Manhattan-type feel, you'll find something for everyone.
To indulge a glass of wine: Corked Wine Bar and Steak House in Bethlehem Located on the heart of Historic Main Street, Corked offers an upscale vibe for diners and nightlife seekers alike. The ambiance of the restaurant transports you to what feels like one of New York's hippest spots, without having to deal with all the hustle and bustle. Enjoy one of the many varieties of wine available by the glass on tap or enjoy a craft beer. You'll often catch live DJs or bands on weekend evenings.
To mingle & dance: Broadway Social in Bethlehem A restaurant by day, this venue totally transforms once the sun goes down. Located in the old firehouse on the South Side of Bethlehem, The Broadway Social is a go-to for locals looking for a trendy night out. Oftentimes, you'll be able to catch sets from DJs both near and far, spinning all sorts of tracks. In addition to an impressive craft beer list, The Broadway Social also boasts a wide range of house-infused liquors. Check out the drink menu for the different varieties.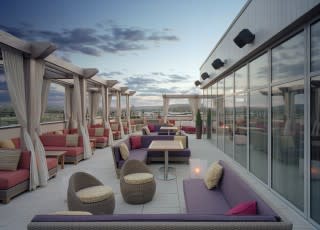 To bask in the warmer weather: Level 3 at Melt at the Promenade Shops in Center Valley When the sunnier months roll around, head to Melt at the Promenade Shops for an outdoor, rooftop bar experience. Make yourself comfortable at one of the plush couches on the balcony, or opt for a traditional seat at the bar. Top shelf, hand-crafted cocktails are served up to complete the full experience.
For a bit of everything: Sands Bethlehem & Vision Bar if you're still at a loss, why not head to Sands Bethlehem? Try your luck on the casino floor, or catch some live music at one of the lounges in the casino. On the weekends, head to Vision Bar for Cirque Saturdays (featuring aerial acrobats and more). Sands Bethlehem is constantly hosting events and live entertainment, whether it's on the casino floor or at the Sands Bethlehem Event Center. Be sure to check their website for full schedules.
With all those options (and more), there's no reason to spend your weekends sitting around at home. Round up some friends and treat yourself to a night on the town! But of course, be sure to celebrate responsibly.