Contributed by Sybil Stershic.
I'm not ashamed to admit I'm a lightweight when it comes to Shakespeare, preferring his comedies over his more dramatic works. That's why I chose to see The Taming of the Shrew as part of the Pennsylvania Shakespeare Festival (PSF) 2016 season at DeSales University.
Most are familiar with this battle-of-the-sexes story in which a wealthy merchant, Baptista, agrees to marry his oldest daughter Katherine – a most difficult young woman with a strong temperament and quick tongue, to the bold, fortune seeking Petruchio, who insists he can tame her – before allowing the younger, sweet and more courtly daughter, Bianca, to be wed to one of her many love-struck suitors. There are several amusing subplots that involve characters disguising their identities that are easier to follow on stage than describe here.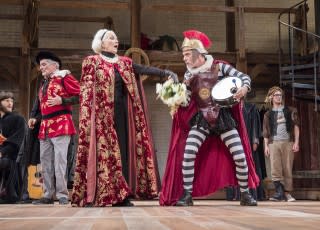 In this production Baptista is played by a woman, award-winning actress Linda Thorson. She and her fabulous fellow actors (many PSF veterans), including Eleanor Handley as Katherina, Ally Borgstrom (a junior at DeSales!) as Bianca, Ian Merrill Peakes as Petruchio, Eric Hissom as Grumio, and many others too numerous to mention here, give a delightful performance under the direction of Matt Pfeiffer.
Listen and watch carefully amid the Shakespearean dialogues to hear and see several contemporary references; this aspect of the production further engaged an already captivated audience. Interestingly, the costumes mixed Elizabethan dress with contemporary clothing. The staging was minimal and effective. A few short musical segments served as transitional interludes and added comic relief.
This delightful production opens July 15 and continues through August 7 on the Main Stage of the Labuda Center for the Performing Arts at DeSales University.
Of special note: The Taming of the Shrew was part of Pennsylvania Shakespeare Festival's inaugural season 25 years ago and was chosen in honor of PSF's 25th anniversary.