Summertime in Lehigh Valley is packed to the brim with fun. Whether your visit includes making a splash at Dorney Park & Wildwater Kingdom, discovering color at Crayola Experience,™ or admiring handcrafted instruments at C.F. Martin Guitar -- you'll want to consider planning a stop at one of these local events to your summer itinerary.
Have a need for speed? Don't miss high-speed thrills during the Summer Months at Pocono Raceway including two NASCAR races - the Pocono 400 (May 31 - June 2, 2019), the Gander RV 400 (July 26-28, 2019) - and an IndyCar race, the ABC Supply 500 (August 17-18, 2019).
What pairs better than music & food? Over 20,000 visitors gather in downtown Allentown each year for the annual Blues, Brews & Barbecue (June 8, 2019) festival. At this event, visitors can catch incredible Blues musicians with international prominence, sample amazing BBQ from all around the US, and drink delicious craft and domestic brews right in the heart of downtown Allentown.
There's no need to head to the big city to take in high-quality theatre performances. Head to DeSales University to catch a show from the Pennsylvania Shakespeare Festival (June 12 - August 3, 2019) where you'll find a lot more than just Shakespearean classics. From classic musicals to kid-friendly performances, the actors deliver top-notch performances in an intimate setting. Pack a picnic to enjoy outside before the performance begins.
Ready to cheer? The popular Lehigh Valley SoccerFest & Viewing Party returns to SteelStacks in Bethlehem to celebrate the Women's World Cup in France June 7 - July 7, 2019. In addition to the viewing party, local youth soccer fans can take part in a number of clinics with professional athletes.
Experience down-home fun at the Schnecksville Community Fair (June 18-22. 2019). The Schnecksville Community Fair began as a small carnival on the grounds of Community Fire Co. No. 1 in Schnecksville, PA in 1981. Over the years, the event has grown and matured while still being able to keep its mission to be a first-class agricultural fair constant.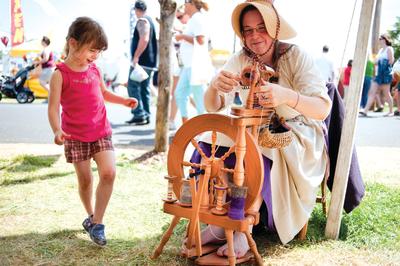 Step back in time to explore unique food vendors, crafts and all things Pennsylvania Dutch at the Kutztown Folk Festival (June 27 - July 7, 2019). Recognized as America's Oldest Folk Life Festival, this annual event draws thousands. Be sure to visit the Quilt Barn for a glimpse of some stunning handmade pieces.
Watch history come alive in Lehigh Valley! Easton Heritage Day (July 14,2019) is a free, full-day family festival that showcases local history, offers activities for kids, and concludes with an amazing fireworks display over the Forks of the Delaware. This celebration marks Easton's historic significance in the founding of the United States: at noon on July 8, 1776, Easton was one of three places where the Declaration of Independence had its first public reading.
Ready to celebrate the season's sweetest treats? Don't miss Historic Bethlehem Museums & Sites Blueberry Festival (July 20-21, 2019), hosted at Burnside Plantation. In addition to all things blueberry, visitors can check out wares from local vendors, enjoy live entertainment, and more. 
See some of the nation's top drum & bugle corps perform on the field at J. Birney Crum Stadium in Allentown as part of the DCI Eastern Classic (August 2-3, 2019). The Championship is a two night event, with half of the competitors performing each night. Each 11-minute performance combines music, marching, and special effects. 
Vroom vroom! Admire all sorts of classic vehicles at two vintage car shows. Each summer, Das Awkscht Fescht (August 2-4, 2019) and Wheels of Time (August 23-25, 2019) welcome hundreds of rides to Macungie Memorial Park. As you take in the beauty of the vehicles, you can also shop flea markets, enjoy live performances, shop craft vendors and more.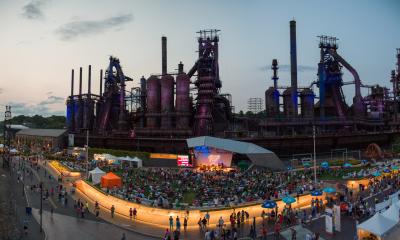 With performances ranging from Afrobeat to Zydeco, Musikfest (August 2-11, 2019) welcomes nearly a million guests to Bethlehem each August. Lauded as the nation's largest free, non-gated music festival, visitors can enjoy nearly 500 free performances throughout the course of the 10-day event. Pick up one of the iconic Musikfest mugs to keep your beverage chilly as you wander the festival grounds, packed with every type of food you can imagine. Musikfest also features headlining performances by national artists each night.
Pennsylvania's oldest Native American Indian festival, the Roasting Ears of Corn Festival (August 17-18, 2019) returns to the Museum of Indian Culture. The event promises a weekend of American Indian drumming, singing, dancing, food, and more. See Native American cooking and flintknapping demonstrations, artifact displays, a Plains Indian tipi, and mountain man fur trade encampments. Experience throwing a tomahawk or using an atlatl (spear thrower). Peruse the marketplace for Native American jewelry, fine art, and clothing. 
Held on the grounds of the JCC of the Lehigh Valley, Lehigh Valley Pride (August 18, 2019) is the region's premier outdoor event for the LGBT Community and allies. This year, the Pride Festival will host two stages, drag performances, KidsSpace, TeenSpace, an Artist Promenade, Gay Bingo, and the Pride Pub, in addition to retailers and food vendors. 
Close out summer at the Great Allentown Fair (August 27 - September 2, 2019). Dedicated to supporting the achievements of farmers, gardeners, and homemakers, the Fair invites guests to learn about agriculture while spending an exciting time riding rides, playing games, and seeing shows. 
For a full look at all the events happening in Lehigh Valley, check out the full calendar of events.