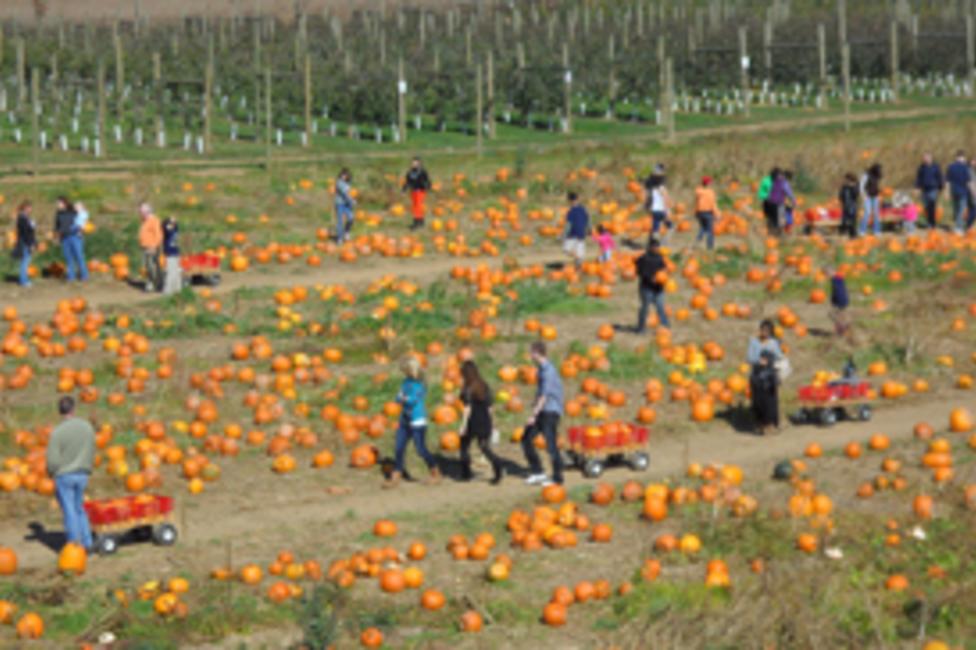 By Josh Popichak
Lovers of fall can rejoice that at this time of year, many Lehigh Valley farms are playing host to outdoor autumnal attractions, including corn mazes, pumpkin patches, hayrides and more. Below is a brief guide to some of the most popular local fall farm festivals, most of which continue through late October or early November. If you know of other local farm events, please tell us by posting a comment. Have a ball this fall, y'all!
Grim's Orchard & Family Farm, 9941 Schantz Road, Breinigsville, 610-395-5655, www.grimsgreenhouse.com, Fall Festival event page on Facebook.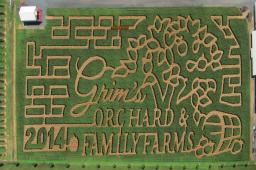 Grim's Fall Festival in Breinigsville includes a six-acre corn maze, hayrides, a play corral, pumpkin-picking, barnyard animals and more. Admission to the corn maze is $8 for ages 3 and up; kids 2 and under are free. Visit the website for a list of admission fees for other attractions and to sign up for coupons and other information via email. Flashlight Maze Nights are a special attraction Friday and Saturday from 6 to 10 p.m., through Nov. 1 (last admission is an hour prior to closing). The fall festival continues through Nov. 2. The farm is open most days from 10 a.m. to 6 p.m.
Windy Springs Farm Road Stand, Rt. 663 between Weiss Road and Allentown Road, Quakertown, 215-536-8624, www.windyspringsfarm.com, Facebook: Windy Springs Farm.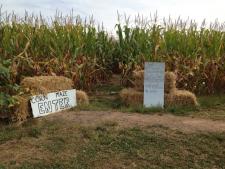 Windy Springs Farm Road Stand along Rt. 663 west of Quakertown is hosting fall fun, including a corn maze, a pumpkin patch and a free hay maze. The roadstand is open daily from 9 a.m. to 6:30 p.m. and also sells apples, cider, gourds, straw and produce.
Trauger's Farm Market, 370 Island Road (just off Rt. 611), Kintnersville, 610-847-5702, www.traugers.com, Facebook: Trauger's Farm Market.
Trauger's in Kintnersville is celebrating fall by hosting horse-drawn wagon rides Saturdays and Sundays from noon to 5 p.m. (weather permitting). On Sunday, Oct. 14, the riverside farm will host Riegelsville Fire Co. No. 1, which will be displaying its equipment for Fire Prevention Month, and on Sunday Oct. 21 there will be an antique tractor display and parade. On Oct. 27, old-time "hit-and-miss engines" will be on display. In addition to regular weekday hours, Trauger's Farm Market is open weekends from 9 a.m. to 6 p.m.
Raub's Farm Market, 1459 Tatamy Road, Easton, 610-253-1419, www.raubsfarmmarket.com, Facebook: Raub's Farm Market.
Raub's Farm Market in Palmer Township hosts a 14-acre corn maze complex with several individual mazes of varying difficulty. Admission to the maze is $7 for adults (13 and up), and $4 for seniors (60-plus) and children 12 and under. The farm is also home to a pumpkin patch and concession stand, and hayrides are offered along with photos with "maze play characters." Want to hear some live music while you're enjoying your afternoon in the country? On Saturday, Oct. 11 the farm will host Inch and the Echoes from 1 to 4 p.m., and on Sunday, Oct. 12, Jake's Country Band will perform from 1 to 4 p.m. Raub's is open Sunday through Thursday, 9 a.m. to 8 p.m., and Friday and Saturday, 9 a.m. to 10 p.m.
Seiple Farms, 5761 Nor-Bath Blvd., Bath, 610-837-0847, www.seiplefarms.com, Facebook: Seiple Farms.
Seiple Farms is home to an 18-acre corn maze that is made up of three miles of paths and takes about an hour and 15 minutes to complete, according to the farm's website. On weekends the farm also hosts a straw maze, a haunted barn, hayrides to the pick-your-own pumpkin patch, farm animal visits, pony rides, food and more. The attractions are open Saturday from 10 a.m. to 6 p.m. and Sunday from 11 a.m. to 6 p.m. On Friday, Oct. 10 and Oct. 17 as well as Monday, Oct. 13 (Columbus Day) the farm will be open from noon to 6 p.m. Admission to the corn maze is $7 for adults, $6 for children ages 3-11 and free for kids 2 and under.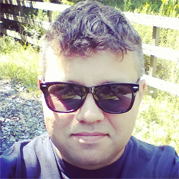 Josh Popichak is an independent digital journalist who focuses his news coverage on the Saucon Valley. He has edited or written for several area print and online publications, including Hellertown-Lower Saucon Patch, The Bethlehem Press and the former Saucon News. His interests include history, politics, media, food and travel. A Bethlehem native, he lives in Fountain Hill with Ziggy, his cat. Follow him on Facebook (https://www.facebook.com/joshpopichak) and Twitter (@JoshPopichak).