Located on the former grounds of Bethlehem Steel, this state-of-the-art museum marks the newest attraction in Lehigh Valley and a must-see on any visit to Lehigh Valley.
Dedicated to preserving America's rich industrial heritage, the National Museum of Industrial History opened its doors in August 2016. Home to unique artifacts, exhibits, and rotating galleries, this museum sets to tell the story of America's industrial heritage from the 1800s through present day.
With 13,000 square feet of exhibit space, the National Museum of Industrial History includes exhibits focusing on steel and iron artifacts, textiles and silk, and propane and cement industries, among others. The machinery on exhibition includes many artifacts from the Smithsonian Institution's 1876 Centennial Exhibition Collection, the most of any Smithsonian affiliate museum.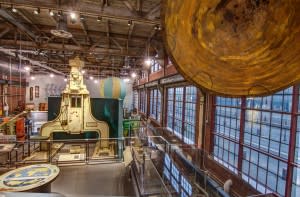 While visiting the National Museum of Industrial History, be sure to include a stop along the Hoover Mason Trestle on your itinerary. This elevated walkway follows the base of the blast furnaces of Bethlehem Steel providing a stunning, up-close view of the remaining architecture. Guided tours are provided by Historic Bethlehem Museums & Sites. 
Today, the blast furnaces set the backdrop for the ArtsQuest™ Center at SteelStacks,™ a non-profit arts organization that provides hundreds of free events throughout the year. Enjoy year-round programming by ArtsQuest,™ including the Levitt Pavilion Summer Concert Series, Musikfest, Oktoberfest presented by Yuengling and the ever-popular Christkindlmarkt. 
The museum can also accommodate private events and receptions. To learn more about the National Museum of Industrial History or to start planning your event, contact the Discover Lehigh Valley team.