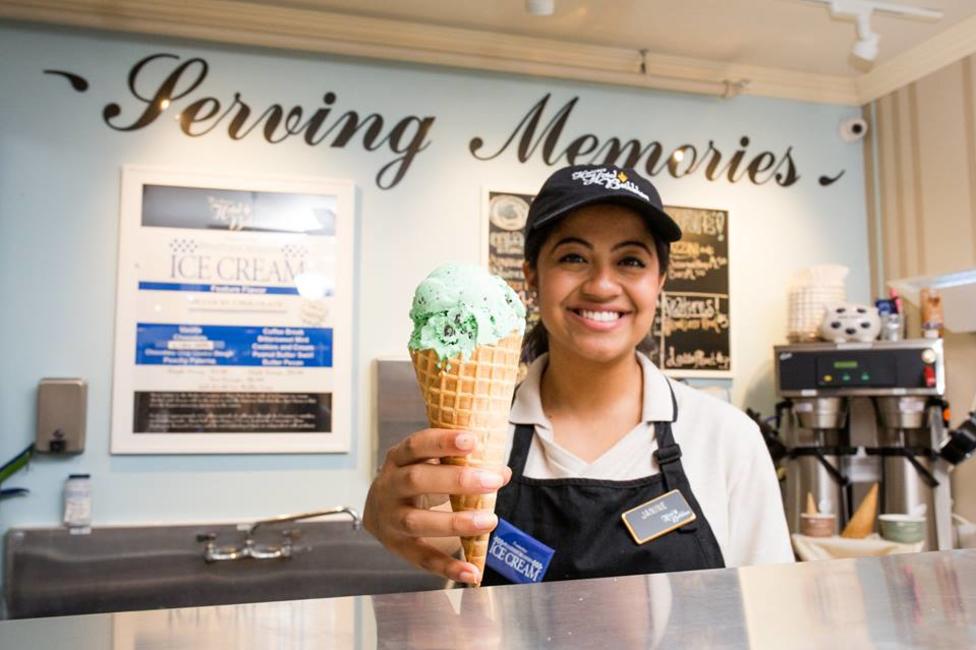 Here in Lehigh Valley, there are plenty of ways to cool off when the mercury rises. Whether you're taking advantage of some AC at the Allentown Art Museum, splashing around at Dutch Springs, or heading below ground at Lost River Caverns or Crystal Cave, there are tons of ways to beat the heat.
But sometimes, all you need is a delicious ice cream cone to help cool you off! We've highlighted a few of our favorite spots for the best ice cream in the valley- and there's a slight chance that we'll be visiting all of them....
Owowcow Creamery Inc.
(1262 Simon Blvd., Easton, PA 18042 | website)
A newcomer to SILK in Easton, Owowocow offers unique flavors that are a must-try for any ice cream lover. If you're not in the mood for standard scoops, check out their selection of shakes, ice cream sandwiches, chocolate covered bars, or pints to go.
The Inside Scoop
(301 N. 3rd St., Coopersburg, PA 18036 | website)
This Coopersburg ice cream shop is hardly seen without a line out the door. Their homemade ice cream and coffee is a local favorite. If you're looking for a sundae, this is the place for you with multiple options. And if you're feeling up to the challenge, their famous 14 scoop Volcano may be just right for you!
The Shoppes at Premise Maid
(10860 Hamilton Blvd., Breinigsville, PA 18031 | website)
For some hand-dipped ice cream, make your way out Rt. 222 to Premise Maid. This shop offers a variety of homemade ice creams in addition to the chocolate shop that they have on site. Over 40 premium flavors are made here daily using the special recipes of the chocolatiers. The Blueberry Crumb Pie ice cream always hits the spot on a warm summer day.
Hotel B Ice Cream Parlor 
(462 Main St., Bethlehem, PA 18018 | website)
Any Penn State alum will tell you that there's nothing better than a scoop from the Penn State Creamery. Well lucky for you, you don't have to travel all the way to State College to enjoy some! You'll find ice cream by the Penn State Creamery right here in Lehigh Valley at the Hotel B Ice Cream Parlor. Grab a cone while you stroll down Main Street on a sunny afternoon.
Klein Dairy Farms
(410 Klein Rd., Easton, PA 18040 | website)
There is nothing better than a creamy, melt-in-your-mouth scoop of ice cream on a hot summer day. At Klein Dairy Farm, the on-site cows provide the freshest and tastiest ice cream in the region.  With no artificial flavors or coloring, ice cream fanatics can choose from their offered flavors including pistachio pizzazz, black cow, strawberry, and mint chocolate chip. 
Crystal Spring Farm
(3550 Bellview Rd., Schnecksville, PA 18078 | website)
As another local dairy here in the valley, Crystal Spring Farm also provides some of the freshest ice cream you can buy. Along with their other products such as cheese, milk, and yogurt, their ice cream is definitely a must-try. With their many flavors of soft serve, floats, and smoothies, there is always a reason to come back for more. 
Vegan Treats (soft serve)
(1444 Linden St., Bethlehem, PA 18018 | website)
Whether you are trying to be an ethical consumer or just want to try something different, Vegan Treats in Bethlehem specializes in great-tasting desserts that are all vegan! They pride themselves on their zero-dairy ice cream. Make sure to check before your trip which rotating flavor they have in stock as it changes every few days. 
Udder Bar
(1852 W. Allen St., Allentown, PA 18104 | website)
The best way to enjoy ice cream is while having fun! There's no better combo of fun and delicious than at Allentown's Udder Bar. Enjoy their signature ice creams and waffles with a game of foosball, shuffleboard, chess, or checkers. 
Ice Cream World
(3512 Hamilton Blvd., Allentown, PA 18103 | website)
Like the name implies, Ice Cream World makes the list with their delicious home-made ice cream located in Allentown. Not only do they offer ice cream, make sure to try their water ice and fresh yogurt as well. With over 50 options of hard ice cream, Ice Cream World is your next stop for some of the best ice cream in the area.
Bank Street Creamery 
(15 S Bank St., Easton, PA 18042 | website)
Formerly known as the Purple Cow, the Bank Street Creamery is located just off of Centre Square in Easton. On any given visit, you might find a different selection of flavors than the time before. They rotate what flavors, including a number of dairy-free and vegan options, are available from over 100 recipes exclusive to this shop. 
The Bethlehem Dairy Store 
(1430 Linden St., Bethlehem, PA 18018 and 2 Farrington Sq. Bethlehem, PA 18018 | website)
Known as 'The Cup' from the days when the shop was shaped like a giant milkshake cup, this Bethlehem staple has been delighting ice cream lovers for over 85 years. With two year-round locations available, any time of year is a good time for a scoop! With tons of flavors to choose from, plus Italian Ice, novelty treats, and a rotating list of soft serve flavors, sometimes the toughest thing is deciding what you want to order! Enjoy your cone inside at one of the tables, or outside on the benches available.
So when summer heat takes over and you need a cool break, make a visit to one (or two... or three...) of these fantastic shops in Lehigh Valley. And if you're really feeling ready to tackle all things ice cream, grab your VisitPA Pursue Your Scoops passport! Visit five stops on the trail to receive a Pursue Your Scoops T-shirt. If you visit all the stops on a trail, you will earn a T-shirt and a Pursue Your Scoops ice cream bowl! In Lehigh Valley, both Klein Farms & Crystal Spring Farms participate in the Pursue Your Scoops program. 
Did we miss your favorite? Let us know in the comments below!