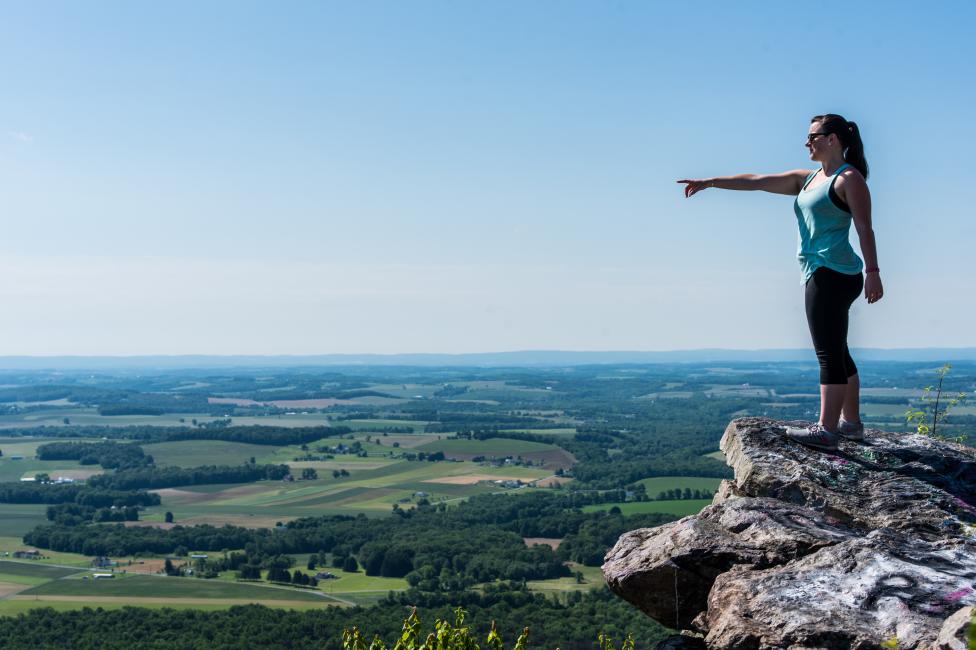 Ready to lace up your hiking boots? Whether you're looking for a steep, challenging trail or something a bit more easy going, Lehigh Valley is home to countless parks and trails primed for exploring. Check out a few of our favorites -- be sure to pack your camera for some photo ops! 
While we encourage everyone to get some fresh air during the COVID-19 pandemic, please follow CDC guidelines for social distancing while exploring local parks and trails. Please keep a safe distance of at least six feet between you and others. Be respectful and share the trails. Note that facilities including restrooms, pavilions, etc. may not be available to the public at this time. The health & safety of our community remains at the utmost importance.
Interested in birding? A visit to Hawk Mountain is a must! Climb to South Lookout to take in stunning panoramic views. You'll often get a glimpse of a variety of raptors soaring through the sky. This venue offers a number of hiking trails, including a fully accessible route to access the South Lookout point.
For a different viewpoint that's equally as beautiful, check out Bake Oven Knob. A favorite among locals, this hiking spot passes near the Appalachian Trail. After hiking up the trail, you'll enjoy views from two lookout points on separate sides of the mountain. Be sure to watch your step as the climb can be a bit rocky!
Perhaps you want to escape to lush, wooded areas for your hike. Recognized as a Pennsylvania State Park, the grounds of the Jacobsburg Environmental Education Center cover more than 1,160 acres including lush wooded areas, streams for fishing, 18.5 miles for hiking, biking, and horseback riding and more. While there are 121 state parks throughout Pennsylvania, only four are designated as environmental education centers.
For another experience in the woods, make your way through the grounds of the Wildlands Conservancy. Offering parks and trails throughout Lehigh Valley, you'll be able to experience several venues that will help connect you to nature. The 77.5-acre Pool Wildlife Sanctuary is the site of Wildlands Conservancy's main office and the Air Products Environmental Education Center. Visitors can hike the trails, browse open meadows, and enjoy the boardwalk along the Little Lehigh Creek.
For breathtaking views of the river and canal, consider a journey along the Delaware & Lehigh National Heritage Corridor. Spanning 165 miles in total (the section crossing through Lehigh Valley covers 48 miles), this pathway offers a flat surface perfect for hiking, biking, and running. You can bring your pup along for some pet-friendly adventures as well! While on the trail, you'll see landmarks including the George Taylor House, the National Canal Museum, and more.
---
No matter the season, these trails are sure to provide you with a refreshing look at nature as you stretch your legs. For more information on the various parks and trails of Lehigh Valley, click here.