No matter the season, we could all use a little fresh air. Lehigh Valley is home to some world-class parks and trails that will allow you to hike, bike, or just take a leisurely stroll. You'll find trails that are appropriate for all levels of activity, complete with stunning views and unbeatable scenery.
Lace up those sneakers and take advantage of some of our local favorites. Don't forget your camera - you'll definitely want to capture some of these views!
The Delaware & Lehigh National Heritage Trail is a multi-use trail spanning 165 miles running through Lehigh Valley. This historic transportation route crosses railroads, canals, rivers, and trails. The Lehigh Valley section of the trail is approximately 48 miles long. A predominantly flat, packed surface, this trail is ideal for casual biking, walking, or running. Along the trail, you'll spot the George Taylor House, the National Canal Museum, and more. Running enthusiasts may also enjoy the annual Delaware & Lehigh Half Marathon held each fall.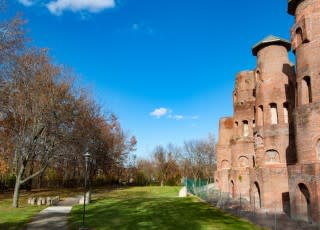 For another rail trail experience, head to the Ironton Rail Trail. Spanning 7.7 miles, a majority of this trail is arranged in a large loop. You're sure to see some unique sights along the way, including the stunning cement kilns at Saylor Park.
With more than 17 miles of trails, the Trexler Nature Preserve offers a variety of terrains. While some trails include steep climbs, others are equipped with flat, easy walks. Along your journey, you'll enjoy stunning views of the region overlooking the Lehigh Valley Zoo. You'll also find Schlicher's Covered Bridge on the Trexler Nature Preserve. You can also get a glimpse of elk and bison that reside on the preserve.
For a unique bit of scenery along the way, visit Easton's Karl Stirner Arts Trail. Spanning 2.4 miles, this trail features artwork by the late Karl Stirner, famed for his contemporary sculptures. Much of this pathway winds along Bushkill Creek, with a small part heading into the city's Centre Square and makings its way to Riverside Park. Pups are welcome along the trail, and you'll even find a dog park for them to roam free.
For unbeatable vistas, make your way to Hawk Mountain Sanctuary. Here, you'll find trails of all levels leading up to South Lookout, including a fully accessible option. On a clear day, you can even see the top of Bethlehem's Martin Tower in the distance! Hawk Mountain is repeatedly recognized as one of the top places for birding in the country, most recently by USA Today's 10 Best. Bring along a pair of binoculars to take full advantage of the views.
In Allentown, find a flat, easy surface at Cedar Creek Parkway East & West. Together, these two parks cover almost 200 acres of land composed of sports fields, pavilions, and easy access to the creek. You'll often spot locals walking, running, and biking across the many paths that run through these parks. When you're in need of a little break, be sure to stop and smell the roses (literally) at the Allentown Rose Garden.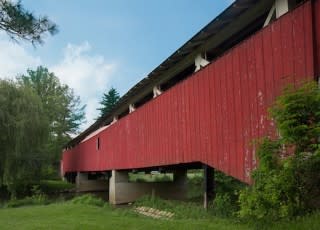 Another local favorite is Lehigh Parkway. Offering more than seven miles of trails, this is an ideal spot for those looking to stretch their legs on a run. You'll also find Bogert's Bridge, the starting point of the Lehigh Valley Covered Bridge Tour, within Lehigh Parkway. Local running group Lehigh Valley Roadrunners sponsors a number of group run sessions and events throughout the year. Be sure to check their website for details.
The 77.5-acre Pool Wildlife Sanctuary is the site of Wildlands Conservancy's main office and the Air Products Environmental Education Center. Visitors can hike the trails, browse open meadows, and enjoy the boardwalk along the Little Lehigh Creek. The preserve is open to the public from dawn to dusk. You may even spot some wildlife along your journey!
Winter, spring, summer, or fall, these parks & trails provide for outstanding scenery. Where are your favorite places to hit the trails?