For music and history buffs alike, a stop at C.F. Martin & Co. in Nazareth is a must! For the last 175 years, this company has been producing some of the world's most famous acoustic guitars. Martin Guitars are hand-made by skilled craftsmen and women who use a combination of new design and techniques along with those introduced by the company founder.
Guided group tours make for a perfect off-site visit during your next event, or can be enjoyed by attendees individually. Special group tours may be arranged for larger numbers of guests.
The guided factory tour starts in the lobby of the Visitors Center which houses the entrance to the Martin Guitar Museum, 1833 Shop, and a gallery wall of famous Martin owners. Guests are also invited to visit the Pickin' Parlor to play some of Martin's high-end and Limited Edition models.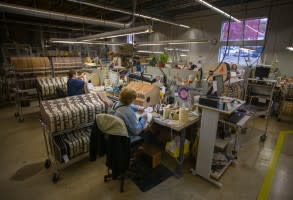 As a visitor on the factory floor, the guided tour will show you how Martin Guitars come to life through the hands of the craftsperson. Explore the art of guitarmaking, from old world tools to our state-of-the-art facility. Follow a guitar from rough lumber to a finished product which requires more than 300 steps to complete. And when you've wrapped up on the factory floor, be sure to leave time for your attendees to explore the Martin Guitar Museum which includes attractive displays to showcase over 170 exquisitely crafted guitars that parallel the company's history.
Through six generations, Martin Guitar's legendary heritage has helped create music history and define musical culture.