The Pennsylvania Shakespeare Festival (PSF) at DeSales University in Center Valley, PA celebrates its 28th season this year. Each season, approximately 200 professional artists from around the country and the world stage a wide array of world-class theatre performances. The Festival obviously focuses on producing Shakespeare's histories, comedies, and tragedies however, PSF supplements the classic by performing modern plays and musicals as well. PSF's reputation draws nearly 50,000 theatre lovers from more than 30 states across the nation. It is Pennsylvania's official Shakespeare festival.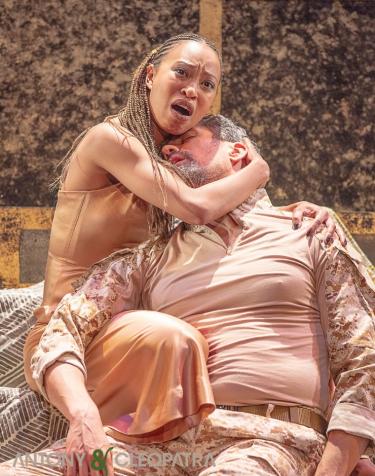 Shakepeare's Antony & Cleopatra is part of the 2019 Festival. PSF's production will delight both die-hard and casual fans.
Set in Egypt and Rome, the play examines the legendary romance between Marc Antony & Cleopatra VI, the world's original celebrity power couple. Shakespeare heightens the tension between the two lovers by balancing it against Antony's power struggle for control of an empire.
The set design incorporates beige, black, blue, and gold color schemes, evoking the majestic and arid landscapes they portray. Set furniture is sparse, especially for Egypt, consisting mainly of pyramids, chairs, desks, and day beds. The choice helps the audience conjure images of pleasure palaces and senatorial council chambers. The costumes reflect a more modern appearance than the subject might suggest. Dresses and pants-suits adorn many of the female characters while suits and military uniforms are worn by male characters. Life in Egypt lends itself to more casual clothing. Attending to matters of state in Rome calls for more formal attire. Overall, the choices assist in transporting the audience into the characters' world. 
Neal Bledsoe as Marc Antony casts a bold figure. His Antony is confident ruler, lover, and general. Yet his moods vary wildly when separated from his beloved Cleopatra. Once reunited, Antony's devotion to her blinds him to the duties of empire, war, and self-preservation. Throughout the course of the play, Bledsoe allows the audience to see that Antony's actions truly reflect the character's deep love for Cleopatra and his insecurity in being separated from her.
Nondumiso Tembe as Cleopatra, The Bard's most complex female character, encompasses a full range. While her Antony is present, Tembe portrays a confident ruler and giggling schoolgirl. Once Antony is in Rome, Tembe's Cleopatra devolves into insecure child and forlorn lover. Later, she rallies to become Antony's nurturing, loyal, and supportive partner. Tembe finishes the play as a proud queen to Egypt, deifying "widow" to Antony, and defiant subject to a conquering Octavius Caesar. 
Fore more information on the Pennsylvania Shakespeare Festival's season, visit PAShakespeare.org.