Online promotion offers a chance to try out various local restaurants
[caption id="attachment_42332" align="alignright" width="330"]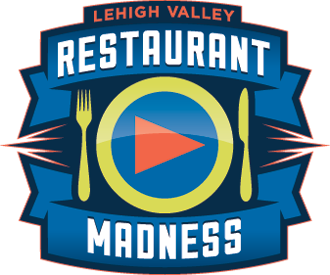 Restaurant Madness[/caption]
Discover Lehigh Valley, the area's designated marketing organization, is giving away a $25 gift certificate to local restaurants every day in February as part of its online "Restaurant Madness" promotion. Participants can enter every day to win a gift card by visiting DiscoverLehighValley.com/RestaurantMadness and filling out a short form. All winners will be notified via e-mail and their gift cards will be shipped in the mail. The prize list for "Restaurant Madness" is as follows:
Sunday, February 1: Sagra Bistro
Monday, February 2: The Mint Gastropub
Tuesday, February 3: Black Forest Deli
Wednesday February 4: Fegley's Allentown Brew Works
Thursday, February 5: Wert's Cafe
Friday, February 6: Nawab Indian Restaurant
Saturday, February 7: Slopeside Pub & Grill at Blue Mountain
Sunday, February 8: Porters' Pub
Monday, February 9: Tapas on Main
Tuesday, February 10: Jessica's Tea Room at the Weaversville Inn
Wednesday, February 11: Paxos Restaurant Group (This gift card is valid at blue, Melt, and Torre)
Thursday, February 12: Fegley's Bethlehem Brew Works
Friday, February 13: Beck's Land & Sea House
Saturday, February 14: Yianni's Taverna
Sunday, February 15: Friendly's
Monday, February 16: Sam Adams Brewhouse at the Holiday Inn Conference Center
Tuesday, February 17: The Wooden Match and Artisan Wine Bar (two winners will be selected)
Wednesday, February 18: Prime Steak House
Thursday, February 19: The Hamilton Kitchen & Bar
Friday, February 20: Mesa Modern Mexican
Saturday, February 21: The Brick
Sunday, February 22: The Grille at Bear Creek
Monday, February 23: Apollo Grill
Tuesday, February 24: Colonial Pizza
Wednesday, February 25: The Bayou
Thursday, February 26: Copperhead Grille
Friday, February 27: Youell's Oyster House (3 winners will be drawn)
Saturday, February 28: Grand Prize from Sands Bethlehem, including an overnight stay at the hotel, slot vouchers, and a $75 gift certificate to Emeril's Italian Table
Each prize (unless otherwise noted) features a $25 gift certificate to the featured restaurant of the day. Prizes are subject to change.
About Discover Lehigh Valley
Discover Lehigh Valley is the designated destination marketing organization (DMO) of Lehigh and Northampton counties. Its mission is to promote and develop Lehigh Valley as a leisure and business travel destination. Created in 1984, Discover Lehigh Valley assists in promoting regional tourism, an industry that generates $1.906 billion in annual revenue and accounts for more than 22,000 jobs in Lehigh Valley. For more information on Discover Lehigh Valley and its activities or to request a Lehigh Valley Official Visitors Guide, call (800) MEET-HERE, or visit the official tourism website of Lehigh Valley at DiscoverLehighValley.com.
##
Media Contact: George Wacker 610-882-9200 george@DiscoverLehighValley.com