Be My Valley Valentine Promotion Combines Getaways with Entertainment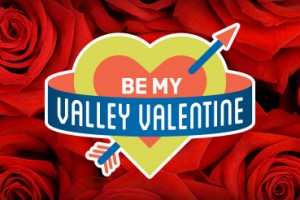 LEHIGH VALLEY, Pa. (January 29, 2013) – Discover Lehigh Valley, the official Destination Marketing Organization for Lehigh and Northampton counties in eastern Pennsylvania,  is getting romantic throughout the month of February with its Be My Valley Valentine promotion.
Couples can plan out romantic evenings, including a night of music, while taking advantage of special accommodation deals from local hotels, inns and bed & breakfasts.
Highlights include:
Travelers can visit www.DiscoverLehighValley.com to find out about the packages. Expiration dates and prices for packages and attraction discounts vary.
About Discover Lehigh Valley
Discover Lehigh Valley is the designated destination marketing organization (DMO) of Lehigh and Northampton counties. Its mission is to promote and develop Lehigh Valley as a leisure and business travel destination. Created in 1984, Discover Lehigh Valley assists in promoting regional tourism, an industry that generates $1.857 billion in annual revenue and accounts for more than 22,000 jobs in Lehigh Valley. For more information on Discover Lehigh Valley and its activities or to request a Lehigh Valley Official Visitors Guide, call (800) MEET-HERE, or visit the official tourism website of Lehigh Valley at DiscoverLehighValley.com.
###
Media Contact:
George Wacker
610-882-9200
george@DiscoverLehighValley.com