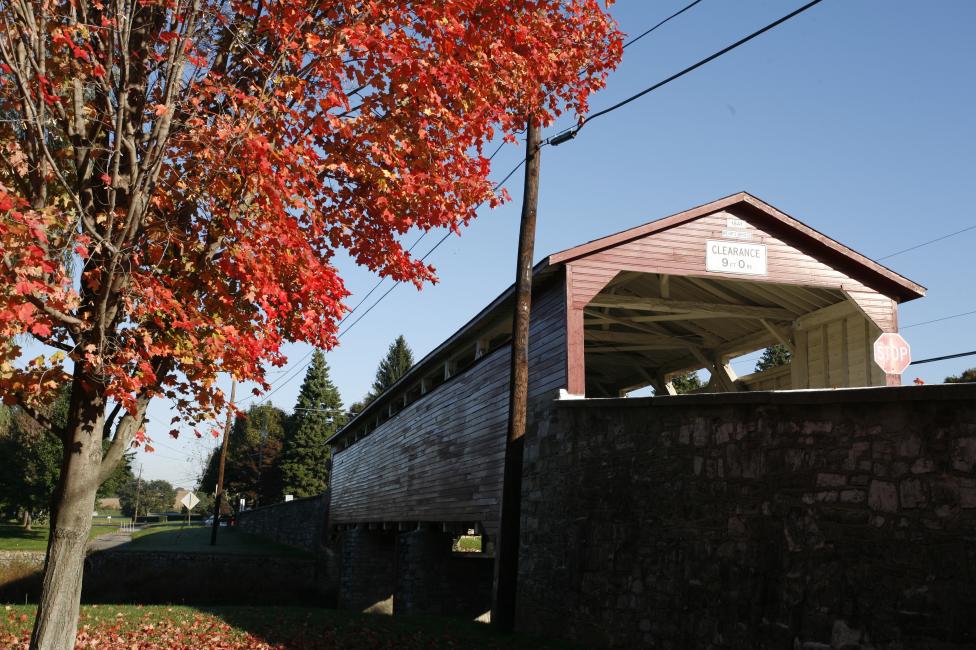 Crunchy leaves, crisp air, and pumpkin-flavored everything. Lehigh Valley shines in bright oranges and vibrant reds during the fall months. Make the most of the season by crossing off these must-do activities before the colder temperatures start to creep in. 
Explore the haunted history of the Christmas City on a candlelit ghost tour with the Moravian Book Shop's Historic Haunts of Downtown Bethlehem.
Pick the perfect pumpkin at Grim's Fall Festival and carve it into a creative jack-o'-lantern.
Test your sense of direction at a local corn maze. How fast can you make it out?
Hike to the top of Hawk Mountain to see the birds in their autumn migration as you admire the stunning fall colors.
Sample Chambourcin wines from across the Lehigh Valley Wine Trail. Did you know that all eight member wineries produce the Chambourcin grape?
Take a scenic train ride with Allentown and Auburn Railroad.
Shop the bounty of local harvests at markets including the Easton Farmers Market, the oldest open-air market in the country.
Reach new heights as you take on the Summit Aerial Park at Blue Mountain Resort. Treat yourself to fireside beverages after you complete the course.
Sample seasonal beers from Lehigh Valley area breweries including Weyerbacher's Imperial Pumpkin Ale, consistently ranked as one of the best autumn brews in the country.
Go apple picking at Strawberry Acres. Be sure to pick up some apple cider to take home!
Walk, run, or bike along the Delaware & Lehigh National Heritage Corridor, complete with stunning canal-side views lined with vibrant foliage.
Test your fears at Tourist Trap, an all-new haunted maze at Dorney Park & Wildwater Kingdom's Halloween haunt.
Celebrate all things bacon at the annual PA BaconFest, the first weekend of November in downtown Easton.
Jump into a pile of freshly-raked leaves.
Savor the flavors of fall with a warm beverage from Hava Java, or one of the region's other charming coffee shops.
Enjoy a fresh-baked apple dumpling topped with homemade vanilla ice cream from the Bethlehem Dairy Store.
Sign up for a glass blowing glass at the Banana Factory where you can make your own pumpkin figurine.
Enjoy fresh-baked strudel at Oktoberfest at SteelStacks. Work off those calories as you dance along to traditional polka music.
Catch a local football game. The most played college rivalry happens in Lehigh Valley as Lafayette College takes on Lehigh University each year.
Grab your camera and go on a photo tour of the Lehigh Valley Covered Bridge Tour. As you make the 50-mile drive, you'll see seven, historic bridges. The reds of the bridge blend perfectly with the colors on the trees.
While you're out exploring all the stunning fall scenery in Lehigh Valley, be sure to tag your photos using #LiftYourSpiritsDLV. Throughout the year, we'll be showcasing our favorite photos; you might even win a prize! Full details are available here. 
Ready for even more fall fun? Check out more things to see to & this autumn here