Ready for a relaxing getaway? Make plans to visit the Lafayette Inn, tucked away in Easton's College Hill region.
Originally constructed in 1895, this property saw many uses before transforming into the charming bed and breakfast of today, including a number of years as a fraternity house for a chapter at nearby Lafayette College. Today, the property boasts 18 unique rooms, all equipped to offer you a comfortable stay. Whether you're looking for a romantic retreat, unique accommodations for business travel, or even a family getaway - the Lafayette Inn will accommodate your needs.
The city of Easton offers tons of things to see and do. Why not make a whole weekend of it?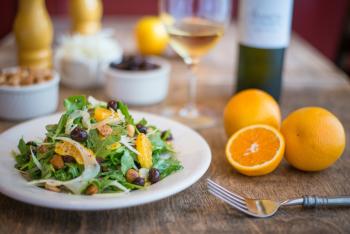 Upon your arrival to Easton, you're sure to have an appetite ready. Luckily, there are plenty of restaurants situated nearby to fulfill any craving you might have. From French cuisine at Maxim's 22, to artisanal pizzas at Sette Luna, to tasty pub fare at Porters' Pub, you'll have plenty of dining options to choose from. Can't settle on something that will work for everyone in your group? Head to the Easton Public Market where you can get a taste of a variety of cuisines all under one roof.
The options don't come to an end here. When it comes time to play, there are plenty of locations to explore. Dive into color at the hands-on Crayola Experience where you can craft a crayon with your own name on the wrapper. Browse the many unique shops and galleries of downtown Easton offering clothing, vintage finds, works by local artists and more.
For the history buff, a visit to the Sigal Museum is a must. Here, you'll get a glimpse into the history of Northampton County including a special look at Just Born, Inc., maker of famous sweet treats including PEEPS and Mike & Ikes. Or, head to the National Canal Museum where you can take a leisurely ride on the Josiah White II, the state's only mule-drawn canal boat.
If you're looking to stretch your legs, take advantage of a number of trails within a short distance of the Lafayette Inn. Spanning nearly 165 miles, the Delaware and Lehigh National Heritage Corridor offers views of the aforementioned canal along a flat, even pathway that can be traveled via foot or bike. For a dose of culture along your walk, make your way to the Karl Stirner Arts Trail where you'll find sculptures and other pieces of artwork dotting the landscape.
Ready to quench your thirst? Craft beer lovers will find plenty of treats throughout Easton. On the city's southern edge is Weyerbacher Brewing Company, offering up a number big, bold beers. Stop in at the tasting bar and grab a flight to sample or hop on one of their free brewery tours (offered Fridays, Saturdays and Sundays) to get a behind-the-scenes glimpse of the brewing process. Two Rivers Brewing Company is just a short drive away, as is the Separatist Beer Project, a newcomer to the ranks of Easton-based brewers.
And all of that is just the start of the fun. Explore the historic Easton Farmers' Market, recognized as the oldest continuously operating open-air market in the country, on Saturdays throughout the spring, summer and fall. Celebrate the reading of the Declaration of Independence at the city's annual Heritage Day falling in early July. In September, browse pieces crafted by local artisans at Riverside Festival of the Arts.
With so much fun to explore within the city of Easton, you're sure to have a weekend packed with adventures. The Lafayette Inn offers the perfect retreat at the end of the day, promising a restful night and a tasty breakfast to kick off the following morning.