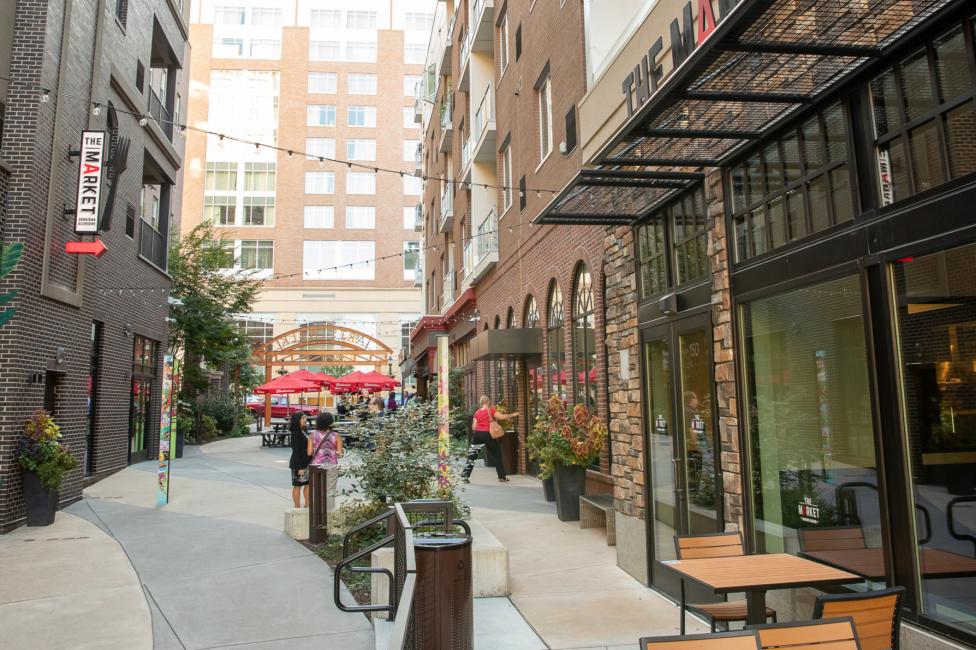 Foodies across the Lehigh Valley have a new option when it comes to dining - well, make that nine to be exact. Make plans to visit the new Downtown Allentown Market the next time a craving strikes. 
The Downtown Allentown Market (27 North Seventh Street, Allentown) is open seven days a week, offering breakfast, lunch, and dinner. A variety of happy hour specials will be featured and visitors can expect to see live music and other pop-up events from time to time. 
The space features ample seating throughout the market ranging from high-top tables to bar seating, cozy couches, and more. Parking is available in nearby decks or on adjacent streets. On non-event nights (be sure to check the PPL Center schedule), parking is free in the decks and at metered street spaces on weekdays from 5 p.m. - midnight and on weekends from 8 a.m. - midnight. Learn more about parking availability at freeparkingallentown.com.
Be sure to come hungry because all nine vendors boast impressive menus that are sure to satisfy every craving. Click through the list below to learn more about each offering.
 
Licensed 2 Grill
Known for both their local food truck and traditional brick-and-mortar location in Emmaus, the team at Licensed to Grill is switching up their menu with all-new options available at the Downtown Allentown Market. On the menu, you'll find breakfast sandwiches, fried chicken, and a variety of additional options along the southern comfort theme. Don't miss their wide selection of infused local honeys with flavors including bourbon, garlic, and more. Pro tip: drizzle the honey on literally everything. 
Tavola
Serving up pizzas, pastas, and salads, Tavola has a special recipe for their crusts that blends the perfect balance of doughiness and crisp on the bottom. Choose from a slice of their ready-made pies or custom-build your own creation. All their products are baked fresh on premises.
Zahra
A new development from the owners of longtime Lehigh Valley favorite Aladdin, Zahra is serving up Mediterranean favorites including hummus, baba ganouj, falafel, shawarma, and more. Be sure to sample the namesake dish - a fried cauliflower with a tasty sauce that will leave you wishing you ordered a double serving. 
Little Miss Korea
From bao buns to noodle bowls, Little Miss Korea brings impressive flavor combinations to their new location. You may recognize the vendor from their stand at the Allentown Fairgrounds Farmers Market where they are dishing up the menu items with the same punch. Don't miss out on the kimchi fries that are loaded with the perfect amount of spice.
Shinsen
Filling a much-requested need amongst residents & employees of downtown Allentown, Shinsen is serving up sushi ranging from classics like California and spicy tuna rolls to more complex flavor combinations. Like many of the merchants at the Downtown Allentown Market, the owners of Shinsen also operate a traditional brick-and-mortar location (Asian Bistros II on Schoenersville Rd.). 
Fresh Kitchen by Robert Irvine
Marking the first celebrity chef driven restaurant in Allentown, Robert Irvine brings a combination of bold flavors with a healthy twist to Fresh Kitchen. Favorite dishes include street tacos, poke bowls, and more. The menu also includes a number of small plates that can be combined to create a full meal. On tap, you'll find local kombucha in rotating flavors. 
Batch Microcreamery
Craving something sweet? Batch offers a wide variety of homemade ice creams, decadent sundaes, and even hard milkshakes. For those that can't quite make up their mind, opt for a flight of ice creams which will get you a small scoop of four different flavors. All the flavors promise to be the perfect balance of creaminess. 
Doughnut Love
Known for the presence at area farmers markets, Doughnut Love serves up fresh-baked goods in flavors including maple bacon, matcha, and seasonal favorites like peaches & cream, apple cider, and more. You can also get a dose of caffeine at their full-service coffee bar which serves up a custom blend of Monocacy Coffee Co. 
Boardroom Spirits
Nestled in the back of the Market is Boardroom Spirits, serving a full menu of cocktails. Located in Lansdale, the distillery whips up products including vodka, gin, bourbon, and more. In addition to the full menu of cocktails, you can purchase bottles to go to recreate your favorites at home.
Top: Photo courtesy of City Center Lehigh Valley.