Top 10 Reasons To Meet In Lehigh Valley
1. Unique Venues
Lehigh Valley is home to some of the most unique meeting venues on the East Coast. The Nurture Nature Center, a beautifully renovated, historic facility in Downtown Easton, lets you meet amid art and educational exhibits including the Science on a Sphere® exhibit developed by the National Oceanic and Atmospheric Administration. Or, you can bring your meeting to the stage at the beautifully appointed Miller Symphony Hall in downtown Allentown.
 
2. Making History Since 1682
George Washington, John Sebastian Goundie, John Hancock, and a number of founding fathers visited Lehigh Valley and wove a rich tapestry of culture and heritage, separate from the highly acclaimed industrial movement with Bethlehem Steel. Historic Moravian Bethlehem is recognized as a National Historic Landmark District and has been named to the U.S. Tentative List for World Heritage Designation. The region is home to countless museums and tours that will give you a peek into the history—a perfect off-site activity for event attendees. 
 
3. Accessible to Your Attendees
Lehigh Valley is within a three-hour drive of two-thirds of the nation's population. Lehigh Valley International Airport (ABE) services the region and offers 15 non-stop destinations through various providers including American Airlines, Delta, and Allegiant. You can also access the region from nearby New York City and Philadelphia via ground transportation providers.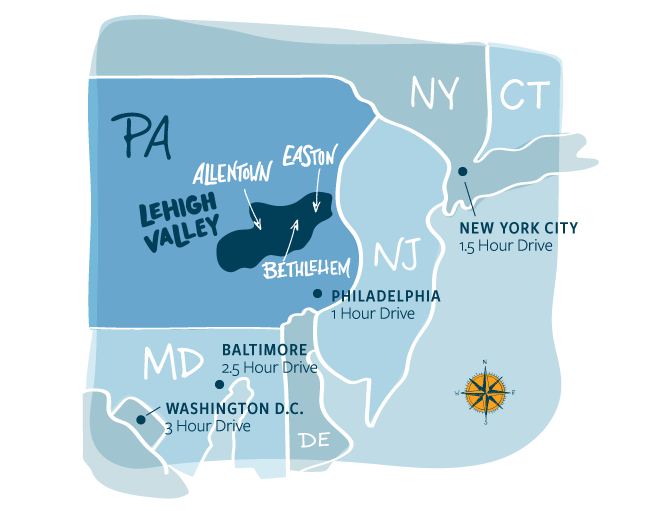 4. Affordable Beyond the Room Rate
There's a lot more to consider than room rates when it comes to picking an affordable meeting destination. For starters, Lehigh Valley has no state sales tax on clothing and shoes, which means extra savings for the shoppers in your group. Parking is often free at our area meeting venues and area restaurants are eager to welcome your group. Special group rates can be arranged for visits to major attractions, museums, and more.
 
5. Medical Powerhouse
Featuring major health providers including Lehigh Valley Health Network, St. Luke's University Health Network, and Good Shepherd Rehabilitation, the region ranks among the best in the nation for a variety of specialties. Medical students flock to the region to learn from these outstanding professionals: St. Luke's boasts the nation's oldest school of nursing and the region's only medical school, partnered with Temple University, while LVHN offers its prestigious "Select Program" with USF Health Morsani College of Medicine in Tampa, Fla.
 
6. Responsible and Sustainable
A commitment to environmental responsibility is a hallmark of the region. Take advantage of plenty of green space, two rivers primed for water sports, as well as many lakes and streams that supply a good portion of New York's drinking water. Within a short drive, you'll find two mountain resorts offering snowsports during the winter months, as well as mountain biking and team-building excursions in the off-season.
 

7. Hospitable Community
When you visit or bring a meeting to Lehigh Valley, you see us at our best. A warm, friendly community awaits you with people willing to teach you about our major attractions and sites, but also ready to guide you off the beaten path to explore hidden gems that are favorites amongst locals.
 
8. Culinary Scene Worth Tasting
Lehigh Valley boasts an extraordinary culinary scene that combines James Beard caliber with local flavors and personalities. If you want to tap into local purveyors, consider stopping by one of the 15+ farmers markets throughout the region that help provide fresh produce to the community all year round. And when it's time to quench your thirst, consider reaching for locally-crafted beverages. With more than 50 makers of wine, beer, and distilled spirits throughout Lehigh Valley, you're bound to find something to fit your tastes.

9. Beyond the Boardroom: Off-Site Activities
From the PPL Center and ArtsQuest™ to Dorney Park & Wildwater Kingdom, Coca-Cola Park, Wind Creek® Bethlehem (formerly Sands® Bethlehem), Martin Guitar, and more—your attendees will be recharged after an afternoon or evening to unwind. Lehigh Valley is also home to 10+ theaters nestled among art galleries, family-owned shops, restaurants, and breweries along tree-lined Main Streets. 
10. Free Event Planning Services (and they don't come with fine print)
Big meetings can be fun if you leave the hard part to us. The Discover Lehigh Valley team offers excellent event planning services including team-building activities, welcome bags, dine-a-rounds, housing and transportation arrangements, and more. Learn more about our services offerings.