Vegans rejoice! November is World Vegan Month and if veganism is your thing, you won't have to look very far for a great meal in Lehigh Valley. The cities of Allentown, Bethlehem, and Easton offer fantastic choices for breakfast, lunch, dinner, and of course, dessert. 
Vegan Restaurants in Bethlehem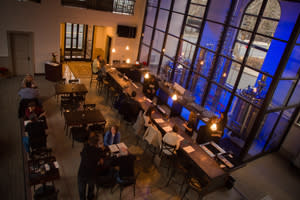 Any restaurant that clearly states "VG" for vegan on their menu is definitely devoted to the meatless masses. Lehigh Valley's Social Still, located at 530 E. Third St. in Bethlehem, fits the bill. As the name might suggest, this restaurant is also a distillery. If their Roasted Root Vegetable Pot Pie doesn't entice you, maybe their Best Darn Veggie Burger will do the trick. Pair it with a sample flight of their 2018 American Craft Spirits Association's Award-Winning Spiced Rum, Whiskey, Barista Bourbon, and Rye Whiskey, many being sourced with Pennsylvania grains that are GMO free and organic. 
Have a sweet tooth? Vegan Treats bakery made it to the 2018 Top 10 List on PETA.org for Vegan Sweet Treats, so you know you've struck gold … or a Peanut Butter Bomb at the very least! This rich chocolate cake has loads of peanut butter mousse and a hard shell coating of Belgian chocolate, topped with peanut butter drizzle. Vegan Treats Bakery also won PETA's 2014 award for Top 6 Vegan-Friendly Doughnut Shops.
If you're after breakfast delights the choices are plentiful. Head to Mitzi's Table for their Spicy Tofu Scramble loaded with spinach, Primodoria Farms wild mushrooms, and roasted red peppers served with home fries or fruit. You might also want to get your hands or "hand" (it's known as a one-handed wrap) on The Vegan from The People's Kitchen. 
The Flying Egg offers three vegan breakfast options: Tofu Avocado Toast, a Tofu Scramble, and a Vegan Skillet with sweet potatoes, quinoa, roasted brussels sprouts, mushrooms, turmeric tofu, and a garlic tofu aioli. 
If an inspired breakfast has you salivating, head to Roasted which offers breakfast sandwiches, pancakes, tacos, and a lunch menu with soup, wraps, quesadillas, sandwiches, and more. 
A little hot dog joint got your fancy? You guessed it! Santoro's Franks & Chili offers vegan options of nearly every hot dog on the menu, as well as most of their sides including French Onion Soup, Mac & Cheese, and even their pierogies! 
And don't miss VegOut - a fully vegan restaurant offering breakfast, lunch, and dinner. In addition to the full menu, you can shop their grab-and-go cooler of stews, soups, spreads, and prepared entrees to heat & eat at home. Satisfy your sweet tooth with cookies, brownies, milkshakes and more. And be sure to check their menu (available on their Facebook page) often for specials and seasonal features.
Vegan Restaurants in Allentown and nearby Fogelsville 
The Mediterranean Cafe & Grill in Fogelsville is one stop not to be ignored. Boasting a 5.0 rating on TripAdvisor, 4.5 stars on Yelp, and 4.8 on Google, this is one meal you will want to get your hands on. Clearly denoted vegan, vegetarian, and gluten free options can be found on the menu. The Saj bread will make your taste buds do the happy dance!
Authentic family recipes are brought to life at The Hummus House. And, of course, you would be remiss if you didn't order the hummus. There are four different vegan varieties to choose from, plus plenty of other options including the Artichoke Salad, the Fattoush Salad, or the FOOL Fava Bean Salad. Or maybe it's the Baked Kibbee or Rolled Grape Leaves that will strike a chord with your belly? Or it could be the Seven Grains Spinach Pie made with 100% fresh spinach, onions, pomegranate and walnuts, all marinated in lemon extra virgin olive oil. The dough is handmade and baked to a medium crisp. Drooling yet? 
Vegan Restaurants in Easton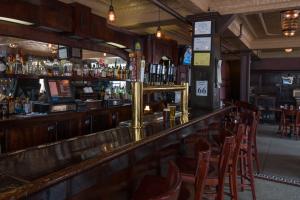 If not for the food and brew alone, you'll want to visit Two Rivers Brewing Company for the history and architecture of the building. Sections of the building date back to as early as 1810. The building operated as the Mount Vernon Hotel from 1855 to 1994. The award-winning chef and head brewer will make sure you leave satisfied. The Vegan Sausage Flatbread packs a punch with a spicy cauliflower and pumpkin dip, vegan chorizo, roasted hazelnuts and balsamic salad. The Vegan Mushroom Bolognese is tossed with spaghetti squash, sauteed kale, and cippolini onions. 
There's a small vegan section on the menu at River Grille in Easton. Mick's Grill features sauteed spinach, grilled portabella mushrooms, asparagus, and tomatoes in an arugula pesto. You might also dine on their Farmhouse Pizza or the Quinoa entree for dinner. 
At Black & Blue, you can choose from a broad range of options on their vegan menu. Highlights include tacos, cauliflower wings, veggie burgers, and more. 
Craving something sweet? Easton's Bank Street Creamery offers a number of vegan gelato options. Check their website for the most recent offerings. Customer favorites have included cookies and cream, peach melba, toasted coconut, peanut butter fudge, and more. 
Pair the medicinal-like smoothies, coffees, lattes, and teas with the vegan lunch options at Greenmouth Juice Bar and Cafe. The Vegan Taco Salad offers zesty black beans, sunflower seed "meat," guacamole, and cashew sour cream served over mixed greens in a house citrus vinaigrette. Or, choose the Vegan Egg Salad, Burrito, or Taco, followed by a Vegan Cheesecake for dessert.

For more great restaurants in Lehigh Valley, click here.