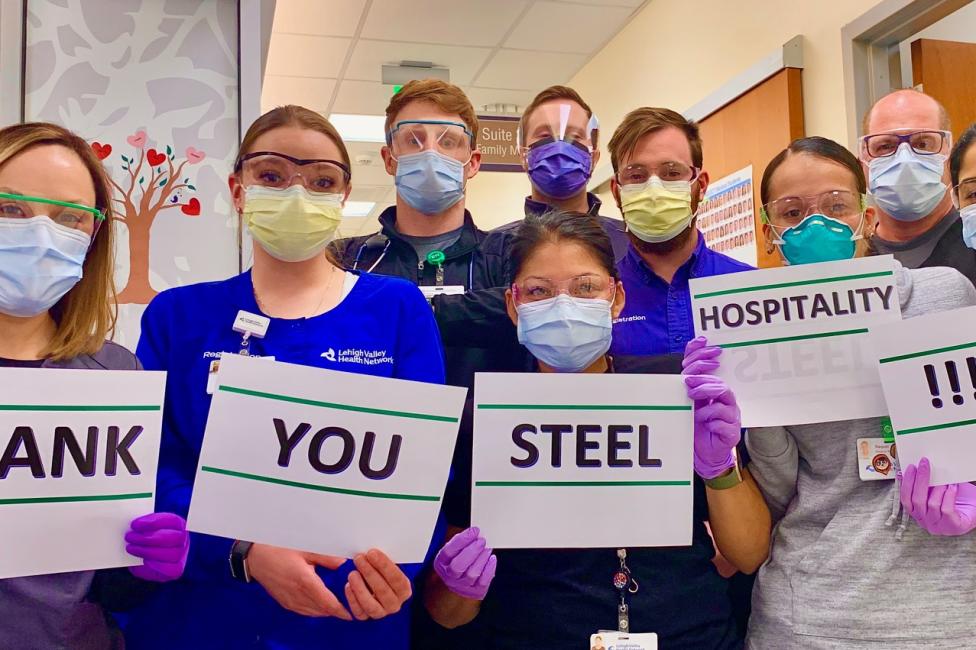 When faced with challenges during the COVID-19 outbreak, organizations across Lehigh Valley have stepped up to lend a hand and give back to the community. We thank these local companies from across the region for the community support in these trying times. 
Lehigh Valley has faced significant challenges before, but we are a region with a demonstrated track record of uniting in uncertain times, rebounding and rising together to be stronger than before. The heart of our region is our community, and we applaud all involved for these outstanding efforts. 
Is your organization giving back to the community during the COVID-19 pandemic? Share your story with us.
The Candlewood Suites in Bethlehem, PA along with Steel Hospitality Management Group provided lunch to LVHN's 11 drive-thru testing facilities of 100 plus staff members lunch as a sign of appreciation. This effort has since been extended to all medical personnel at LVHN, St. Luke's and our local first responders. Not only does this send a message to these wonderful individuals that their efforts are not going unnoticed, but it also supports the local restaurants providing the food. Additionally, the Candlewood Suites in Bethlehem is providing rooms for traveling nurses, doctors and any medical staff involved with fighting the COVID-19 battle. 
Local distilleries from around the Lehigh Valley region but creative thoughts to work when they saw a shortage of sanitizing products in the market. Companies including Eight Oaks Farm Distillery, Social Still, and Triple Sun Spirits have quickly switched production to focus on developing hand sanitizing products that have been donated to local charitable organizations and health care facilities. 
Jack Callaghan's Ale House, a restaurant located in Allentown's West End, took a customer's idea and put it into action. Their time is offering a pay-it-forward campaign where you can purchase & donate a meal to and have it sent to our region's first responders. 
When event cancellations dominated the calendar, the PPL Center was left with an excess of food that would normally be used to feed fans at concerts and hockey games. Rather than let it go to waste, their team connected with local groups to distribute to the community. Head Chef Andrew Wissa delivered a van full of fresh fruits and vegetables to both Salvation Army locations in Allentown, including their food bank and shelter for women and children. Second Harvest Food Bank of the Lehigh Valley also picked up a large delivery weighing 1,840 pounds for distribution to people in need through area non-profits.
Likewise, the Historic Hotel Bethlehem offered excess supplies of food for those in need by setting up a table for pick-up outside the building. Pat's Pizza & Bistro lent a hand to local residents in need by preparing pantry boxes that were available for pick-up at the Bethlehem location. McCarthy's Red Stag Pub offered soups for those in need.
Local Restaurant, Notch Modern Kitchen and Bar, donated meals for hungry and homeless men through the Allentown Rescue Mission's Sponsor a Meal program. Unfortunately, due to COVID, many cannot go out to dine, so Notch found a way to give to the community during this time by donating 50 coconut rice and chicken bowls for the men at the Allentown Rescue Mission.
Colleges & universities throughout the region have also contributed to local hospitals and first responders. Muhlenberg College provided a supply of PPE to the Allentown Police Department and Cedar Crest College delivered supplies from its nursing and science departments to health care providers across the region. 
But educational institutions aren't the only people lending a hand to local healthcare workers in need. Blue Mountain Resort has donated over 1,200 pairs of goggles as well as masks, gowns, gloves, and sanitizer to St. Luke's University Health Network to help combat any possible shortages in supplies.
Larger corporations throughout the region have also offered support to locals. Freshpet, Hanover Township-based pet food company purchased $20,000 in gift cards to local restaurants. The company is giving each of its 400 workers a $50 gift card every other week for use at one of five locally-owned restaurants. 
Fanatics, the sports apparel company that makes Major League Baseball uniforms, is now using its Palmer Township manufacturing facility to make masks and gowns for hospitals and emergency personnel across the region who are fighting the coronavirus pandemic. The company plans to produce up to 1 million masks and gowns from the same fabric – pinstripes and all – that they normally use to make jerseys for the New York Yankees and Philadelphia Phillies.
The Allentown-based Stargazer Cast Iron worked to support local restaurants and their staff. The organization donated 10 percent of proceeds from purchases made through its online store from April 12—April 25, 2020 to three local restauranteurs to help support their employees: Bolete (Bethlehem; also operates Mister Lee's and Silvershell Counter + Kitchen, Easton), The Bayou (Bethlehem and Easton; Queen City BBQ in Allentown; Wiz Kids, Bethlehem), and Union and Finch (Allentown).
Local high school coaches, umpires and officials have organized a baseball and softball tournament to give senior players an opportunity to end their high school careers as best they can as COVID-19 continues to impact the Lehigh Valley and around the globe. The Lehigh Valley IronPigs are hosting the semi-finals & finals for local high school baseball and softball senior players who were unable to compete in their final seasons of interscholastic eligibility.
Amid COVID-19 and other challenges that are dividing our society, the Conversations with KidsPeace podcast tells an inspirational story of connection. Host Bob Martin talks with a recreational therapist about how kids in the Lehigh Valley residential treatment program found a way to share a message of hope with residents of local nursing homes, as both face the stress of pandemic lockdowns.