The history of Nazareth-based C. F. Martin & Co.'s famous players is long and illustrious and... well, a who's who of musical royalty. From Elvis to Willie Nelson and from Thom York of Radiohead to Kurt Cobain of Nirvana, Martin guitars have transcended genre to be beloved by nearly all who play them.
One day, when we're feeling particularly controversial, we should probably round up the Top 10 Musicians who Play Martin Guitar of All Time. That's a tall order seeing that Gene Autry and Eddie Vedder of Pearl Jam are also Martin fans. So, in the interest of being a bit more lighthearted than choosing between Kirk Hammett of Metallica and Eric Clapton, we wanted to bring to light a few new artists who craft their sound with the help of Martin Guitars.
Let's begin.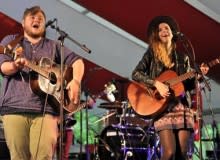 5. Of Monsters and Men: This Icelandic band has an ethereal quality that has resonated very well with American artists. In fact, part of their American popularity can be traced to being featured on Philadelphia based radio stations over the last two years. The band's debut album My Head Is an Animal got as high as no. 6 on the Billboard charts. Of Monsters and Men has a somewhat somber, but lighthearted sound with tales of love and loss. They use their Martins to convey a folky atmosphere.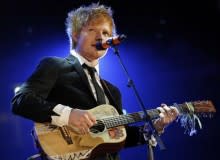 4. Ed Sheeran: Sheeran is a youngster, but the 21-year-old uses his Martin as well as anyone else on this list. The English artists has won numerous awards across the pond and employs a style reminiscent of John Mayer.
3. The Avett Brothers: Fans of bluegrass and folk music need to go no further than Seth and Scott Avett of The Avett Brothers. While the duo uses a variety of instruments throughout their songs, their Martin guitars shine brightest when matched up against a banjo. The North Carolina founded band has been compared to a combination of a pop light version of Buddy Holly with a "tuneful jangle" of the Beatles.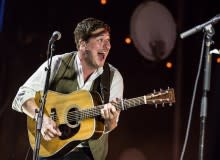 2. Mumford & Sons: Easily the most recognizable and popular band on this list, Mumford & Sons started a revival, of sorts, for mainstream folk rock with their 2012 release "Sigh No More." The songs, "Little Lion Man," "I Will Wait" and "The Cave" have already become staples among popular U.S. music (not to mention Karaoke bars everywhere.) Mumford & Sons uses their Martins in a bombastic way, allowing quieter verses to explode in full on strumming grandeur. With their popularity and song writing skills, Mumford & Sons should be a staple for years to come.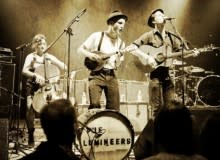 1. The Lumineers: The Lumineers top the list mainly due to their potential. The band, which will be playing on Saturday Night Live this weekend, has a sweet, joyful sorrow around their songs that you sometimes almost can't help but crack a knowing smile to. Their music is light, but their deft use of their Martin guitars lends to brilliant melodies and music that begs to be played around a campfire or at a party with old friends.
Obviously, it's impossible to truly rate and compare all artists who use Martin guitars, however, it says much when so many great talents use Martin guitars to share their music with the world!