Lehigh Valley is home to many award-winning restaurants, which means one thing: super fantastic chefs are at the helm. We reached out to these kitchen crusaders so that they could share a little bit of holiday joy this season by sharing one of their favorite holiday cookie recipes.
 
If you've been to Emeril's Fish House at SandsⓇ Bethlehem and ordered the Frozen Grand Marnier Souffle dessert, you've already experienced the Lemon Basil Shortbread cookie on top from Executive Chef Victor Bock's recipe collection. Chef Bock is no stranger to the industry graduating from the Culinary Institute of America in 1987 and serving as Executive Chef at the casino since 2009. Each of the restaurants he oversees have their own unique flair, including three by Emeril Lagasse and one by Buddy Valastro. 
 
The Vanilla Biscotti from Corporate Chef Christopher Heath of Paxos Restaurants (which operates Melt, Torre, blue, Top Cut Steakhouse, and Firepoint Grill) will melt in your mouth. This 28-year veteran of the kitchen has cooked for many celebrities such as Harrison Ford, Laurence Fishburne, U2, Puff Daddy, the Sex and the City cast, Magic Johnson, Busta Rhymes, Liam Neeson, Julia Child, Martha Stewart, Paul Bocuse, and Bill Clinton.  
Who doesn't love a good house-made Pizzelle? Executive Chef Geo Dodig of Molinari's, who has won "Best Italian Restaurant" from Lehigh Valley Style, shares his recipe, but with one caveat - you must have a pizzelle press to make these cookies (available on Amazon relatively inexpensively!).
  
Chef Dean Diaz-Albertini of Casa Toro Mexican Grill feels that bakers are pure magicians. Since age 5, his grandma was his inspiration in the kitchen giving him miscellaneous jobs and a little white chef jacket for Christmas. He shares his Easy Mexican Wedding Cookies recipe for you to join in his family's holiday tradition.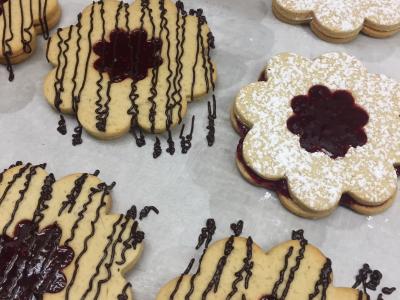 As the baker and kitchen manager for Bangor Trust Brewing, Brandy Baker couldn't have chosen a better profession to go along with that last name! (yes, it's REALLY her last name!). Bangor Trust Brewery is known for their homemade breads baked with unbromated, unbleached flour from employee-owned King Arthur mills, raw sugar, brewer's malt, kosher salt, yeast, extra virgin olive oil, and 100% love! Brandy gives to you her recipe for Linzer Tarts. 

Chef Jordan Van Wert of Apollo Grill has a guilty food pleasure - cookies! And one thing in the kitchen he can't live without is butter. That is definitely a recipe for success! Apollo Grill is ranked #1 out of 399 places to eat in Bethlehem, and has too many awards to list. We're sure his Molasses Cookies deserve one, too.    

Social Still Micro Distillery & Kitchen's Chef Christopher Kurtz is used to cooking up vegan delights for this SouthSide Bethlehem restaurant. While he prefers to cook over bake, he did share his recipe for Vegan White Chocolate Cranberry Cookies which sound fantastic for vegans and meat-eaters alike.   
 
If you're planning to bake any of these for the holiday season, be sure to share your pictures with using #LiftYourSpiritsDLV… or you can always send us a care package for taste testing!
 
Happy Baking!
 
Easy Mexican Wedding Cookies
House-made Pizzelle
Lemon Basil Shortbread
Linzer Tarts
Molasses Cookies
Vanilla Biscotti
Vegan White Chocolate Cranberry Cookies