Lehigh Valley Celebrates National Travel And Tourism Week
Toolkit for Local Partners and Stakeholders
---
May 1 – 7, 2022
---
Join Discover Lehigh Valley and the U.S. Travel Association to honor the #FutureOfTravel during National Travel & Tourism Week, May 1 – 7, 2022. More than ever, the travel and tourism community must come together, support each other, and remind our country that even through the most difficult times, the #FutureOfTravel is now. Join us as we honor our local industry's strength, selflessness, and resiliency.
---
Lehigh Valley Tourism Statistics
In 2020, the Lehigh Valley region welcomed 12.5 million visitors, about 4 million less than the 2018 numbers which was pre-pandemic. Predictions for 2021 numbers will have improved over 2020.
From these visitors in 2020:

There was a 20% increase of visitors from the commonwealth in 2020 from 2018.
81% of visitors traveled by car.
41% of travelers planned their trip within 1 month or less of the actual visit.
Experiencing the outdoors ranked #2 for overnight visitors and day-trippers.
Average per party spend was $281.
69% of visitors were very satisfied with their overall trip experience.
10% increase in guests finding value for their money.

Smith Travel Research (STR) reports from April 2021 started having steady increases:

$118.34 Average Daily Rate (ADR) in October 2021; the highest recorded for the region.
80.9% Hotel Occupancy in August 2021; the highest since the pandemic impacted our industry

The tourism & hospitality industry supports 26,500 jobs in Lehigh Valley.
Our communities benefit from the spirit of travel, which permeates through small businesses, unique landmarks, and all those who welcome residents and visitors alike with a smile and hospitality.

Key Statistics from the U.S. Travel Association
In 2019, the United States saw $1.1 trillion in traveler spending. These travels generated a total of $2.6 trillion in economic output and supported a total of 15.8 million American jobs.
Travel spending remained at only 78% of 2019 totals in 2021—a LOSS OF $600 BILLION in potential economic impact in 2021 alone—much of which is due to the lagging recovery of the international inbound, business meetings and events sectors.
The leisure & hospitality industry accounted for 11% of pre-pandemic U.S. employment but represented a staggering 73% OF ALL JOBS STILL LOST in February 2022.
Without the tax revenue generated by travel and tourism, each household would pay $1,398 more in taxes per year.
---
Graphics
A number of graphics showcasing Lehigh Valley specific statistics have been created by the DLV team. Feel free to download the various sizes by clicking on the respective links below each sample image. Once the image opens, save or download to use across your social channels as we honor the #FutureOfTravel during #nttw22.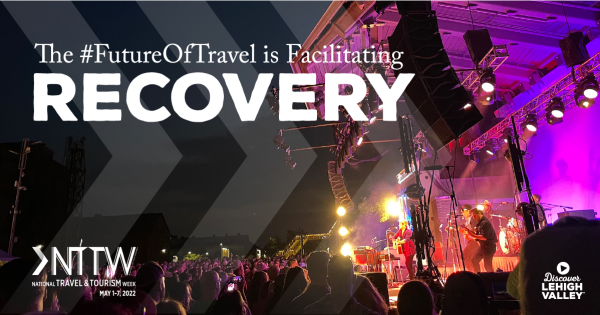 Download: Horizontal  |  Square  |  Vertical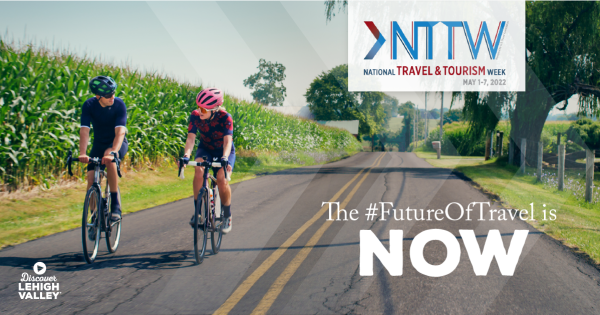 Download: Horizontal  |  Square  |  Vertical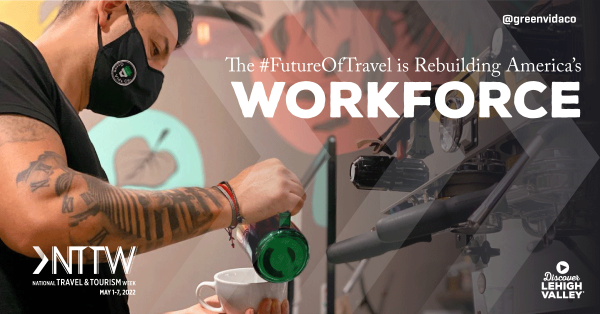 Download: Horizontal  |  Square  |  Vertical
---
U.S. Travel Association Toolkit
Looking for even more resources? You can access the U.S. Travel Association's full toolkit for National Travel & Tourism Week, including more graphics, logos, and templates, here.