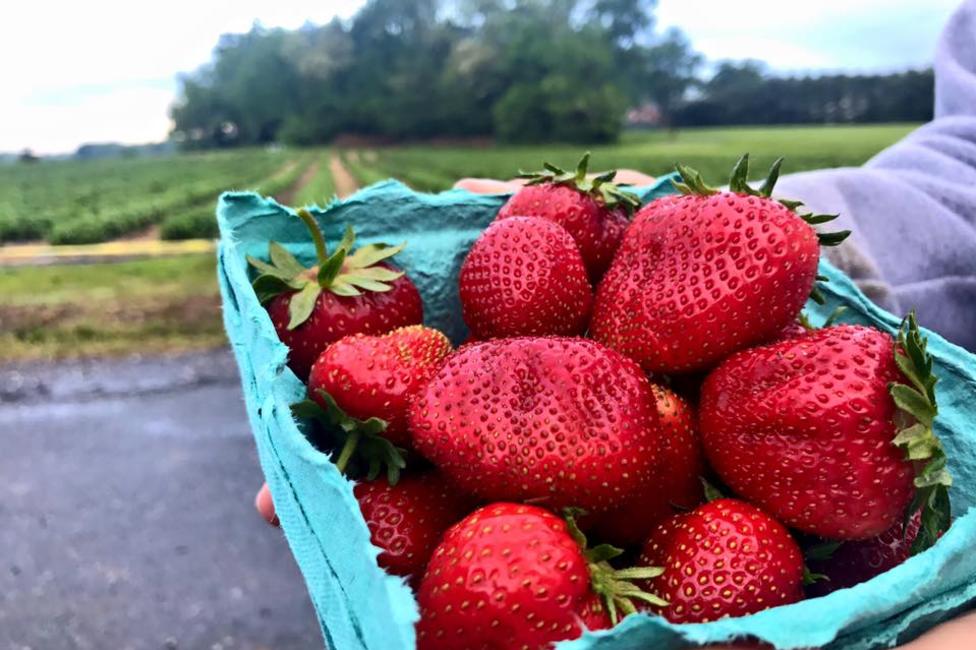 Summer is full of bright colors - the trees are awash in green and blues sweep across the skies for miles. Along with those colors come the freshest fruits & vegetables, all in season and ripe for picking.Before you head to the grocery store to stock up, consider paying a visit to one of these local pick-your-own farms, each offering the chance to head out to the fields and stock up on summer's sweetest treats. 
Please contact the farms directly for weather conditions and up-to-date availability. 
Valley Fruits & Veggies (5309 Colony Dr., Bethlehem)
The fields at Valley Fruits & Veggies offer up three varieties of strawberries for picking. If you're in a rush, you can also grab pre-picked berries fresh in their market. The market also offers honey produced by its on-site bees, plus greenhouse grown tomatoes for purchase. Note that Valley Fruits & Veggies is cash only. 
Strawberry Acres (767 Clear View Rd., Coplay)
Just a short drive north from Allentown, you'll find Strawberry Acres. Set amongst rolling hills, this farm offers a wide variety of pick-your-own fruits throughout the season including strawberries, peaches, cherries, pears, and apples in the fall. You can make your way out into the field to pick your own fruit fresh from the vines, or select from pre-picked assortments in the market. 
Grim's Orchards (9941 Schantz Rd., Breinigsville)
Though they may be best known for their fall festival, Grim's offers plenty of fun throughout the summer months as well. Visitors can enjoy picking their own strawberries and cherries during the warmer months, plus apples and pumpkins when fall rolls around. Pre-picked berries and cherries are also available at their roadside market. 
For additional pick-your-own varieties, consider visiting these local farms. Availability varies by season - we always recommend contacting the farms directly for up-to-date offerings and hours.
The Produce Crib at Juniperdale Farms (1015 Browntown Rd., Nazareth)
Offering strawberries, cherries, raspberries. 
Seiple Farms (5761 Nor Bath Blvd., Bath) 
Offering strawberries, shelling peas, sugar snap peas, and snow peas.
George Schmidt Berry Farm (5681 Berry Dr., New Tripoli)
Offering strawberries, cherries, blueberries, peas, apricots, peaches, plums, apples, pears, pumpkins, and more.
Bob White Acres (3879 East Mill Hill Rd., Coopersburg)
Offering strawberries, blueberries, apples, string beans, peaches, and nectarines.
County Line Orchards (9200 Kings Highway, Kempton)
Offering blueberries, cherries, apricots, peaches, and apples.
Bernard's Green Valley Farm (2925 High Hill Rd., Slatington)
Offering blueberries.