For the last several years, the vinyl music format has experienced something of a renaissance, particularly amongst young listeners. More and more record labels, both major and independent, are offering a vinyl option for new releases. Earlier this year, the Washington Post reported that vinyl record sales have hit their highest point since 1997. Is this merely the product of temporary, casual nostalgia for bygone days, or is it something more? While this news may come as a surprise to some, it makes perfect sense to me.
What draws me to vinyl, besides the warmth and fullness of the analog sound, is the wholly physical and engaging experience it entails.  It's the thrill of hunting for that special piece of music to take home to the record itself -holding it in my hands, breathing in the smell of the sleeve, and gently placing it on my turntable and setting the needle against the groove. A record and its packaging provides the listener with a tangible account of its music, and when the platter begins to spin and the sound of music fills the room, all the parts of a totally immersive experience fall into place. For many, this is a welcome change from the passive participation of the listener in the  digital music era.
Luckily, Lehigh Valley is a veritable treasure trove for vinyl enthusiasts. There are plenty of places to look for records, whether you're a seasoned collector or a newcomer to the format. With the following five stores, I've built a well-coordinated network for getting my vinyl fix, and you can too, starting with Gr8soundz in Hellertown.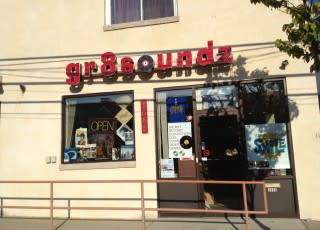 5.  Gr8soundz on Main Street in Hellertown is a relatively new addition to the Valley's circle of independent music stores, but it valiantly holds its own and is quickly gaining traction by word-of-mouth. Gr8soundz offers a hefty variety of used records, with many of their genre bases covered quite well, but will be of particular interest to those looking to bolster the classic rock and folk sections of their collections. What's more, their staff is friendly and always willing to talk music. The last time I visited, the clerk and I discussed the nuances of 80s synthpop while an Erasure remix played on the PA system. I left the store with an Emitt Rhodes album tucked under my arm and a feeling of utter elation.
4.  Used Grooves is situated on the corner of Northampton and 4th in Easton, just a short walking distance from Center Square. As their name suggests, they specialize in the sale of used records, each one cleaned, neatly packaged and tucked away in alphabetized, orderly sections arranged according to genre. Their grading system ensures that buyers know exactly what they're getting with their purchase. Their hip-hop and jazz sections are particularly noteworthy; the latter is where I found John Zorn's 2009 album O'o and promptly scooped it up (!!!).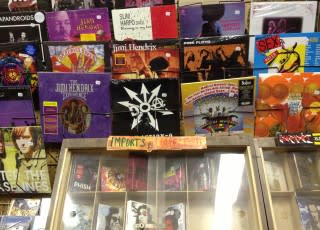 3.  Play It Again Records has been a staple of Bethlehem's southside for years, and if you ever find yourself cruising down 4th Street, it'll be worth your time to stop inside to tread its creaky floorboards. As soon as you walk in, you'll get a strong whiff of that old vinyl smell. The posters and fliers plastered all over the walls imbue the store with character and atmosphere. Among the rows of new and used vinyl, you'll find releases from many local and underground acts and an impressive collection of rare/collector's vinyl and various imports. Of course, these items tend to run on the pricey side.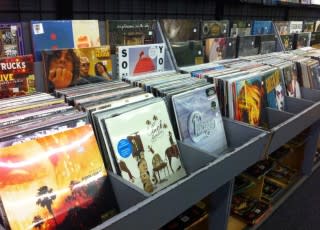 2. Young Ones in Kutztown is where I go to pick up recent releases. They reliably stock newly released items I can't find anywhere else, and almost always have the alternative "special edition" if it exists. They also have quite an impressive selection of new, sealed vinyl as well as an abundance of used LPs to dig through and shelves full of boxed sets and limited edition items. Once you've finished taking all of that in, be sure to check out their used DVD section and merchandise racks full of music apparel, as there's a lot of great stuff to be found.
Oh, and their awesome monthly ticket giveaways for concerts in and around Lehigh Valley and Philadelphia regions are another one of the store's many perks!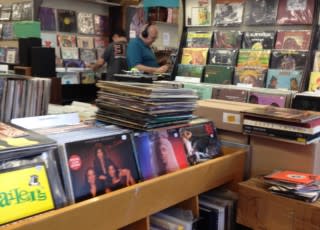 1. Double Decker Records in Allentown is, without a doubt, the best place to buy vinyl in Lehigh Valley. With an extensive, eclectic assortment of records, a staggeringly expansive and regularly re-stocked 50 cent room, and a staff that really knows their stuff, Double Decker is bound to suit your record buying needs. While they sell their fair share of more "mainstream" material, they really cater to those whose tastes run towards the esoteric. When you walk through their door, you're stepping into a wonderland of obscure releases, including LPs, compilations, 7"s and more. As a fan of industrial and noise music, I find something great for my collection with every visit.
Now, with all of that out of the way: go forth and buy records.
Honorable mentions: Merchant's Square Mall and Quakertown Farmer's Market