During the fall months, Lehigh Valley shines in bright hues of red and orange. If you're looking for a new way to take in this year's fall foliage, consider taking a biking tour with Pocono Biking. 
Conveniently headquartered in Jim Thorpe, Pocono Biking offers a variety of excursions for those looking to get out and explore the vibrant colors that autumn brings. Paired with cooler seasonal temperatures, now is a prime time to hit the trails.
Don't have your own bike? No problem! Pocono Biking offers an affordable selection of rentals to give you everything you need for a day of fun. Rental services are available at an hourly rate or for the full day - giving you flexibility to fit your schedule. In addition to standard Trek bikes, Pocono Biking also offers rentals of child seats, cabooses, and more.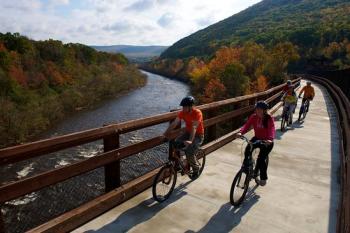 Bikers can also take advantage of a shuttle that will take you to the northern trailhead, giving you a downhill ride back into downtown Jim Thorpe (where your car is parked). The shuttle is available for drop-offs at 15 or 25 mile rides, both promising spectacular views of the Lehigh River Gorge. 
On select days, visitors can also hop along the Bike Train. Rather than the standard shuttle, this program offers a one hour ride along the Lehigh Gorge Scenic Railway to the trailhead. As you disembark the train, you'll hop on a bike for the 25 mile ride along the Lehigh Gorge Rail-Trail back into town. Along the way, you'll pass canal remnants, swim spots, scenic overlooks and railroad trestles.
Pocono Biking also offers a number of unique scenic excursions for those looking for more in-depth experiences. 
Waterfall Photo Bike Tour (October 21 & November 4) Your excursion starts with a ride on the shuttle to the trailhead before you take on 25 miles of biking. Along the way, riders will hop off the trail to explore a number of guided hikes to take you off the beaten path. Allocate approximately seven hours for a full day of exploration that will allow you to discover waterfalls, scenic vistas, canal ruins, and seldom visited natural wonders.
Four Day Bike Ride (October 22 - 25, November 4 - 7) Looking to pair some biking with overnight experiences in some of Pennsylvania's most charming towns? This excursion provides riders with the chance to explore 138 miles of trails along the Delaware & Lehigh National Heritage Corridor. In addition to your supplies, rates include meals and overnight accommodations at the Inn at Jim Thorpe, Historic Hotel Bethlehem, and Fox & Hound Bed & Breakfast. 
For more information on available excursions with Pocono Biking including event dates, rates, and more, click here.