Boutique & extended-stay hotels to open in the region
Big-​brand hotels are opening in ​Lehigh Valley—​Delta by Marriott, Hyatt House, Hyatt Place—​and historic renovated buildings strengthen the ​region's boutique and hotel cred. ​Together, the new hotels and those under contract are unlocking ​720 new rooms to meet ​the anticipated ​visitor demand, which ​was steadily increasing before the COVID-19 outbreak in the U.S. and has been on the rise for over the past ​10 years.​ Even since the pandemic, the region has seen some of the strongest hotel demand in the Commonwealth of Pennsylvania since March 2020. Once all of these are open, Lehigh Valley hotel room totals will be over 7,000.​
So, what's recently been opened or is yet, set to soon open? Let's review the list and get you checking into something different.​
The Americus Hotel by Wyndham (opened July 2021) is a newly renovated 13 story building from a glorious era where high ceilings and arched windows are the focal point of the architectural design. It has been brought back to life and approved by the historical society. This renovation features a magnificent ballroom with seating of up to 400 guests, a spectacular mezzanine, and a luxurious lobby, plus meeting rooms. A total of 80 guest rooms and 50 suites are open for your next reservation.
Hyatt Place / Hyatt House (opened November 2021) as a joint hotel offering 205 guest rooms. The Aster Event Center can host up to 250 attendees for a banquet-style event. The property also features its own restaurant, the Westside Grill. 
Delta by Marriott Lehigh Valley Allentown offers one of the largest conference spaces in Lehigh Valley as well as overnight accommodations for large groups. Known currently as The Center Hotel Allentown, the hotel is going through an overhaul, rebrand, and reflag. The new venue boasts 11,640 square feet of flexible space that can be arranged to best suit the needs of many events. The main hotel ballroom, Venue 100, seats up to 800 in banquet rounds and has four individual parlors that make up the entire space.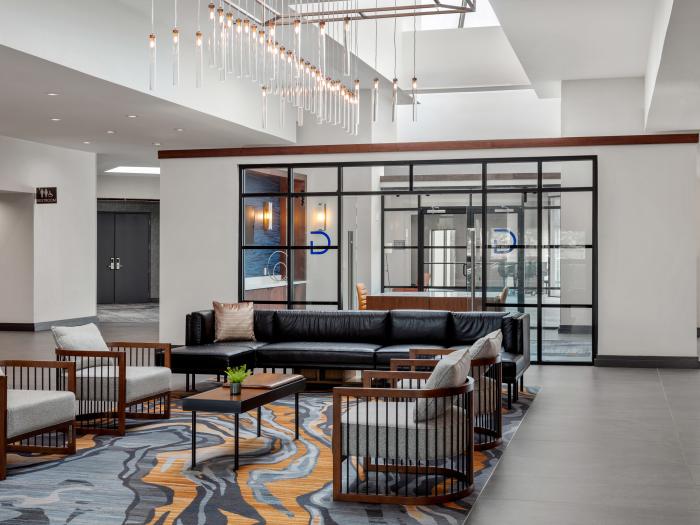 Hotel plans for beyond 2022 and beyond:
Joshi Hotel Group plans to break ground in early 2022 on a new Home2Suites, which will bring an additional 118 rooms to the Bethlehem area along City Line Road. There is an estimated 16-month window for completion. 
Wind Creek Bethlehem plans to have its expansion completed by November 2022 featuring three incredible ballrooms, beautifully outfitted guest rooms, a high-end lobby bar, custom art installations, spacious pool areas, a luxurious new spa, and an impressive 35,000 square feet of additional meeting/events space. Once complete, Wind Creek Bethlehem's integrated resort will boast 60,000 square feet of combined meeting space and over 500 hotel rooms.

If you're looking for a more comprehensive listing of Lehigh Valley hotels, search our inventory by location and amenities.