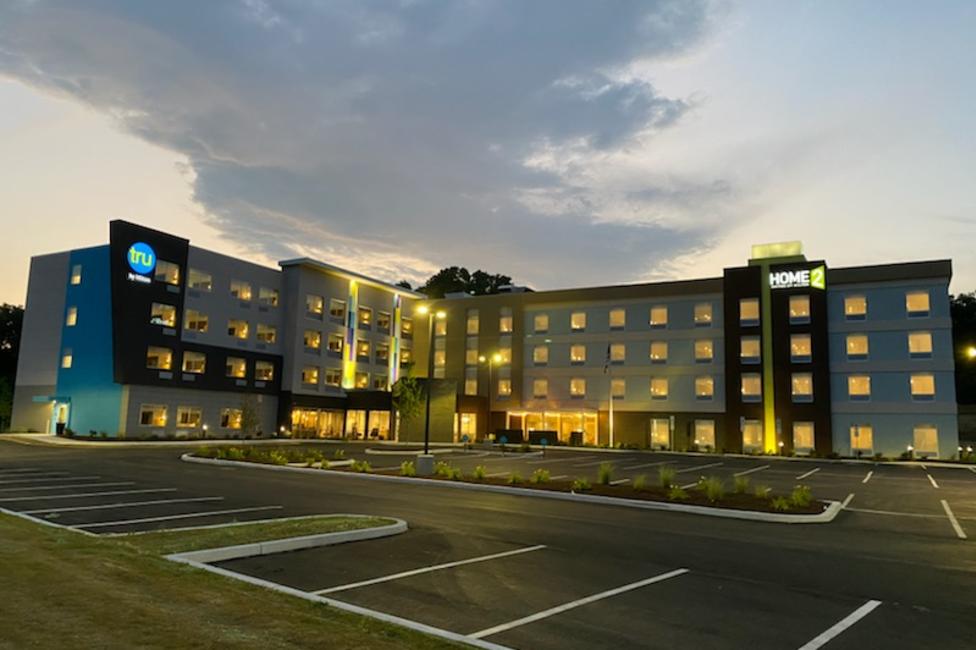 Boutique & extended-stay hotels to open in the region
Big-​brand hotels are opening in ​Lehigh Valley—​Hilton—​and strengthening the ​region's boutique cred. ​Together, the ​two new hotels are unlocking ​152 new rooms to meet ​the anticipated ​visitor demand, which ​was steadily increasing before the COVID-19 outbreak in the U.S. and has been on the rise for over the past ​10 years.​ Even since the pandemic, the region has seen some of the strongest hotel demand in the Commonwealth of Pennsylvania since March 2020.​
So, what's open? An ultra-efficient, ​side-by-side hotel experience by Hilton​ to Easton, PA. Say hello to a brand-new hotel​ ​experience from Hilton that's vibrant, affordable​,​ and young-at-heart.​ ​Where the "Free to Be​" YOU ​travel experience is encouraged. It's​ ​energetic, yet relaxing and comfortable. It's familiar, and it's also unexpected. It's completely unprecedented.​ Check into something different.​
Tru by Hilton is a revolutionary re-think of a typical mid-priced hotel now with a hip, new vibe offering blazingly fast complimentary WiFi, contemporary guest rooms with 49" TV's.
Home2 Suites by Hilton is the all-suite side of the complex with options of studio or spacious 1-bedroom suites. Not to be outdone, this hotel also offers flat-screen HDTV, sleeper sofa, and spacious working wall. The suites also contain a refrigerator/freezer, microwave, dishwasher, and all dining service items in every unit to make your extended stay a breeze.
The properties community space includes Hilton's 24/7 Eat & Sip market, expansive fitness center, indoor pool, outdoor barbeque grills and firepit patio. Technology takes center stage as smart devices can reserve your room, check-you-in, and even give you the ability to use your mobile device as the key to open your guest room door. Be Inspired every morning by our "Top-It" breakfast buffet which is also included.*Due to Covid-19 restrictions some services are modified for the safety and well-being of guests.
With quick access to PA Route 33, these new properties offer close proximity to Easton, Bethlehem, and Allentown, and within 10 miles of several large corporations, Lafayette College, and miles of trails and parks along the Delaware and Lehigh Rivers. Kids will love the Crayola Experience in downtown Easton. Make your reservation today!
If your looking for a more comprehensive listing of Lehigh Valley hotels, search our inventory by location and amenities here.