You don't have to travel far to get a glimpse of unique animals. Located within Lehigh Valley's Trexler Nature Preserve, you'll find the Lehigh Valley Zoo.
While the Zoo in its current form has only been open since 2004, the history of the Trexler Nature Preserve spans over a century. Throughout the property, you can hike a number of trails for all difficulty levels, take in stunning vistas from overlook points, and even spot some wild friends like bison and elk. Each year, more the 30,000 local students take part in the Zoo's educational programs.
Within the grounds of the Zoo, you're sure to find plenty of fun for the whole family. Upon entering the gates, you'll be greeted by the African Penguins. If you're lucky, you may even catch a feeding (typically held at 11 a.m. & 3 p.m.)! Watch the penguins waddle along the land and dive into the water- an experience that the little ones are sure to love.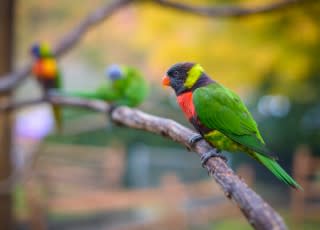 But of course, the penguins are just one of more than 70 species of animals represented within the Zoo, including a number of endangered species. You can also get a glimpse of otters, zebras, camels, peacocks, porcupines, wolves, and so much more.
Visitors will also want to make time to visit Tatu and Murphy the Masai Giraffes. For an extra fee, you can participate in a giraffe feeding experience. These feedings happen twice a day. 
For more info on unique interactive experiences at the Zoo, click here. 
The Lehigh Valley Zoo also makes for a great place to host your next party or event. Groups can have special experiences, such as feedings, tailored just to them. You can even rent the Zoo for a full private event! Regular visiting hours are 10 a.m. - 4 p.m. April through October, and 10 a.m. - 3 p.m. November through March.
You'll want to mark your calendars for a few fun events that the Zoo hosts annually.
In honor of Earth Day, the Zoo hosts Party for the Planet each April. This event actually combines celebrations for three special days: Earth Day, World Penguin Day, and Tuxster's birthday. Activities include music, African Penguin painting demonstrations, RAD Center Conservation Conversations, Arbor Day tree planting dedication, and Smart Fun with the Zoo's mascot, Tuxster.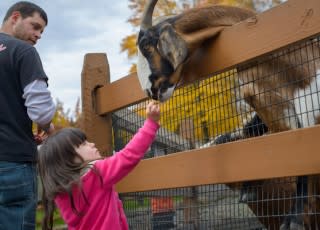 Held in early October each year, Ottertoberfest features craft vendors, wine and craft beers, live music, and otter-related family-friendly activities throughout the Zoo (and of course- plenty of fun for the adorable otters!). As October comes to a close and Halloween nears, don't miss Boo at the Zoo. This event gives kids the chance to trick-or-treat in costume and enjoy candy treats, mascots, family-friendly activities, and live music.
When the holiday season rolls around, the Zoo is fully transformed into a world of twinkling lights. Winter Light Spectacular features thousands of lights on display throughout the grounds of the Zoo. Be sure to warm up with a tasty cup of hot chocolate by the fire before you head home after a night of fun!
Find more details on the Lehigh Valley Zoo, including additional special events, at LVZoo.org.