There's something special about the smell of fire pits, pine trees, and the great outdoors.  For those of us who need to escape the distractions of our daily lives, heading to the woods is an effective way to unwind and become one with nature. Luckily, camping season is finally here and you can begin to plan a getaway. Whether you like spending your time in a cozy tent or a rustic cabin, there are numerous campgrounds in Lehigh Valley that fit the bill.
If you're with the family, you'll love the accommodations at Allentown KOA, Appalachian RV Resort, Colonial Woods Family Camping Resort, Pine Hill RV Park, Quakerwoods Campground, and Robin Hill Camping Resort. Playgrounds, sports fields, mini golf courses, swimming pools, and Saturday night summer hayrides make for plenty of ways to keep the kids entertained. These campgrounds offer a selection of sites for tents, cabins, RV spaces, and more. No matter how you prefer camp - you'll find a cozy spot amongst these options.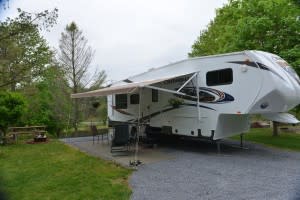 Blue Rocks family-owned campground in Lenhartsville offers everything from rustic tent and RV sites to cottage rentals. Choose from 200 sites and a plethora of amenities including a general store, snack bar, swimming pools, family activities, and more. They even have a classic car garage featuring an impressive collection of antiques and hot-rods. When you're here, you can't miss exploring Boulder Field.
If water activities are a must, head to Driftstone Campground right on the scenic Delaware River. They offer canoe, kayak, and raft rentals as part of the camping experience.
Right in our backyard is Evergreen Lake. However, you'll surely feel like you're nowhere near home. There are wooded, shady sites tucked into the base of Blue Mountain and right along their picturesque lake. Not only can you camp, fish, and go boating, but you can hold special events lakeside with the gazebo and outdoor pavilion.
These campgrounds are sure to please everyone in the family. The season of s'mores and hot dog grilling is upon us. There's no better way to spend it than in the great outdoors.