Calling all history buffs. If you're familiar with the geographical area of Lehigh Valley and surrounding areas, head to the Lehigh & Keystone Valley Model Railroad Museum for a trip down memory lane.
The museum holds a model railroad display featuring recognizable landmarks, buildings, and historical areas from 1950 to 1976 that were along the route of the Lehigh Valley Railroad. These landmarks were all recreated from vintage photographs.
You'll see the Emmaus Theatre, The Morning Call, the Easton / Phillipsburg Free Bridge, Hugh Moore Park, the blast furnaces of Bethlehem Steel, and many more Lehigh Valley staples.
The years of hard work to create this masterpiece are credited to the volunteers of Lehigh & Keystone Valley Model Railroad Club which was formed in 1994. After 16 years of construction, they've created a 5,000 square foot layout of the railroad which is open to the public the third Sunday of the month from February through November. The visiting hours are from 2 - 5 p.m. Adult admission is $7 and children 12 and under are free.
[caption id="attachment_24590" align="alignleft" width="320"]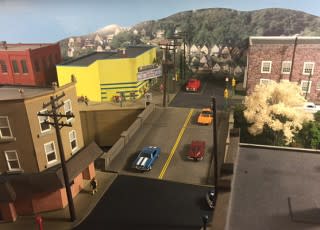 Emmaus Theatre at Lehigh & Keystone Valley Model Railroad[/caption]
For more model trains, visit Merchant Square Model Train Exhibit inside the Merchant Square Mall featuring thousands of lights, a 24' x 16' lake,  working railroad crossings, and an actual drive-in screen.
Or if you're looking for the real thing, WK&S Railroad offers train rides on weekends May through October plus special events throughout the year. Enjoy a 40-minute round trip aboard the vintage train running through farmland and forests as the train follows the Ontelaunee Creek.
These organizations are all preserving the history of local railroads. Visit one of these locations and take a step back in time.
[gallery ids="24591,24592,24594,24595,24596,24597,24598,24599"]