Cue the Celtic music and break out everything you own that's green; Lehigh Valley has plans to celebrate St. Patrick's Day! According to Jayne Ann Recker, Executive Director of the Celtic Cultural Alliance, over 30% of Lehigh Valley's residents have Celtic roots—but everyone is welcome to partake! We've rounded up a few must-see local events, bars fit for all things Irish, and more.
☘ St. Patrick's Day Parades ☘
Downtown Bethlehem will be awash in green as Celtic Cultural Alliance hosts the 10th Annual Celtic Classic Parade of Shamrocks! The celebration will take place on Saturday, March 12, 2022. The parade steps off at 1:00 p.m. on Broad Street. The parade route will continue east on Broad to Main Street and make its way south on Main Street, ending under the Hill-To-Hill Bridge.
You'll want to grab a prime viewing spot for this parade! Arrive early to claim the best views along Main Street in Bethlehem, particularly at the intersection of Main & Broad Streets. We recommend parking in one of the two parking decks on the city's North Side (75 W. North Street and 33 W. Walnut Street). 
Recognized as the region's oldest Irish celebration, the Allentown St. Patrick's Parade steps off on Sunday, March 20 at 1:30 p.m. Celebrating its 63rd year, this parade kicks off with a 5k race with nearly 1,000 runners taking to the streets. The parade route circles through Allentown's West End, starting and finishing at the Allentown Fairgrounds.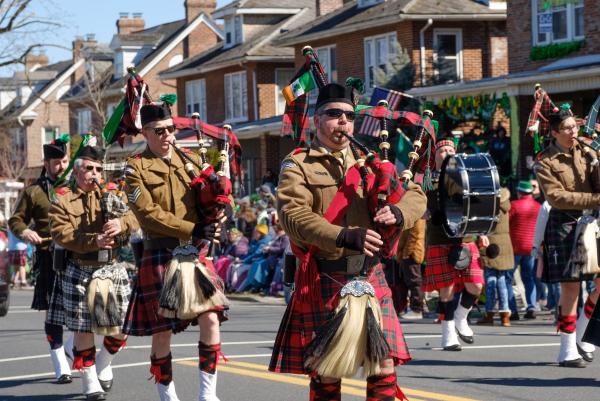 ☘ Raise a Glass: Local Celebrations ☘
Help support the Allentown St. Patrick's Parade by participating in their annual Pub Crawl on Saturday, March 12. Bars throughout Allentown's West End participate in this fundraiser offering up specials on food & drink throughout the night. You might even spot some roaming bagpipers out and about! The event is open to the public and starts at 5:00 p.m., with official parade t-shirts for sale. 
Swing by Brü Daddy's on March 19 at 7:00 p.m. to catch Kim and The Clairvoyants, a Lehigh Valley-based cover band playing an eclectic collection of Alternative/Indie/Classic Rock with a touch of R&B. A killer set list as well as delicious craft beers and Brü Daddy's awesome menu await you and your crew to celebrate St. Patrick's Day weekend. The band plans to play outside in The Garden, but stay tuned for further updates.
In Easton, Porters' Pub and Restaurant is prepared to kick off your St. Patrick's Day with the breakfast of champions. We're talking about a traditional Irish breakfast, complete with two eggs, breakfast potatoes, grilled tomatoes, baked beans, roasted mushrooms, black pudding, grilled rashers, and soda bread. That's at 10:00 a.m. on Thursday, March 17. Then, 11:00 a.m. opens up the full menu. There will be Shepherd's Pie, Corned Beef and Cabbage, and Guinness Lamb Stew - just to name a few! Stick around for a performance by the O'Grady Quinlan Irish Dancers at 5:30 p.m. and again on Saturday, March 19 at 6:00 p.m.
While you're there, you may wish to join in on some shenanigans during the Easton St. Patrick's Pub Crawl. Patrons 21 years and older can sign-up to participate for the Saturday, March 19 event. Registration begins at 2:00 p.m. and ends at 4:00 p.m. at Rivals Sports Bar. The cost of a ticket is $20 in advance or $25 at the door. Pub crawlers get food and drink specials at every stop and chances to win hundreds of dollars in gift cards to local restaurants. Each ticket also grants entrance to the after party sponsored by Rivals Sports Bar & Restaurant where there will be live music and free food for pub crawlers. Participating pubs and eateries include 3rd and Ferry, The Bayou - Easton, Black & Blue and more. It's a walking event and will happen rain, snow or shine so wear as many layers of green are necessary to get you from one place to the next comfortably! 
A visit to McCarthy's Red Stag Pub is a must during St. Patrick's Day. From their Best Legs in a Kilt contest to whisky tastings, live music, and so much more, you'll be set for the most authentic experience around. Don't forget to swing into Donegal Square to admire their selection of kilts!

☘ Sláinte ☘ 
For the first time ever, ArtsQuest is proud to present Sláinte, a celebration of Irish heritage Thursday, March 17 through Sunday, March 20, 2022. We can hear the fiddles and taste the whiskey now, but you'll be able to for four days during this festival focused on the traditions of the Emerald Isle. Wear your green and be ready to tap your feet to the tune of several bands from Ireland. Donegal Square / McCarthy's Red Stag Pub and Whiskey Bar's own, Neville Gardner, will help take visitor's experience to the next level through traditional food and whiskey pairings. Sláinte is one event where you're guaranteed an immersive experience.
Come for the food, stay for the music. The festival also features a fiddle competition on Sunday and musical performances, including the traditional Irish music group Lúnasa and Irish folk band The Jeremiahs. Pennsylvania's own Celtic group House of Hamill will kick off the festivities on St. Patrick's Day. Don't miss Sunday brunch at Sláinte. A traditional Irish breakfast on the morning after is the only way to cap off a weekend of spirits.
For more St. Patrick's Day happenings, check out our Events Calendar.