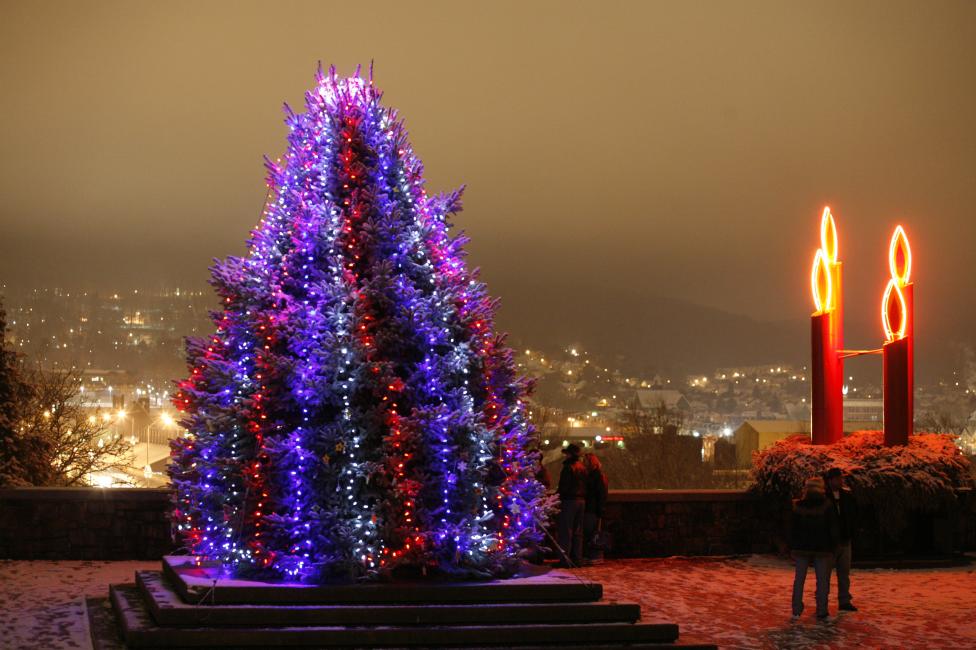 Throughout the holiday season, Allentown, Bethlehem, Easton, and the surrounding communities glow with trees decked out in lights and seasonal decor.
Special ceremonies mark the tree lightings that start as early as mid-November. From Hellertown's Light Up Night and Nazareth's Tree Lighting to the Tree and Bridge Lighting at Covered Bridge Park in South Whitehall Township, locals and visitors alike gather to celebrate as switches are flipped to illuminate the towering firs.
These occasions are often celebrated with seasonal drinks and food, festive sing-alongs, and appearances from Santa Claus or Saint Nicholas himself.
But the fun doesn't stop around the tree. For more unique options, consider heading to Easton for the sing along, "Let There Be Peace on Earth" at the lighting of the Peace Candle in Centre Square or to Koziar's Christmas Village to marvel at the twinkling lights or take in the shimmering winter wonderland at Lights in the Parkway in Allentown. The holiday festivities are nearly limitless, especially when in Bethlehem, the Christmas City.
Read on for our list of tree lighting celebrations in Lehigh Valley, arranged chronologically. And after the fun, consider dinner at your favorite restaurant to warm up and review Christmas shopping lists!
 
Christmas Tree Lighting at Lehigh Valley Mall
Thursday, November 14, 2019 from 5-7 p.m. 
Lehigh Valley Mall, Elevator Court, 250 Lehigh Valley Mall, Whitehall​
Come out to enjoy live performances, Santa, local restaurant food and beverage samplings, and more. Consider a donation to Toys for Tots.
 
Christmas City Tree Lighting Ceremony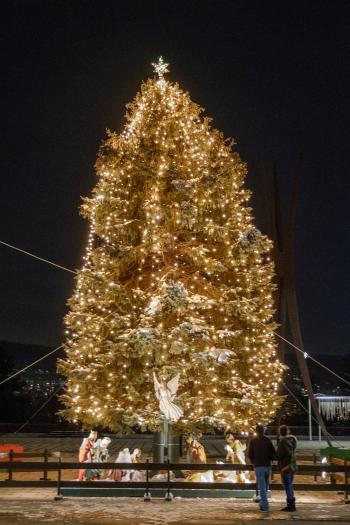 Friday, November 29, 2019 beginning at 4:30 p.m.
Payrow Plaza, 10 E. Church St., Bethlehem​
Full of holiday spirit all yearlong, Bethlehem's Christmas City kicks things off with multiple live performances, community song, free hot chocolate and cookies, and a visit from Santa. The tree lighting tradition takes place around 5 p.m. More info.
 
Hellertown Light Up Night
Friday, November 29, 2019 from 5-9 p.m.
Dimmick Park, 570 Durham St., Hellertown​
Come out for trolley rides, children activities, adult beverage bar, hot chocolate and cookies, food, movies on the big screen, pictures with Santa, Disney® Princesses, and more. Bring a non-perishable item or canned good for under the tree.
 
Promenade Shops Holiday Tree Lighting
Saturday, November 30, 2019 beginning at 5:30 p.m.
Promenade Shops at Saucon Valley, 2845 Center Valley Parkway, Center Valley
Enjoy live, holiday music while waiting for Santa to help light the tree. This event is free. Make a night of it, and enjoy dinner at Torre or Melt. More info.
 
Easton Peace Candle Lighting 
Saturday, November 30, 2019 from 10 a.m. - 8 p.m.
Easton's Centre Square
Enjoy the sights and sounds of the season with live music, carriage rides, strolling street performers, ice carvers, and more treats to delight the whole family. Kick off the holiday shopping season with Downtown Easton's selection of unique boutiques and specialty stores. A full day of merriment culminates in the grand lighting of Easton's Peace Candle at 6:30 p.m. More info.
 
Coopersburg Tree Lighting
Saturday, November 20, 3019 froom 6-8 p.m.
Coopersburg Fire Company, 13 S. Main St., Coopersburg
The Coopersburg Borough, Coopersburg Fire Company, and Southern Lehigh Chamber of Commerce will come together to kick off the holiday season with an evening full of family fun! There will be cash tractor rides from Hausman's Fruit Farm. The Fire Company will sell trees. Santa will arrive for pictures with kids!
 
Bath Area Tree Lighting
Sunday, December 1, 2019 beginning at 6 p.m. 
Monocacy Creek Park, Bath
Spend an evening with the Bath Area Community Choir as Santa arrives by fire truck to the Park.
 
Downtown Allentown Tree Lighting Celebration
Thursday, December 5, 2018 from 4 - 6:30 p.m.
PPL Plaza, 800 block of Hamilton St., Allentown
Christmas magic takes over the 800 block of Hamilton Street to welcome the season. Festivities include live musical performances, dance acts, horse-drawn carriage rides, children's activities such as face painting, gifts for children, and of course, Santa and Mrs. Claus. Free to the public. More info.
 
Greater Northern Lehigh Tree Light Ceremony
Friday, December 6, 2019 from 5-8 p.m. 
Slatington Memorial Park, 509 Main St., Slatington
Make an evening of it with caroling, hot chocolate and cookies and Santa's arrival.
 
Faith Church Community Tree Lighting
Friday, December 6, 2019 beginning at 5 p.m. 
6528 Hamilton Blvd., Lower Macungie
Faith Church's campus will be transformed into a winter wonderland with cookies and cocoa, ice sculpture, photo booths, kids' ride and inflatables, sports, live Christmas music from Grace Notes Big Band and the Lower Macungie Middle School Chorale, storytime sessions for our littlest friends, and so many more fun surprises! Event is free for the public.
 
Hanover Township Tree Light Ceremony
Friday, December 6, 2019 from 6 - 8 p.m. 
Hanover Township Community Center, 3660 Jacksonville Rd., Bethlehem
What more can you ask for? Santa, hot chocolate bar, live reindeer, horse-drawn carriage rides through a illuminated path, arts/crafts, choirs, indoor snowball fight, and more. Event is free.
 
Allentown West Park's Annual Tree Lighting in the Park
Saturday, December 7, 2019 from 6-8 p.m. 
Park located between Linden & Turner Sts. and 15th & West Sts., Allentown
Make edible ornaments for West Park furry and feathered friends at the Church of the Mediator (1620 W. Turner St., Allentown). Then help trim the West Park tree with the edible ornaments and accompanied with musical performances and refreshments. There is no cost to participate.
 
Tree and Bridge Lighting Ceremony
Saturday, December 7, 2019 beginning at 4 p.m. 
Covered Bridge Park, Covered Bridge Lane & Wehr Mill Rd., South Whitehall Township 
Covered Bridge Park will twinkle for the holidays. Come decorate the covered bridge, Corner Mill House, and holiday tree, all while enjoying family activities, s'mores stations, dance performances, and live entertainment.
 
Emmaus' Old-Fashioned Christmas
Saturday, December 7, 2019 from 4-7 p.m.
Triangle Park, Main St., Emmaus
Get together with your family and friends to celebrate the holiday season. There will be many aspects of the event including the Candy Cane Lane with Emmaus Historic Sites and the Cheers Trail with Old Fashioned Christmas! 
 
Christmas in Kutztown Tree Lighting
Saturday, December 7, 2019 from noon - 6 p.m. 
200 block of Main St., Kutztown
Christmas in Kutztown features a variety of holiday activities, including breakfast with Santa, Santa's workshop, musical performances, train rides, arts and crafts, and more.
 
Alburtis Holiday Festival & Tree Lighting
Sunday, December 8, 2019
Alburtis Fire Company, 328 S. Main St., Alburtis
Family day out in Alburtis. Get photos with Santa, enjoy hot food, a basket raffle, live performances, and more.
 
Forks Township Tree Lighting
Sunday, December 8, 2019 from 4:30-8 p.m. 
Forks Township Municipal Complex, 1606 Sullivan Trail, Easton
Join the Forks Township Parks and Recreation for holiday activity stations and Santa's workshop. Santa will arrive for the tree lighting at 7 p.m.
 
Holiday on the SouthSide
Friday, December 13, 2019 beginning at 4 p.m.
727 E. Fourth St., Bethlehem (between Buchanan & Monroe Streets)
Light up Tranquility Park and sing along with Broughal Middle School's band at the annual tree lighting celebration starting at 4 p.m. Enjoy cocoa, crafts, and cookies at the Bethlehem Area Public Library - Southside Branch, (400 Webster Street) from 5-7 p.m. The library is only open for the event.
 
Palmer Township Annual Tree Lighting
Saturday, December 14, 2019 beginning at 6:15 p.m.
Charles Chrin Community Center of Palmer Township, 4100 Green Pond Rd., Palmer Heights
Be on time for Santa's arrival at 6:15 p.m. via a Palmer Fire Truck. There will also be live performances, refreshments and family-fun activities.
For more great holiday happenings in Lehigh Valley, click here.