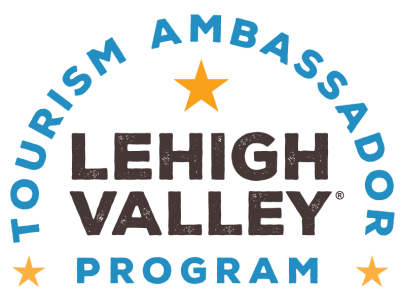 Lehigh Valley Tourism Ambassador Program
The Lehigh Valley Tourism Ambassador Program is a multifaceted program that serves to increase tourism by inspiring front-line employees and volunteers to turn every visitor encounter into a positive experience. When visitors have a positive experience they are more likely to return in the future and also share their experience with others. Everyone benefits—the visitor, the industry, the local economy, and most importantly, the front-line worker.
Have questions?
Email Monet Tiberii, Sales & Services Coordinator, for more information.
---

What's a CTA?
A Certified Tourism Ambassador™ (CTA) is a person who cares about Lehigh Valley and how it's represented. They want to provide the best experience possible to visitors and locals alike. CTAs have completed required reading, taken a four-hour classroom course, and passed an exam to gain their accreditation. CTA's are Lifelong Learners who make an effort to learn about events, activities, and attractions in and around Lehigh Valley. CTAs visit sites of interest and attend events that celebrate the people, places, and things that make our region so unique and worth visiting.
Why is the Visitor's Experience so Important in Lehigh Valley?
In our region, tourism:
• accounts for more than 16.5 million visitors each year
• equates to more than $1.2 billion in economic impact
• creates over 25,000 jobs in Lehigh Valley
What's in it for you?
Becoming a Certified Tourism Ambassador™ is a meaningful credential and impressive addition to your résumé. The skills you learn during the program can help you earn better tips, increase business, and advance your career.
The CTA program will:
Expand your industry social network - provides you excellent opportunities to network with and learn from your peers across the area and across the country.
Help you stay "in the know" with regular updates and continuing education.
Offer "Freebies & Discounts" to CTAs that give you free or discounted prices to experience attractions and gain first-hand knowledge of the things visitors ask about.
The Lehigh Valley Tourism Ambassador Program provides you with a national certification, not just training. By completing the program, you'll receive a credential and accompanying initials that can be used to denote your commitment to hospitality as a Certified Tourism Ambassador™ (e.g., Jim Smith, CTA). Becoming a Lehigh Valley Tourism Ambassador helps you learn valuable knowledge about all Lehigh Valley has to offer, tips to help you exceed customer expectations, and the necessary skills to advance your career.
How much does it cost?
The CTA certification course costs $45 and requires the successful completion of a core curriculum. A $25 annual renewal process that includes continuing education and staying abreast of local attractions and information, is also necessary to maintain your certification.
How do I sign up?
For more information on how to enroll, visit CTANetwork.com and follow 5 simple steps to sign up