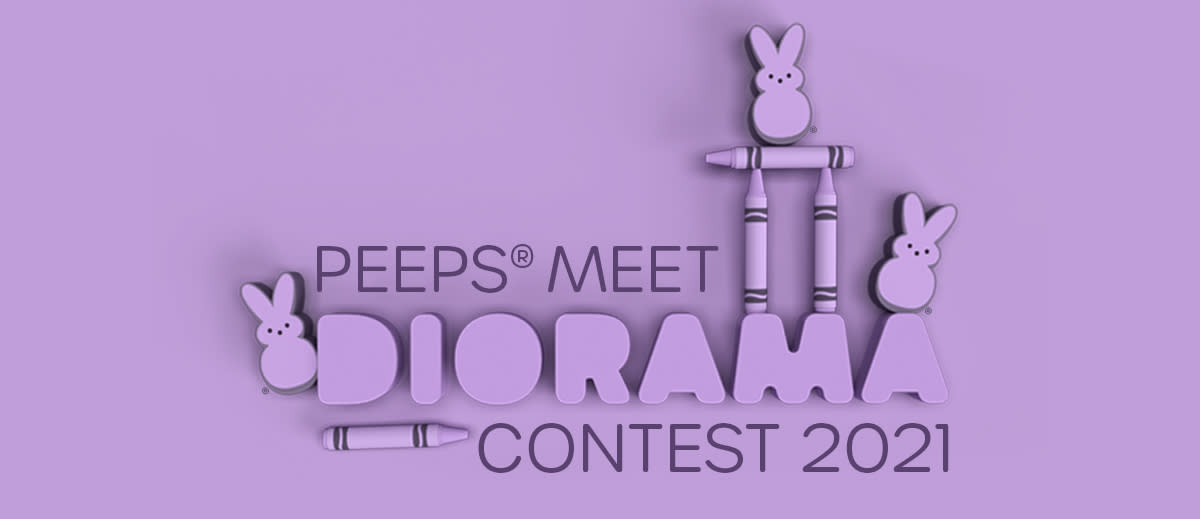 ---

---
PEEPS® MEET DIORAMA CONTEST
This contest has ended.
Discover Lehigh Valley® and Joanne Dennison, The MeetGuide, are pleased to announce the inaugural PEEPS® Meet Diorama Contest inviting meeting planners, tourism industry suppliers, and travel professionals to join in on a little creativity highlighting the industry we know and love. Lehigh Valley is home to PEEPS®, Crayola® world headquarters, and Crayola ExperienceTM Easton. 
A "diorama" is a model representing a scene with three-dimensional figures, either as miniature or large-scale museum exhibits. Check out a sampling of PEEPS® Dioramas, to get your creativity flowing.
---

Categories and Supplies
Pick a category and start building your PEEPS® Meet Diorama. Categories include:
Holiday 
I Miss Sports
Meetings & Events
Traveling PEEPS®

There will be an Overall Popular Vote Winner awarded through Facebook popularity. Use this registration link to let us know that you plan that you plan to build a diorama, and the first 40 registrants will receive a starter kit to help get the ideas flowing! Starter Kits Include:
2 packs of 5 Count PEEPS® Marshmallow Chicks
1 Crayola® Modeling Clay
1 set of Crayola® Markers
2 complimentary tickets to Crayola ExperienceTM Easton
---
Rules and Registration 
This contest has ended. Read the PEEPS® Meet Diorama Contest Official Rules.
You must incorporate at least one PEEPS® Brand Candies. 
Sexually explicit, violent scenes, or other depictions deemed inappropriate by the committee will be disqualified.  
Submit one photo of your diorama using this link and tell us what category you have entered.  
1 submission per registrant 

All entries will be compiled and displayed on the Discover Lehigh Valley Facebook page.  The last day to submit your diorama was March 20, 2021. The public voted on Facebook from March 22-26, 2021 for the Overall Popular Vote Winner. ​
---
Judging

Judging Scale from 0-5
0 - What happened here?
1 - Oops!
2 - Try Again Next Time
3 - Run of the Mill Average
4 - Marvelous
5 - RockStar Status
Judging Categories
Judging categories will be judged on the above scale, the categories are:
Realism/Authenticity - Does it make sense to the viewer? Is it relevant to the theme of meetings and events?
Craftsmanship - Did the creator take neatness into consideration & is the diorama done nicely?
Complexity/Difficulty - Does it show that time and effort was involved?
Creativity - Is this piece different and unique?
Extra Points: +5 Points Possible, The scene is somehow "Lehigh Valley" related.
Panel of Judges
Jim Cohn: Publisher / Editor, Mid-Atlantic Events Magazine
Meg Dowd: Corporate Affairs Manager, Just Born Quality Confections
Jordanaé Smith: Assistant Marketing and Sales Manager, Crayola ExperienceTM Easton
---
Winners
The winners of the PEEPS® Meet Diorama Contest have been announced. Click here to see the winning displays.
---
Why we love PEEPS®, Crayola®, and Crayola ExperienceTM Easton
About Just Born Quality Confections: Just Born Quality Confections is a third-generation family-owned company that has grown into the 10th largest candy company in the U.S. [*] Just Born is the maker of some of America's most beloved and iconic brands – PEEPS®, MIKE AND IKE®, HOT TAMALES® and GOLDENBERG'S® PEANUT CHEWS®. In 1923, the founder, Sam Born, opened a small candy-making and retail store in Brooklyn, New York, where he marketed the freshness of his daily-made candy with a sign that declared, "Just Born." Together with Born's brothers-in-law, Irv and Jack Shaffer, the company thrived in spite of the economic depression of the 1930s and, in 1932, moved its operations to Bethlehem, PA, which is still home to their iconic candy brands. All Just Born candy is proudly made in the USA and Canada using globally sourced ingredients. For more information, please visit www.justborn.com. Follow us on Facebook and Twitter.
*IRI Market Advantage, Total US MULO + Convenience, Latest 52 Weeks Ending 9/6/2020
About Crayola®: Crayola® has called Lehigh Valley, Pennsylvania, its home since the turn of the century. Today, the company's world headquarters and major manufacturing facilities are located there. Downtown Easton is the home of the Crayola ExperienceTM Easton, an interactive brand experience where families can enjoy a day of creative fun and see how we the iconic Crayola crayons and markers are made.  

---
PEEPS® and PEEPS® Marshmallow Shapes are registered trademarks of Just Born, Inc., Bethlehem, PA, USA, and are used with permission. © 2021.