Farming + Cycling in Lehigh Valley
Happy farmers; happy cyclists.
Committed to groundbreaking research in organic agriculture, advocating for policies that support farmers, and education, Rodale Institute is a destination for inspiration and regenerative agriculture research. Founded over 75 years ago, the Rodale Institute's organic pioneer J.I. Rodale studied the link between healthy soil, healthy food and healthy people. His son Robert "Bob" expanded the farm and research with the purchase of a 333-acre farm near Kutztown, Pennsylvania. Not only was Bob committed to organic farming and also a successful publisher, but in 1975 Bob also fell in love with track cycling and created the "the Velodrome" at Valley Preferred Cycling Center in Trexlertown. 
Watch the video below or listen to the Talk of the Town podcast episode "Eat Real Food" to learn more about the shared history between Rodale Institute and Valley Preferred Cycling Center. Joan Hanscom, Executive Director of VPCC and Jeff Tkach, Chief Impact Officer of Rodale Institute, talk about their organizations' shared history as they ride through Lehigh Valley's ideal cycling routes through farmland between T-Town and Rodale Institute. They chat about agriculture, cycling, and why Lehigh Valley is the nation's leader in both arenas. 
Reconnect with agriculture and help farmers thrive; with thriving farms we can preserve these incredible Lehigh Valley roads to ride on.
---
Valley Preferred Cycling Center
The Valley Preferred Cycling Center, known as "T-Town" and the "Velodrome" is the Bicycle Racing Capital of the World, serving everyone from recreational cyclists to Olympians, on the velodrome's 333.3m concrete surface. T-Town is the premiere velodrome in the United States offering thrilling professional and amateur track racing as well as robust community programming designed to get more people on bikes in a safe and fun setting. 
Catch an exciting race, participate in a program, visit the Trexlertown Farmers Market, or explore the Bob Rodale Cycling & Fitness Park across the street.
---

Rodale Institute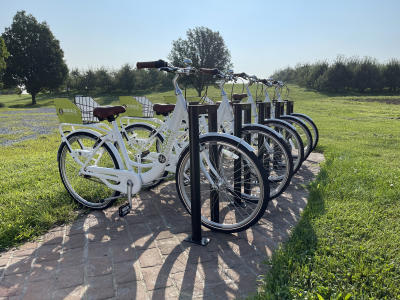 Rodale Institute is a 501(c)(3) nonprofit dedicated to growing the organic movement through rigorous research, farmer training, and consumer education. Widely considered the global leader in regenerative organic agriculture, Rodale Institute has been researching the best practices of organic agriculture and sharing findings with farmers, scientists, and consumers throughout the world since 1947.
Plan a visit!
Take advantage of webinars, in-person workshops, how-tos, and farming tips from Rodale Institute. If you're an amateur gardener or just curious about where your food comes from, attend a workshop at Rodale Institute, a certified organic farm in Kutztown, Pa. Learn hands-on and ask questions of our expert staff. OR, looking for some autumn fun? Go apple picking at the farm! You can also do a self-guided walking tour or use a bike to pedal around the expansive property. 
---
Farmers Markets: Get to Know Your Farmers
Get to know where your food comes from at the Trexlertown Farmers Market located at Valley Preferred Cycling Center (the Velodrome) May 1–October 30, every Saturday from 9 a.m. to noon and through the winter on the 1st and 3rd Saturday of the month, from November to April, 10 a.m. to noon. 
Lehigh Valley is home to over 15 farmers markets, including the Allentown Fairgrounds Farmers Market which features over 60 vendors.
, the nation's oldest continuously operating open-air market in Centre Square. No matter which part of our region you're in, you can talk to the person who grows your food and produces specialty drinks like kombucha or coffee. Visit the historic 
Discover the freshest fruits, veggies, and handmade goods at the multitude of farmers markets on the map below. 
---
Listen to the Podcast
Listen to the entire conversation during the "Just Eat Real Food" episode of the Talk of the Town podcast.
---