Top Holiday Events in Lehigh Valley, PA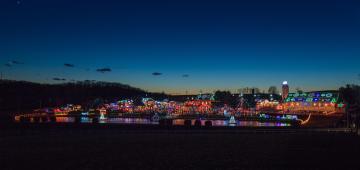 There's nothing like experiencing the holidays in Lehigh Valley, PA. These Lehigh Valley events are each unique in their own ways - and a must for anyone visiting the region during the season!
Stroll along Bethlehem, PA's Main Street to immerse yourself in all that the Christmas City has to offer. Hosted by the Downtown Bethlehem Association, browse the Christmas Huts on Main (November 5–December 27, 2020 Thursdays through Sundays; Closed Christmas Eve & Christmas Day), inspired by an authentic German Weihnachtsmarkt, complete with charming wooden huts lining the street offering unique holiday gifts for all. And, don't miss the Historic Bethlehem Live Advent Calendar, the only one of its kind in the country. Visitors and locals alike gather around the 1810 Goundie House nightly at 5:30 p.m. to receive a special treat and festive program. This event runs nightly, December 1–23.
Take in millions of awe-inspiring lights. Koziar's Christmas Village (November 7–January 1) began as a hobby in 1948 when William Koziar began decorating his farmhouse for the pleasure that he, his wife, Grace, and their four children derived from the unusual display. People applauded the beauty and began referring to it as the "Christmas House." Unique displays were added to barns, walkways, lake, and surrounding area and very soon, it became known as Koziar's Christmas Village. During the past 70 years, it has grown to an extraordinary seasonal attraction earning many awards and drawing visitors from great distances as well as local families who continue to make visiting Christmas Village part of their Christmas tradition.
But that's not the only venue to take in stunning light displays. Make your way to the Lehigh Valley Zoo for their annual Winter Light Spectacular (November 13, 2020–January 2, 2021); New for 2020 is a timed-ticketing system set for two-hour visits. Here, you can walk through the grounds of the zoo all decked out in its holiday best, featuring over a million twinkling lights. 
Round up the family and head to Allentown's Lights in the Parkway (November 27–December 27, 2020 – Closed Christmas Day) for a drive-thru light experience. This attraction is priced per vehicle rather than per person, make it an affordable holiday experience that is sure to delight kids (and kids at heart).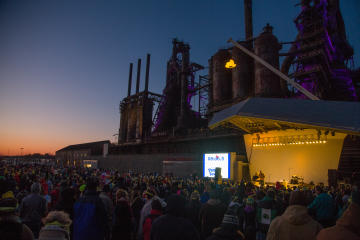 Shop one of the top-ranked holiday markets. Christkindlmarkt (Thursdays–Sundays, October 8–December 6, closed on Thanksgiving) is a delight to shoppers looking to cross off their gift list. This market has been named one of the best by Travel + Leisure and USA Today 10 Best, and it's easy to see why! The market features an impressive lineup of vendors offering everything from handmade home decor items to fine art, and more. Instead of inside a big tent, this year, the market grounds are entirely outdoors. 
And, ring in the new year (virtually this year) with PEEPSFEST®, the annual two-day New Year's Eve festival at the iconic SteelStacks in Bethlehem. Held on December 30-31, PEEPSFEST® features the PEEPS® Chick drop, virtually and in-person at SteelStacks with limited seating. Whether you'll be joining us online or in person, we hope you'll celebrate with us from the comfort of your home across the United States, or safely with us in Bethlehem, PA.