The historic Allentown St. Patrick's Day Parade is a week away and in its 57th year.
However, before west Allentown is aglow in green and orange, downtown Bethlehem will kick off its fourth year of the Celtic Classic Parade of the Shamrocks down Broad and Main streets.
If you haven't had the chance to go to this new parade yet, we wanted to give you a quick guide on how to enjoy the Parade of Shamrocks and the rest of the day in downtown Bethlehem. The weather looks great so far, so grab your kilt, get on some green, and let's get a jump on spring.
[caption id="attachment_18694" align="alignright" width="220"]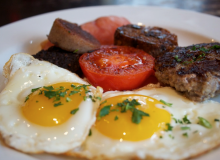 The Scottish traditional fry up[/caption]
Parking: Bethlehem has two parking garages close to the parade area located at 75 W. North Street and 33 W. Walnut Street. Don't even bother trying to find street parking. Go straight to the garages and you'll be set!
Have an authentic breakfast beforehand: Hit up McCarthy's Restaurant on Main Street in Bethlehem for their hearty authentic Irish brunch from 9 a.m. to 4 p.m.
See who has the best legs: Before watching the parade, you need to either participate in or watch the "Best Legs in a Kilt" contest that takes place right outside of McCarthy's Restaurant at Donegal Square. You can call 610-866-3244 to be a contestant, or just watch the craziness that ensues.
Get some beer: The beer truck opens at noon in the Sun Inn Courtyard. Have fun, but be responsible.
[caption id="attachment_18696" align="alignright" width="220"]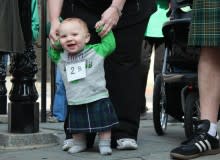 Photo by Karen Helgesen Gurnavage[/caption]
Watch the parade, of course: The parade begins at 1:00 p.m. at 13th Avenue & Broad Streets.  It then travels on Broad to Main Street, ending under the Hill-To-Hill Bridge. The best places to watch are at the corner of Broad and Main on the far side near American HairLines Body & Soul. This spot is where the parade slows down and some parade groups perform. The crowd does get pretty large, so that is why it's best to be on the far corner and set up shop there by 12:45. Here is a map of the parade.
Spend the day downtown: The parade is really just the beginning to your day. The Downtown Bethlehem Association has put together a great promotion called "Beth-lum Go Bragh!" that provides some discounts and events for St. Patrick's Day shoppers at Moravian Book Shop, Artsy Diva, Musselman Jewelers and more.
[caption id="attachment_18698" align="alignright" width="220"]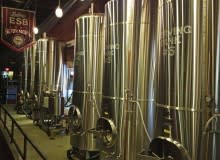 Bethlehem BrewWorks[/caption]
Enjoy a few refreshments: It wouldn't be St. Patrick's Day without some relaxing beverages. Thankfully, downtown Bethlehem has more than its fair share including Bethlehem BrewWorks for a wide selection of beers made on site (with craft beers available in their SteelGaarden downstairs); Tapas on Main, where you need to try their homemade sangria; Apollo Grill, for St. Patrick's Day martinis;  and more. Don't worry, it won't be difficult to find a spot to unwind and enjoy the day.
If you're looking for more of an "Irish Pub" type feel, head to Ripper's Pub at the corner of Broad and Guetter or head up two blocks to Joe's Tavern.
If you have any questions, or just want to share some pictures during the day, tweet us at @LehighValleyPA.
See you there!