2017 is here and Woodstone Country Club has recently unveiled the new 19th Grille. If you've never been to this stunning property, the 19th Grille is the perfect reason to plan your trip and experience all that they offer. You're sure to be impressed the second you walk through the door.
Since 2000, Woodstone has been one of the leading country clubs in Lehigh Valley. The golf course has consistently been recognized as one of the best in the region, but the property has come to offer much more than your next round. Woodstone also plays host for countless weddings, creating a day brides & grooms will remember forever.
Guests can also kick back and relax in the on-site lodge, and even enjoy a bite to eat. The recently-opened Veronica's Cafe offers delicious lattes to help warm you up on a chilly morning.
With everything happening on the Woodstone Country Club property, the opening of a full-service restaurant for all to enjoy was a clear next step. Now, guests can enjoy a full getaway to the property with all the trimmings included.
No matter the time of year, a getaway to Woodstone Country Club makes for a romantic escape. During the summer months, spend your mornings on the golf course. When the winter rolls around, you're just minutes from Blue Mountain Resort, home of Pennsylvania's highest vertical with trails to accommodate all skill levels.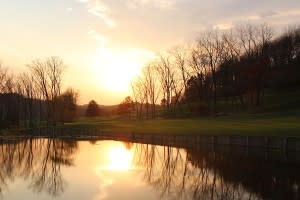 After a day filled with fun, enjoy a meal overlooking the golf course as the sun sets over the mountains. Cap off your night with a relaxing dip in your private in-room Jacuzzi.
For details on available travel packages at Woodstone Country Club, visit their website.