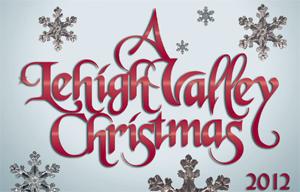 "New York may have the Radio City Christmas Spectacular, but Lehigh Valley has the annual A Lehigh Valley Christmas in Concert. The best part of this show is that it's all home grown musicians assembled to officially begin the holiday season in Lehigh Valley. I've been honored to be part of this show for nearly a decade now and to share the stage with the incredibly gifted Lehigh Valley musicians who deliver such a wide-range of diverse holiday music. Everyone needs to see this show at least one time!" That's from President & CEO of Lehigh Valley Economic Development Corp., Don Cunningham who has been a performer and MC since 2003 and always makes time for this event.
Folk legend and founder of Godfrey Daniels, Dave Fry, who moved to Connecticut several years ago says "the concert is a homecoming for me, to reconnect with my fellow hard-traveling Lehigh Valley musicians, and play for a sophisticated and listening audience in a very classy place. It doesn't get any better than this."
Bev "BC" Conklin of The BC Combo, formerly BC & The Blues Crews puts it this way - "It is a treasure to be a part of this community of exceptional talent as well as sharing with our loving and loyal Lehigh Valley Christmas audience year after year. It's a joy and a blessing to be part of this amazing vision Miriam and Mike created for all of us musicians and for the entire Lehigh Valley to enjoy."
Co-founder of Zen For Primates and the LVC concert, Mike Krisukas says, "I would comment most on what goes on behind the scenes. It's a perfect unity – the Lehigh Valley Christmas in Concert brings musicians together who often don't see each other during the course of the year because everyone is always working in different venues. I especially enjoy seeing (and hearing) the "green room" interaction of players with all their diverse musical backgrounds - Jazz, Folk, Blues, Classical, Country, Rock, etc. joining in a simple common love of music. Even after 14 years of doing this event, the backstage camaraderie is still one of the best times of the year for me. Remarkable and exhilarating."
A Lehigh Valley Christmas in Concert returns to the Allentown Symphony Hall for its 16th season on Thanksgiving Sunday, November 25th at 7 p.m. This year's line-up includes the above named musicians, plus Jake Kaligis & The New Constitution, George Miller, Sean Hennessy of Blackwater, the James Supra Blues & Maria Woodford Band, Roberta Meek, Yancarlos Sanchez, Todd Wolfe & Friends, Ella Canta, James Bartley & Gerry Pegues, and The Large Flowerheads. Making their debut this year is El Sistema Lehigh, Hot Bijouxx, Dina Hall and Greg Edwards & Friends. Plus, there is always an amazing All-Star Finale.
Join the festivities this year, support Lehigh Valley musicians and start your holiday celebration with A Lehigh Valley Christmas in Concert!
Tickets to the concert are $30 and can be purchased by calling the Symphony Hall Box Office at 610-432-6715 or on-line here. Or, you can win two tickets to see the show by posting a comment as to why you think you should win them! Ready? Go!
-- Lehigh Valley InSite Guest Blogger Miriam Huertas is Vice President of Allentown Initiatives for The Chamber and co-producer of this holiday concert along with her husband, Mike Krisukas!