Sure, we've all seen a performance of  "A Christmas Carol" and we've all seen "It's a Wonderful Life" on TV and you bet someone in your house still owns a copy of "Jon Denver and The Muppets: A Christmas Together." But, if you haven't seen Touchstone Theatre's "Christmas City Follies," you haven't seen it all.
The high-spirited, homegrown, vaudevillian variety show celebrates the Christmas season in the Christmas City in a way you probably haven't seen before. Pirates have made an appearance, as have weird robot aliens, and a few elves that maybe have drunk a few too many cups of eggnog. It's a fun Christmas party and you and yours are more than welcome to come to join in on the fun!
Christmas City Follies XV runs from December 4 - 21 in Touchstone's home theatre at 321 East Fourth Street.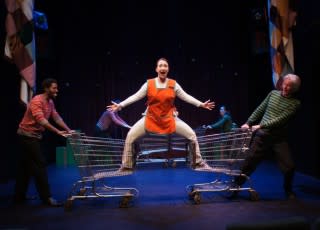 "As part of this year's Follies, legendary Lehigh Valley singer-songwriter Dave Fry will provide pre-show entertainment Friday and Saturday evenings in the Touchstone café from 7 - 8 p.m." Touchstone Managing Director, Lisa Jordan, said in a press release.  "A favorite of Godfrey Daniels and Musikfest, Fry, a Touchstone partner-in-performance since the 1980s, has been variously hailed as the Valley's 'Best Folk Performer,' 'Best Children's Performer,' and 'Best Fine Arts Artist of the Year.'"
For some, Christmas City Follies is already as much a part of their lives as any other pop culture Christmas entertainment.
"Originally presented on alternating years dating back to 1995, residents of the Lehigh Valley have come to count Touchstone's seasonal offering of the Follies as a staple of their winter holidays, making an annual trip to the South Bethlehem firehouse-turned-theatre for an evening of sidesplitting hilarity, touching sentiment, quirky characters, sketches, songs, and a featured guest spot for local community guests," Jordan said. "In celebration of the milestone 15th Follies, this year's guest spot will also highlight past cast members performing memorable Follies characters such as Christmas Mouse, Kwanzaa Panther, Justine, and more."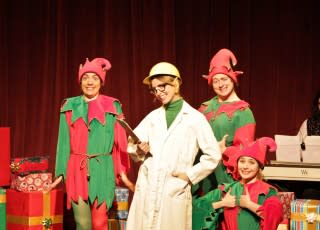 "In all honesty, I don't care if Christmas comes earlier every year," confesses Touchstone Artistic Director Jp Jordan. "Maybe we should just celebrate Christmas all year round. Everyone acts a bit more forgiving, more patient with each other; as the song says, 'We need a little Christmas, right this very minute.'" This year marks Jordan's tenth year with Follies and his seventh time as director.
Christmas City Follies XV is supported locally by season sponsors First Generation, an integrated marketing communications company, and RCN. WDIY provides media sponsorship.
Christmas City Follies XV plays December 4-21, 2014, Thursdays through Saturdays at 8 pm and Sundays at 2 pm. On Saturday, December 20, there will be a special matinee show at 2 pm in addition to the regularly scheduled 8 pm show. Tickets are $25 / $15 for students and seniors, with group rates available on request. On Thursdays, Touchstone offers a pay-what-you-will ticket option at the door, allowing patrons to name their own ticket price. Advance tickets may be purchased at 610-867-1689 or online at www.touchstone.org