Written by Guest Blogger Michael Drabenstott
Fall's a great season; the leaves changing on the trees, cooler weather, and, of course, the West End Oktoberfest. This will be its seventh year, and the West End Alliance is pulling all the stops. Here is why you need to swing by this year's West End Oktoberfest -- Lehigh Valley's biggest street fair -- on Saturday October 4th from 11 am-10 pm.
As many of you may know, the West End Alliance has been working for a few years now on a massive streetscaping project to renew and revitalize the look of the West End Theatre District. At this year's Oktoberfest, you'll be able to walk down 19th street and check out some of these improvements including new sidewalks, streetlights, stop signs, and a brand new fence encircling the Allentown Fairgrounds.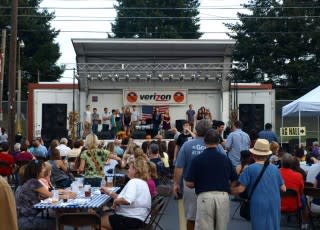 Aesthetically, the West End has never looked better.
But once you lower your eyes, it's time to embrace the lederhosen and find some food and drinks. You'll be pleased to know that the West End Alliance has teamed up with a local distributor to not only provide the staples, but also have a selection of PA microbrews on tap. Expect some fall seasonals and Oktoberfest style brews.
When it comes to finding some good eats, the West End Oktoberfest has you covered. From neighborhood favorite Stooges to Grumpy's BBQ and the Taza Truck, there will be more than 15 food stands offering a wide array of foods for everyone. While you're having a bite make sure to check out the local vendors displaying their wares.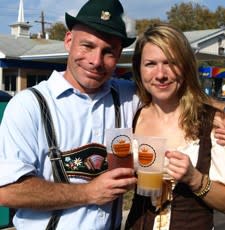 Now that you've got the sights and the food, it's time for the music -- and this is where the West End Alliance has really stepped up the game this year. Previously, Oktoberfest had one main stage playing acts all day. This year, there are going to be two stages dedicated to some fantastic music. The main stage will feature blues and rock throughout the day (and some polka!) while the cafe stage will feature acoustic sets.
With a newly revamped West End Theatre District, great food and drinks, and a lineup of excellent music, you have to get out to this year's West End Oktoberfest. What're you waiting for? Strap on your favorite German apparel and make your way down this weekend. Prost!
The West End Oktoberfest Saturday October 4th from 11am-10pm Festival happens on 19th street between Tilghman and Liberty streets in Allentown's West End Theatre District